Jason Mercer - UKC Field Rep Announcement
May 10, 2019
We are pleased to have Jason Mercer of Hartville, Missouri accept the responsibilities as Field Rep for his area of the country. Jason is originally from Louisiana, as evident to those whove had the pleasure of feasting on his "Cajun" cookout skills at many of the beagle events each year. He and his wife Rae Lynn have a son and a daughter and five grandchildren.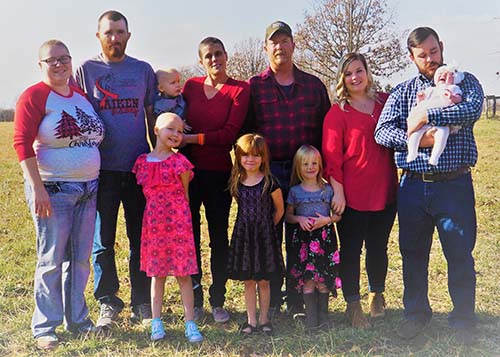 New UKC Beagle Field Rep Jason Mercer with his family. Welcome aboard, Jason!
Hunting and beagles have always been a part of his life. Mercer got his first pair of Beagles, that he owned personally, when he was 12. Jason went to his first UKC event in 1991. Since then, theres many that came and went. He's hunted numerous good hounds but the one he still considers as his best ever, was GRHBCH Rambling Crook; a lemon colored hound. Crook and Mercer took many trophies throughout his trialing career and Crook has also passed those good traits off to his offspring. Otherwise, he considers Bluffrock's Primestar and World Champ Shenango Star as two of the best hes seen go in the field. Mercer is also usually handling a nice dog in the shows. He's won numerous shows as well including the Nationals and the World shows.
Jason is the current acting President of the Show Me Beaglers Club in Manes, Missouri. They've capably held numerous major events at that club over the years, including NHBA Days. Another is the Show Me Classic, that continues to be a well-attended event each year. He's also a supporting member of most clubs in the State of Missouri. When asked what he enjoys most about the sport, he replied, "All of it." When asked about his favorite events of the year, he says it's NHBA Days and the Beagle Nationals.
When he's not busy working cattle, making hay, or running dogs; Mercer may be found out hunting gobblers in the spring, camped out in the deer woods in the fall, or casting a line in his favorite water hole. There's always something to do in the outdoors and he takes advantage of it whenever he can. We wish him well and know he'll serve and represent all the good folks in Missouri well.
A Kalamazoo, Michigan-based company founded in 1898, United Kennel Club is the largest all-breed performance-dog registry in the world, registering dogs from all 50 states and 25 foreign countries. Celebrating the unique Total Dog philosophy, UKC events highlight the instincts and heritage of dogs that look and perform equally well, as more than 60 percent of its annually licensed events are tests of hunting ability, training, and instinct. United Kennel Club prides itself on its family-oriented, friendly, educational events, welcoming both purebred dogs and dogs of unknown ancestry.
Back to Beagle News >