The SPOT Philosophy
The SPOT test is, first and foremost, an evaluation of a dog's ability to handle common, everyday situations, and the owner's ability to control and respond to their dog appropriately in a variety of situations. The mental image that each dog should be compared to when evaluating is that of a polite, relaxed and happy dog, with a relaxed owner who is confident in their ability to control and interact with the dog in a natural everyday way.
The SPOT test was designed and created for all dog owners, new and experienced alike. The founding principle of this test is to teach and promote responsible dog ownership. It is NOT intended to be an obedience trial. Not all dogs will be perfect, and some owners may be inexperienced; it is essential that whether they do really well or need more training on a certain step in the test, that you as the Evaluator communicate the importance of responsible dog ownership, and that a well behaved dog is not only a happy dog, but one that will be accepted in a community. Learn how to participate in SPOT.
The SPOT program is open to all dogs, purebred and mixed breeds. Dogs do not need to be UKC registered or have any UKC listing number in order to participate.
The test consists of 10 stations. There are four possible rankings for each station; you will find the minimum requirements for each ranking following the station description. As a SPOT Evaluator, you must rate all dogs to the same standard, regardless of age, breed, or sex. The rating categories are Outstanding, Super, Good, and Needs More Practice. Any dog who earns at least one ranking of "Needs More Practice" at any of the stations will not be considered as having passed the test and must re-take it at a later date.
If a dog receives at least a "Good" ranking on every station, the dog will have been considered to have passed the test and the owner can then order an official SPOT certificate from the United Kennel Club.
As an approved SPOT Evaluator, it is your responsibility to ensure to the best of your ability that all participants are having a fun and positive experience with their dogs, and that the test is conducted according to all UKC rules and guidelines for the SPOT program. Owners/handlers of dogs taking the SPOT test can talk to their dogs throughout the test and they can praise and touch their dogs at any time. If owners/handlers appear apprehensive or unsure, please take the opportunity to remind them of this and try to encourage them to reassure their dog with praise and petting.
Owners may not correct their dogs at any time during the test. The dog may need multiple commands and extensive persuasion from the owner to complete the desired station, but owners may not scold or give leash corrections during the test. Commands and verbal communication to the dog should never be harsh or intimidating. The owner may touch the dog at any time, but may not physically maneuver or force the dog into any position. Food/treats or toys used as a motivational item may not be used during the test.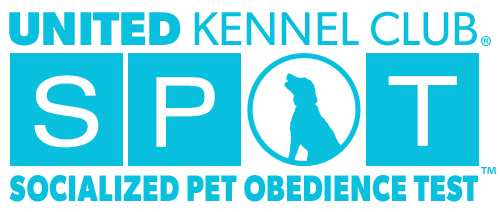 Required Qualifications For All UKC Spot Evaluators.
All applicants must:
Be eighteen years of age or over,
Have full mobility to move around the area where the test is being conducted.
Be familiar with UKC rules and procedures applicable to the SPOT Test.
Have been involved with training your own dogs for at least 5 years.
Have been active as a dog training instructor, instructing a variety of breeds for at least 3 years.
All applicants must be in good standing with the United Kennel Club. In addition to being familiar with the specific guidelines for the SPOT Test, the applicant must also be familiar and agree to abide by the Rules and Regulations of the United Kennel Club and the UKC Judges Code of Ethics. An Evaluator's approval may be suspended or revoked by UKC at any time at the sole discretion of UKC, with or without cause.