Performance Listing (PL)
This form is down for maintenance. Sorry for any inconvenience.
UKC IS DONATING 100% OF ONLINE PERFORMANCE LISTING PURCHASES NOW THROUGH APRIL 30
Amid the current COVID-19 crisis, UKC remains committed to supporting our team, our community, and our country. We are proud to announce that until April 30, 2020, UKC will donate 100% of the proceeds from Performance Listings purchased online to these great national charities that are working hard to support some of those most urgently impacted by this crisis:
Additionally, UKC will match donations up to the first $500 in PL's purchased!
Get your dog's Performance Listing online today and help support a great cause. Give your dog an official name! A Performance Listing Certificate allows any dog that does not otherwise meet a UKC breed standard to be entered in eligible UKC Licensed Events (like Dock Jumping, rapidly growing Nosework programs, and UKCs upcoming Precision Coursing events) and begin earning titles and points.
Added bonus: when you apply online you will receive a FREE official UKC Performance Listing Certificate PDF via email!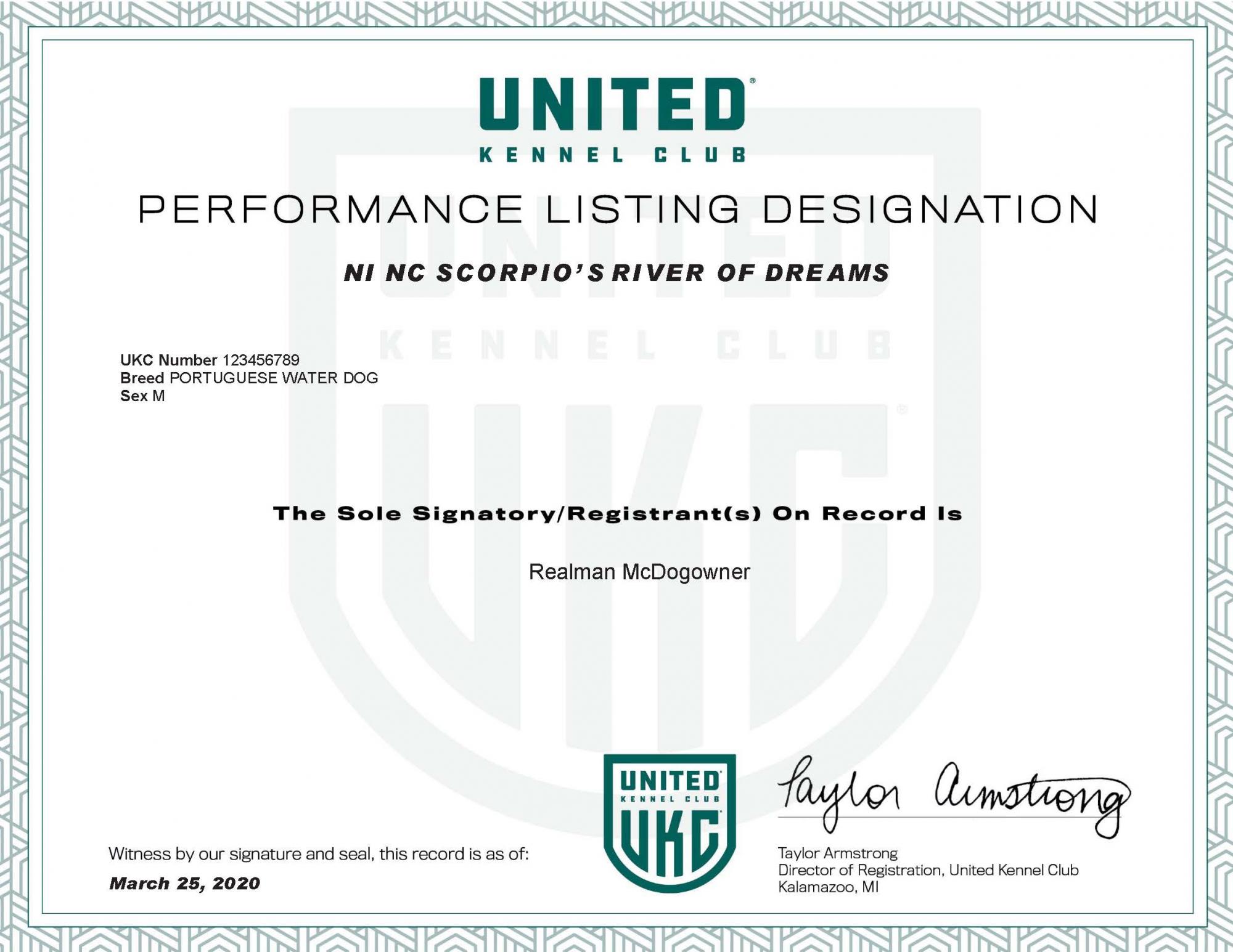 Performance Listing is a method for:
mixed breed dogs;
purebred dogs of unknown pedigree;
purebred dogs with UKC breed standard disqualifications; or
breeds not recognized by UKC

To obtain a UKC participant identification number in order to enter UKC Performance events and earn titles. Performance Listed dogs may compete in all applicable UKC Performance Events, and may be used in Junior Showmanship classes.
Note: the seven Coonhound breeds may apply for Performance Listing numbers which allow entry to the non-hunting events only. They may not be used in any UKC Licensed Coonhound events.
Performance Listing - About
The Performance Listing Program offers many opportunities and allows dogs to participate for points and titles in UKC performance events. Performance Listed dogs do not receive breeding rights. No litters may be registered from a Performance Listed dog, and no pedigrees will be maintained. The number allows dogs to enter UKC events, and allows UKC to maintain the dog's competition history and issue performance titles. PL dogs may also be used in Junior Showmanship classes. PL dogs must meet the requirements to be listed as one of the breeds in the Gun Dog group and are required to be spayed or neutered to participate in HRC events only.