UKC TOC This Weekend!
Keep up with all the action
April 24, 2021
We are well underway here in Greencastle, Indiana! Check back later for more.
LIVE on YouTube at 8:30pm ET Saturday night. If you watched Friday, we have since uploaded a high resolution version of Friday's Video: watch Friday now. For Saturday, we have improved the internet availble for streaming. Tune in Saturday for the live play by play. Set a reminder!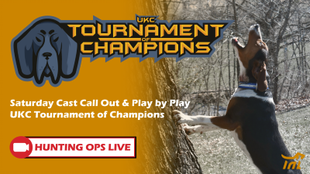 Results So Far
Friday Cast Breakdown - TOP 64 (includes cast winners)
List of Friday Cast Winners Advacing to Saturday
Guided by the belief that dogs make a difference by being the best partner a human can have in the field, on the job, or in a competition event, UKC is a community for people and dogs to pursue excellence together. Founded in 1898, UKC has been dedicated to enhancing the lives of Dogs That Do More, and their owners, by providing essential resources to help owners and breeders make informed decisions. The dog-human bond is celebrated through family-friendly programs highlighting the instincts and heritage of purebred and mixed-breed dogs alike at over 15,000 licensed events annually.
Back to Coonhound News >