Virtual Premier / Total Dog Challenge
August 22, 2020
Group Placements
GUARDIAN
Dog 102 HEKTOR, APPENZELLER. Nanamo, BC.
Dog 105 ZIGGY., AMERICAN BULLDOG. Ladysmith WI
Dog 101 DEXTER, PERRO DE PRESA CANARIO. Peyton CO.
Dog 109 DEVO, BOXER. Holmes NY
SCENTHOUND
Dog 205 REBEL, MOUNTAIN CUR. Georgetown OH.
Dog 204 ROBIN, DACHSUND. Patchogue NY.
Dog 209 COE, BASSET BLEU DE GASCOGNE. Menomonie WI.
Dog 203 RAVEN, BEAGLE. Kalamazoo MI.
SIGHTHOUND
Dog 302 CARNEY, WHIPPET. Bloomington MN.
Dog 304 OKSANA, WHIPPET. Kingston ON.
Dog 301 LINK, WHIPPET. Concord CA.
DOG 305 LEO, PODENGO PORTUGUESO. Grey ME.
GUN DOG
Dog 418 DOTTIE, ENGLISH SPRINGER SPANIEL. Federal Way WA.
Dog 401 RHYS, EPAGNEUL BRETON. Irving TX.
Dog 407 ZEEK, BRITTANY. Dillwyn VA.
Dog 417 BREES, NS DUCK TOLLING RETRIEVER. Henrico VA.
NORTHERN
Dog 509 KURISU, KAI. Graham WA.
Dog 501 THUNDER, FINNISH LAPPHUND. Campbell River NC.
Dog 510 PIPPIN, ALASKAN KLEE KAI. Norway.
Dog 511 BLAISE, AMERICAN ESKIMO. Rochester MN.
HERDING
Dog 637 RIVER, LA CATAHOULA LEOPARD DOG. Tracy CA.
Dog 609 FLUTTER, PEMBROKE WELSH CORGI. Little Rock AR.
Dog 612 MONTY, WHITE SHEPHERD. Valparaiso, IN.
Dog 602 REMI ,CARDIGAN WELSH CORGI. Griffin GA.
TERRIER
Dog 702 BIBI, GERMAN PINSCHER. Saint Helens OR.
Dog 701 ANYA, AMERICAN PIT BULL TERRIER. North Richland Hill TX.
Dog 703 DAX, PARSON RUSSELL TERRIER. Marina Del Ray CA.
Dog 704, TOY FOX TERRIER. Finland.
COMPANION
Dog 802 JOURNEY, DALMATIAN. Allegan MI.
Dog 805 KAHLAN, SCHIPPERKE. Cabot AZ.
Dog 801 JOSEPH, SCHIPPERKE. Raleigh NC.
Dog 804 BLANCO, AMERICAN BULLY. Hopkinsville KY.
Overall Placements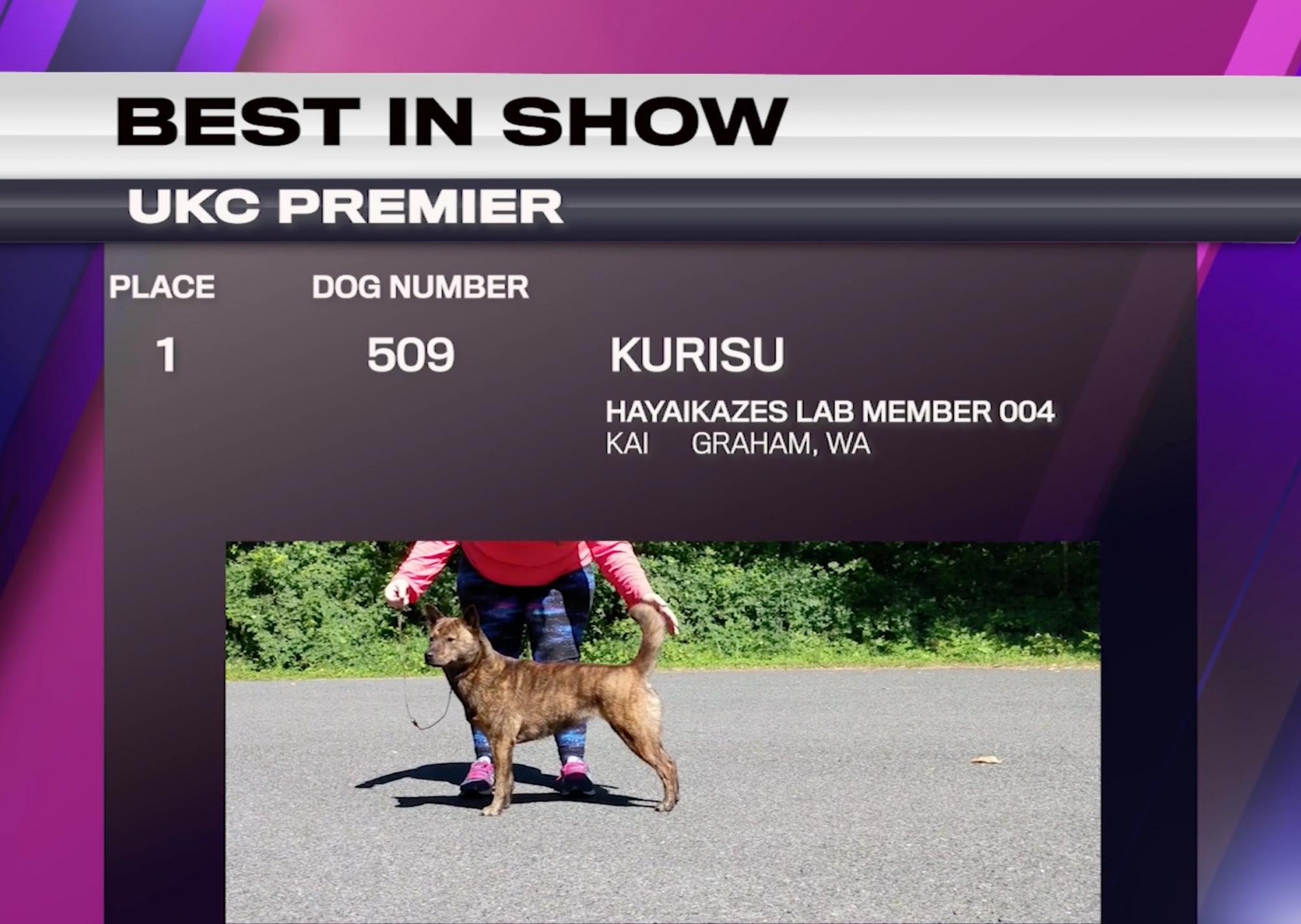 OVERALL BIS: KURISU, the Kai. Northern Group. Dog 509.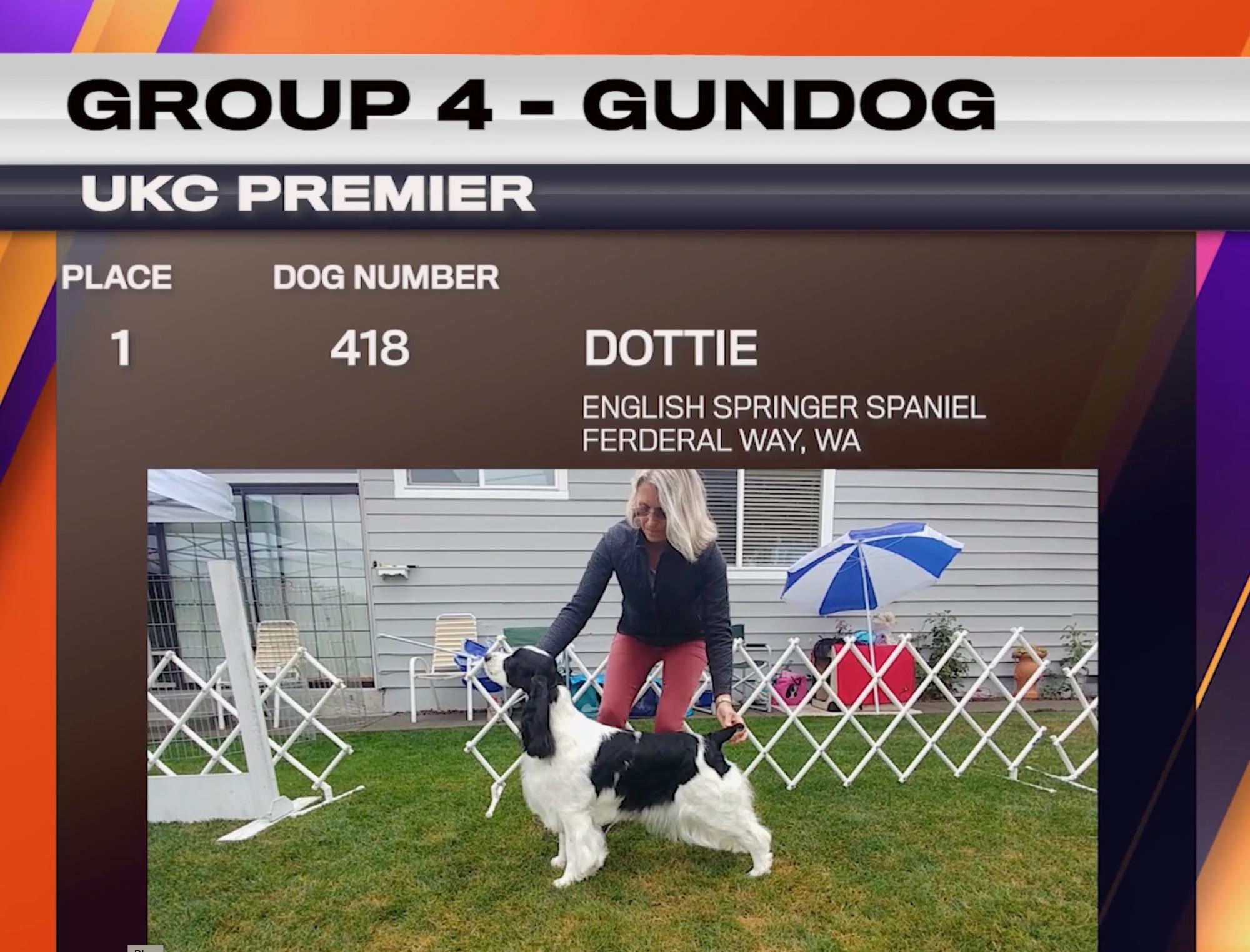 RESERVE: DOTTIE, the English Springer Spaniel. Gun Dog Group. Dog 418.
View judging program for full list of entries by breed.