Heart of the Prairie Epagneul Breton Gun Dog Club Youth Liberated Bird Trial Recap
The first of its kind offered as a licensed UKC event!
April 11, 2017
Source: Douglas Bollin

The 2017 Heart of the Prairie Epagneul Breton Gun Dog Club (HPEBGDC) Youth Liberated Bird trial was the first of its kind offered as a licensed UKC event. The trial was hosted at Roy Roger's Hunt Club in the town of Ohio, Illinois on April 1. The Roy Roger's Hunt Club were great hosts. Eleven youth handlers ran a total of 14 dogs in the OPEN and GUN classes. The handlers ages ranged from 5 years to 16. The rain the week before had threatened the weak at heart but not the hosts or handlers. The handlers and dogs were treated to a challenging course that was set up in a cut bean field with two three-quarter-mile strips of 30-feet wide milo about 150 yards apart. The OPEN dogs were treated to running and hard to pin down chukars and the GUN dogs were challenged by bobwhite quail.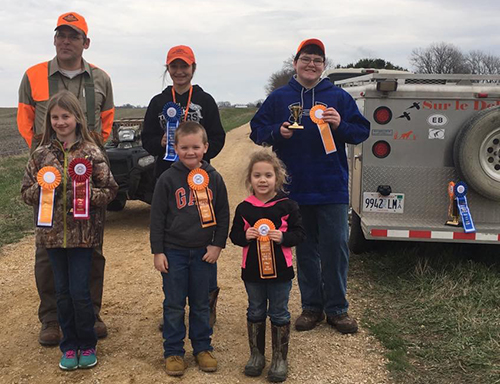 Photo Credit Brittany Zeigler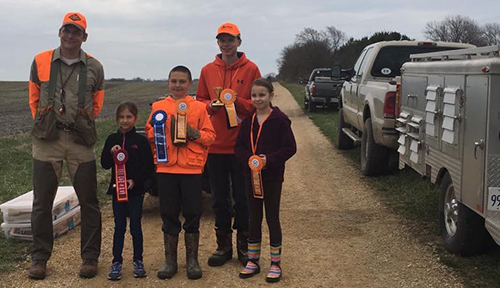 Photo Credit Brittany Zeigler
The morning kicked off with 6 OPEN class solo runs. Head Judge Doug Bollin awarded the CAC to 11-year-old handler Will LaFary and 2x GRCHf Juno De Ten Bar Ranch TAN WRT. Juno was given a call back and she took advantage of the opportunity. About 3 minutes into the call back she made a stylish head high point on a chukar. After a short struggle by the gunner, the bird was shot and Will released Juno to make a quick retrieve to hand. Judge Bollin gave the RCAC to Annabelle, Will's younger sister, and CHF CH Hera De L'Etoile Du Nord TAN WRT. Hera covered the grounds with style and speed, finding a chukar late in her run. Hera delivered the prized chukar to young Annabelle's hand. Excellent was given to Tim Gregg and TR GRCH NBOB Des Plaines' J'ai Ceci TAN WRT. The team ran a great course finding and handled two birds with near perfection. Passes were earned by Gwen and TR Jonah Sur Le Delavan TAN, and Will LaFary and GRCHF CH De La Ferme Sur Le Delavan TAN WRT.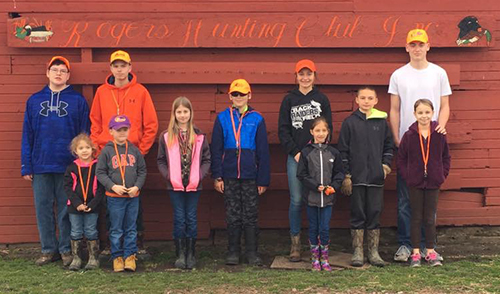 Photo Credit Brittany Zeigler
A number other fine Epagneul Bretons also ran but the combination of a hard course and tricky birds proved to get the better of them.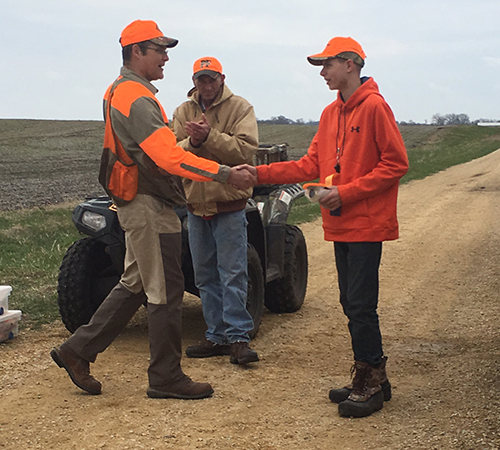 Photo Credit Leah Corcoran
The GUN runs were very rewarding and fun to watch. Judge Bollin was excited to give GUN Leo Sur Le Delavan TAN WRT the CAG for his run. Gracie Rademaker handled Leo in a very difficult flush of the bird. The gunners missed the quail 4 times as Leo stood steady and watched the bird fly away. Gracie was asked to send Leo on a very long retrieve on the winged quail. Leo proudly delivered the quail back to Gracie's hand. The RCAG was given to NBOB Jasper Hites Mississippi TAN handled by Keidra. Another great run with a difficult flush. Jasper remained steady through it all, the retrieve took a little more work and time but was eventually made to hand. Two Excellents were given to Hites Mississippi Colt and Mackinaw Valley's Mae TAN for their nice runs. Colt, handled by Keidra, had a very stylish point and was steady to flush. Mae, handled by Joel, handled her 1st quail very well. The team handled a second bird as they completed their run. Passes were earned by GUN Hot Molly Du Hyalite TAN WRT, handled by Mason; and 2x GUN Smith's Zipper Tic TAN, handled by Reagan.
The event wrapped up with the youth handlers taking home a pile of donations and full bellies of pizza!
A trip to central Illinois for a HPEBGDC field trial should be on your to-do list for 2017.
Back to Pointing Dog News >