Shed Antler Hunting: An Inviting Sport for Everyone
The following article was submitted by Amy Kuchenbecker of Ohio.
June 26, 2017
Source: UKC Field Operations Department
Email: fieldoperations@ukcdogs.com

New to UKC in 2017, the sport of shed antler hunting has become increasingly popular. The UKC Elite Shed Dog Series is an excellent way for families and their canine partners to hit the woods and enjoy the great outdoors together. There are many women active in the sport of shed hunting, and those competitors are encouraging like-minded women to bring their dogs and join the fun!
The following article was submitted by Amy Kuchenbecker of Ohio. Amy and her husband, Scott, own Blue Clay Kennels, LLC., and compete regularly in shed dog events.
Have you noticed that there are more women breaking into the hunting industry? Ads for womens apparel, footwear and firearms exclusively designed for the female hunter are more widespread. In the male-dominated industry of hunting, women are starting to make their presence known, and in one specific sport they are coming on strong. From whelping the litters, starting young dogs, or on the competitive circuit as handlers and trainers, women are becoming more visible in the shed antler dog world. These women and dogs come from all different avenues of the dog world. Anywhere from waterfowl and upland, dock diving, rally and obedience, hunt test and field trial or just companion dogs. Labradors and Chesapeake Bay Retrievers, English Cocker Spaniels, German Shorthair Pointers and even mixed breeds can be suited for the sport of shed antler hunting if the dog has the retrieve desire and a good nose.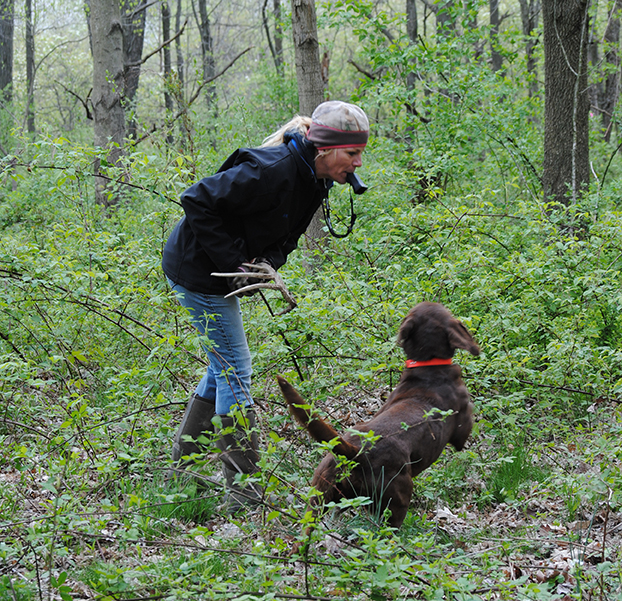 At Elite Shed Dog Series events, dog and handler work together in search of shed deer antlers. Once the dog is verbally released the competitor's time shall start. Time will stop when the final shed is satisfactorily delivered in accordance with the class rules.

Tonette May of Big River Antler Passion in Wisconsin has trained both her Labrador and English Cocker Spaniel herself. She loves the fact that she has another job for her dogs. She feels all the hard work has paid off when they come back with a shed antler. Tonette also competes with her dogs in the shed dog competitions and shares pictures of their accomplishments on social media in hopes that the sport will continue to grow.
Many women enjoy the sport with their partners. Whitney Miller of River Stone Kennels, Kimberly Schlomann of Bear Creek Chessies and Brittany Beyer, all of Wisconsin; and Rusti Henderson of Indiana were introduced to shed hunting with their dogs by their husbands and see it as a wonderful way to spend time together. Heather W. of Ohio feels it is another way for her high drive dog to expend his energy. All feel a sense of enjoyment when out in the woods with their dog, taking in nature and time spent with family and friends. Liz Milano of Ohio trains hunt test dogs at Grain Driver Labs and has taken up shed antler hunting with her personal and client dogs. She feels its a great way to make the dogs multi-purpose.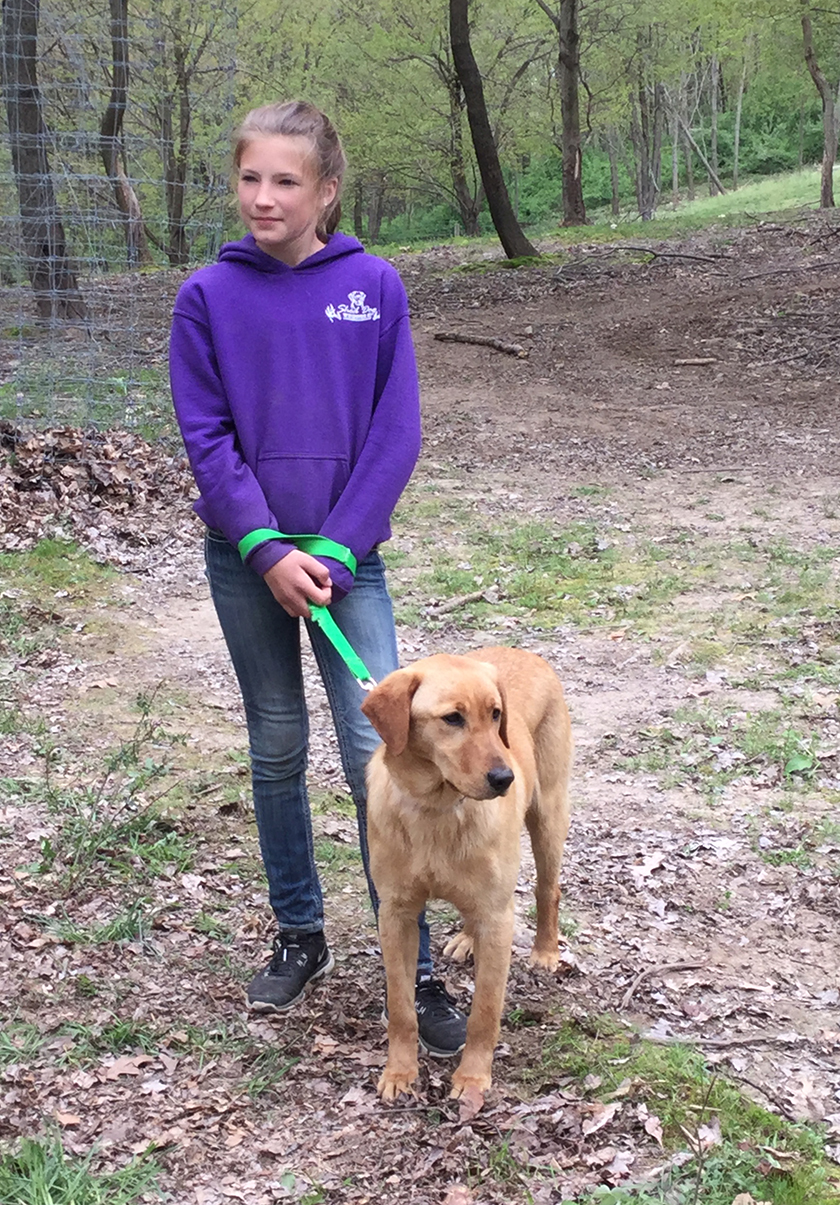 The UKC Elite Shed Dog Series also has special categories for youth involvement.
Many women are spreading the word of shed antler hunting through social media by posting pictures of their finds with family and friends and their many accomplishments on the competitive side also. Some educate the public on shed antler hunting with their dogs through seminars at their local retriever and hunting related clubs, and events at larger outdoors and agricultural stores.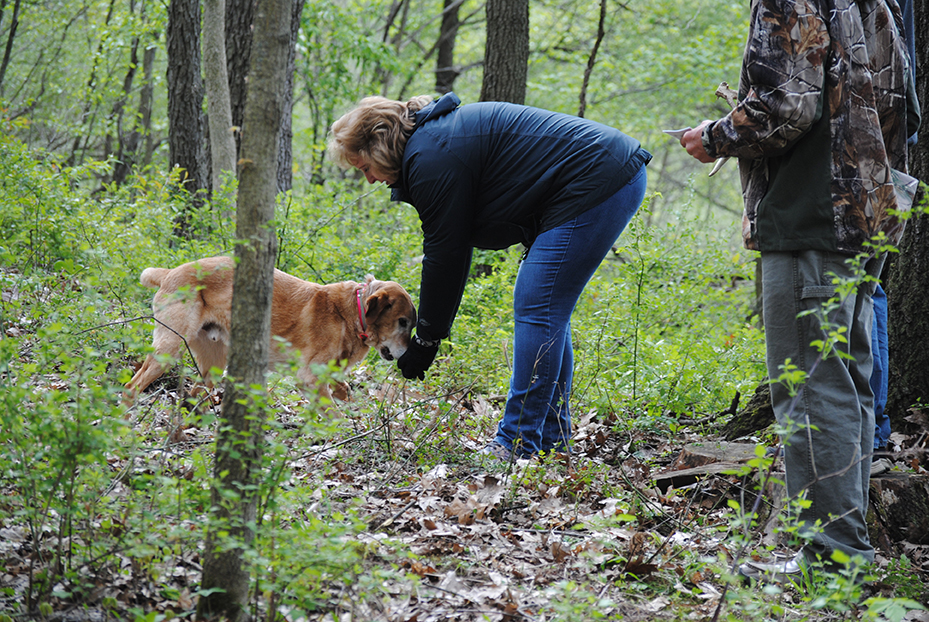 Working Shed Hunter Class dogs must deliver to the immediate area of the handler but are not required to deliver to hand. Champion and Elite class finds must be delivered to hand.

This sport is a great way to get out of the house and into the woods with children or grandchildren. The intimidation of handling a firearm or harvesting an animal deters some women from hunting with their dog, but that is not the case with shed antler hunting. A good pair of hiking boots, plenty of energy and a trained shed dog is all you need. So, come on, ladies! There are many women and clubs in different areas of the country that can give tips and advice on getting into this great sport.
Learn more about the UKC Elite Shed Dog Series.
A Kalamazoo, Michigan-based company founded in 1898, United Kennel Club is the largest all-breed performance-dog registry in the world, registering dogs from all 50 states and 25 foreign countries. Celebrating the unique Total Dog philosophy, UKC events highlight the instincts and heritage of dogs that look and perform equally well, as more than 60 percent of its annually licensed events are tests of hunting ability, training, and instinct. United Kennel Club prides itself on its family-oriented, friendly, educational events, welcoming both purebred dogs and dogs of unknown ancestry.
Back to Elite Shed Dog Series News >