Black And Blue Finish At UKC Winter Classic
February 13, 2018
Batesville, MS - The 31st running of the UKC Winter Classic concluded Sunday morning in Black and Blue style. Winter Classic Nite Hunt Champion honors were awarded to a three-year old Bluetick female from Bagwell, Texas, owned by Jimmy Don Presley and Wesley Martin. Congratulations to GR NITE CH 'PR' Pinecreek Curlee Jane for besting a near record field of 918 entries.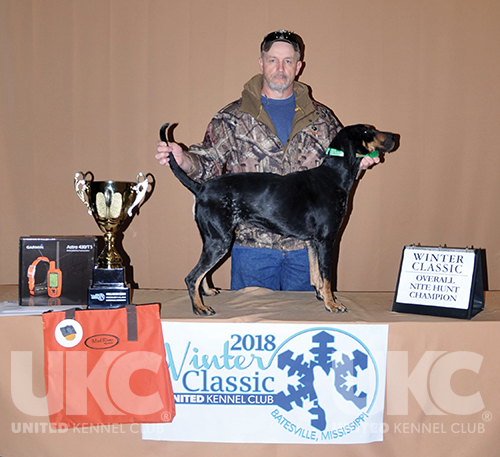 Curlee Jane is sired by GR NITE CH 'PR' Moses Pink Floyd out of CH GR NITE CH 'PR' Moses Owl Creek Lucy.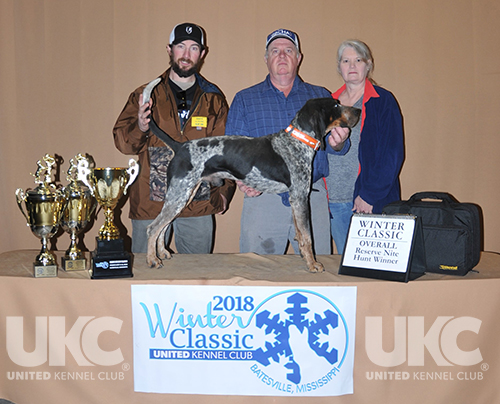 The Overall Reserve Nite Hunt Winner also proudly carried the flag for the Bluetick Coonhound breed. CH NITE CH 'PR' Bama Blue Kid, owned by Johnny Brown of Jasper, Alabama, finished a close second with his great effort. Kid is sired by GR CH GR NITE CH 'PR' Madrons Hollywood Rambo and out of NITE CH 'PR' Blue Frost Dixie.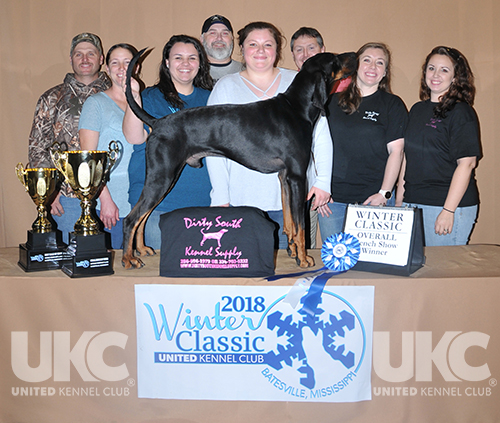 Saturday afternoon the Winter Classic Show Champion was crowned. The overall winner was the Best Male of Show from Friday, CCH 'PR' Deepsouth Tailgates N Tanlines. This young male is owned and handled by Madison Fancher of Brierfield, Alabama. His great conformation comes honestly as he is sired by NGRCH GR CH 'PR' Margaritaville Lucky Ole Son and out of CCH GR CH 'PR' Deep South Sunset Celebration.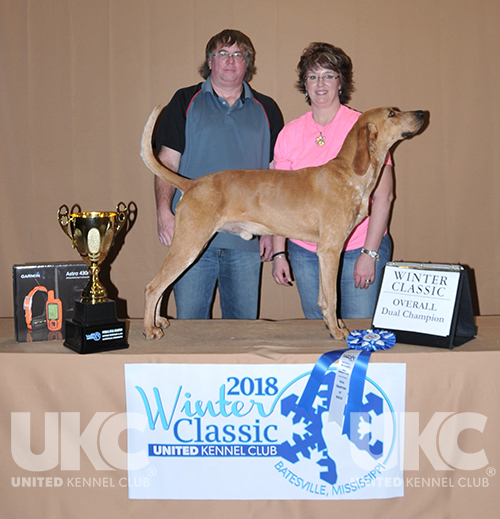 Rounding out our esteemed list of winners is the Overall Dual Champion, NITE CH GR CH 'PR' KY Mtn Let It Reign Mc Kade, English male, owned by Terry Jessup of Rural Hall, North Carolina, handled by Penny Jessup. Sire: WSHOWCH NITE CH CCH GR CH 'PR' Kentucky Mtn Diamond Cutter. Dam: GR CH 'PR' Ozark Mtn Kentucky Ann.
Congratulations to all winners and thanks to all participants for making the 2018 UKC Winter Classic a very special event.

Friday Hunt Results
Saturday Hunt Results
Bench Show Results
A Kalamazoo, Michigan-based company founded in 1898, United Kennel Club is the largest all-breed performance-dog registry in the world, registering dogs from all 50 states and 25 foreign countries. Celebrating the unique Total Dog philosophy, UKC events highlight the instincts and heritage of dogs that look and perform equally well, as more than 60 percent of its annually licensed events are tests of hunting ability, training, and instinct. United Kennel Club prides itself on its family-oriented, friendly, educational events, welcoming both purebred dogs and dogs of unknown ancestry.
Back to Coonhound News >