Winter Classic Bench Show Judge Bios
2018 Winter Classic Bench Show Judges
January 3, 2018
Winter Classic is a UKC major event, and one of the largest and most prestigious events in the country. UKC Winter Classic judges are well qualified and come with the experience as owners, breeders and handlers. Judging the 2018 show will be Johnny Hager and Megan Perez.
Johnny Hager - Judging: Champions, Grands, Overall on Saturday at the 2018 Winter Classic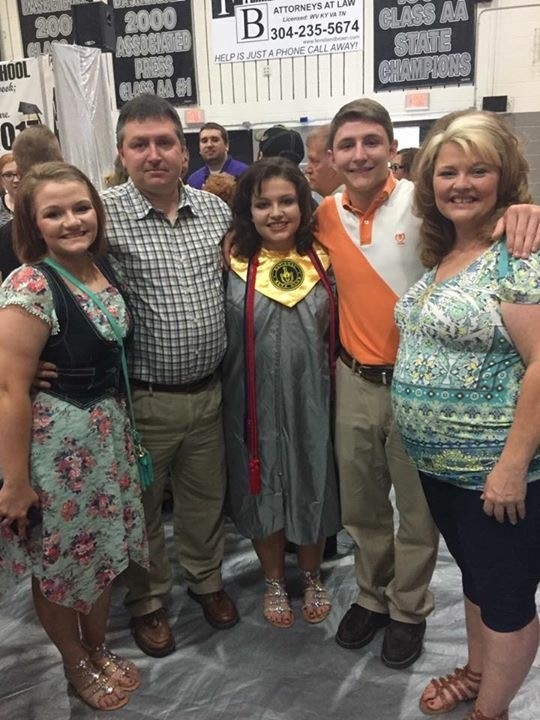 Johnny and family.
Johnny Hager, 44, currently resides in Dingess, West Virginia. He is married to Christina Hager, and the two of them have four children ranging from four months old to 23 years old. Nick is their oldest at 23, followed by Brenna at 18, Makayla at 15 and Matthew at 4 months old.
Johnny has owned and bred Plotts for around 30 years now. He has done his fair share of winning in both the show ring as well as the woods and always enjoyed both ends of the coonhound events.
Johnny has been a Bench Show Judge and a Master of Hounds for about 24 years. He has judged a fair number of events, and some of his bigger events have been Plott Days, West Virginia State, Ohio State, and Winter Classic.
Megan Perez - Judging: open class, Dual Champions, Pairs, and Top 10 on Friday at the 2018 Winter Classic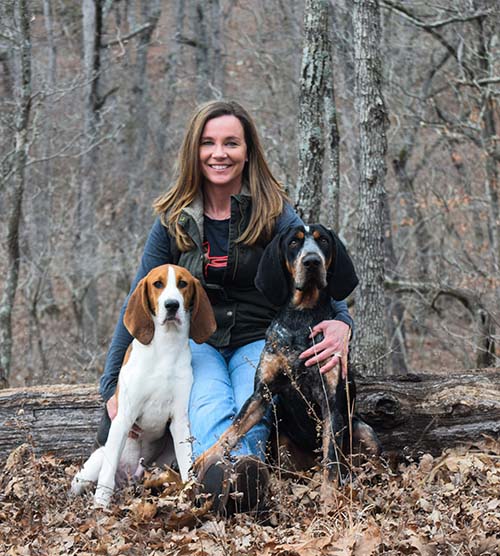 Megan with her two young prospects, Laz and Slade.
Megan Perez currently resides in Clarksville, Missouri, with her husband, Danny Perez, and their kennel full of hounds. "Danny and I are a team. We are able to work, train, show, and hunt these hounds together and its a continuous passion we share and love," Megan said.
Megan has been around the hounds since the day she came home from the hospital. Her parents, Cheryl Mares and Rick Rimel were avid coon hunters.
"I have been involved with coonhounds my entire life. As a young girl, barely 6 years old, I remember watching both my mom and dad load the hounds into the truck and pulling out of the driveway. At that time, they thought I was too young to go. We would get the Coonhound Bloodlines and while they were in the woods I would look at those magazines and see win pictures, and I would later attempt to make our hounds look like the ones in magazines. In doing this, I began to learn what makes a hound look the way it does. What flaws look like and why they are there. When I turned 9 years of age our local clubs The Geauga County Coonhunters Association and the Ashtabula County Coonhunters Association would come together and have non-sanctioned hunts and shows for the youth. My mom, Cheryl Mares, my dad, Rick Rimel, and my sister, Chrissy Sarver, would all attend these regularly. As I grew older I was intrigued by the magazine. I studied pedigrees and wanted to learn everything I could about the coonhounds. I would go to the local shows and hunts and be quick to guess at the bloodline behind a hound by just looking at it. I went on to show and pleasure hunt. Although I would compete in a few competition hunts throughout the years, I gained a love for the build, structure and overall movement along with continuing learning the different bloodlines and breed standards."
The first hound she called her own was Spring Creek Dixie. "My first hound I was actively able to compete with was Spring Creek Dixie, always did well in the hunts and shows," she said.
While this hound has a place in her heart just like all of our firsts do, Megan had a different "first dog" come to mind.
"When I was 13 years old, my dad gave me a puppy we named her Spring Creek Sassy. I trained her in many things. Not only did she grow to be my hunting dog, she was what taught me how to train a hound to stack and stand for a long period of time. I also taught her other things like shake, wave, sit and stay. Sassy was by far the all-around hound. When I was 15 years old, I was amazed when my dad planned a trip to Autumn Oaks. He took me and Sassy it was so enjoyable to me to see the dogs in real life that I was seeing in the magazines. That hooked me permanently to continue to compete at a more national level. Although Sassy lost her ability to use one leg after getting hit by a car in a youth hunt, it did not hold her back from doing the things I taught her, and she still performed and was eager to please," Megan recalled.
The first time someone had asked Megan to show a dog for them, she was about 13. The dog was Night Heat Abby, who was owned by Don Heavin at the time. It was a local bench show at Geauga County Coonhunters Association, and Megan ended up putting a Best Of Show with competition on Abby.
Megan has accomplished quite a bit since her teenage years. Sheldon Swanson had trusted her enough to contribute and take part in the Southfork River Kennel. Shes shown and won at various national level shows with a few different dogs and made a few crosses producing dogs of the same caliber.
Megan says, "I had always dreamed of winning the National Grand title at Autumn Oaks. I think thats a dream that a lot of us have. In 2009, I was showing a Treeing Walker male that I owned at the time, Southfork River Wonder Boy, at the 50th annual Autumn Oaks. He was two years old and he was out of Sideshow Sunny Boy and Hares Dark Moon JJ. I went in ready and excited to show, just like any of us do, but not necessarily expecting to win. It was a surreal moment when Wayne Cavanaugh picked him as the 2009 National Grand Show Champion!
Megan has also had some recent success with a female out of Wonder Boy himself. GRCH 'PR' All American Dream Girl is a 4-year-old Walker female out of Wonder Boy and Southfork Rv. Backwoods Barbie. Megan co-owns girl with Gary Franks and both are beyond proud of this females success. In 2016, Girl won overall at the Purina National Championship. A few months later, Girl went on to win National Grand Treeing Walker at Autumn Oaks! He Autumn oaks success did not stop there. In 2017, Girl made it one step further and won Opposite Sex National Grand Show Champion.
Megan has been a bench show judge since 2008. Shes judged a few local shows as well as English Days in 2017. A correct, balanced hound is what she likes to see. While she primarily owns Walkers, Megan also dabbles in Blueticks. Though these are her breeds of choice, she cannot deny a correct dog that is true to its standards. No matter what the breed may be.
Megan went on to say, "My love for the Treeing Walker came from my two first hounds Dixie and Sassy. However, I do have a strong desire to see an overall well-structured hound in any breed. I truly enjoy the sport and people within the sport. I feel strongly about the correct breed standards and how it affects their ability to perform."
A Kalamazoo, Michigan-based company founded in 1898, United Kennel Club is the largest all-breed performance-dog registry in the world, registering dogs from all 50 states and 25 foreign countries. Celebrating the unique Total Dog philosophy, UKC events highlight the instincts and heritage of dogs that look and perform equally well, as more than 60 percent of its annually licensed events are tests of hunting ability, training, and instinct. United Kennel Club prides itself on its family-oriented, friendly, educational events, welcoming both purebred dogs and dogs of unknown ancestry.
Back to Coonhound News >