Welcome, to Our New Cur Field Rep!
Jordan Baxter of North Carolina Joins UKC Cur Field Rep Team
February 21, 2019
We are pleased to have Jordan Baxter serve as a Field Representative for the Cur Squirrel Dog Program! Jordan and his wife Anna, along with their 8-year-old son, reside in Bennet, North Carolina. Hes been involved in the sport for approximately 17 years and comes with a solid resume both personally and in sport. Jordan is employed by the Randolph County Sheriff's Department where he currently serves as their Lieutenant Jailer.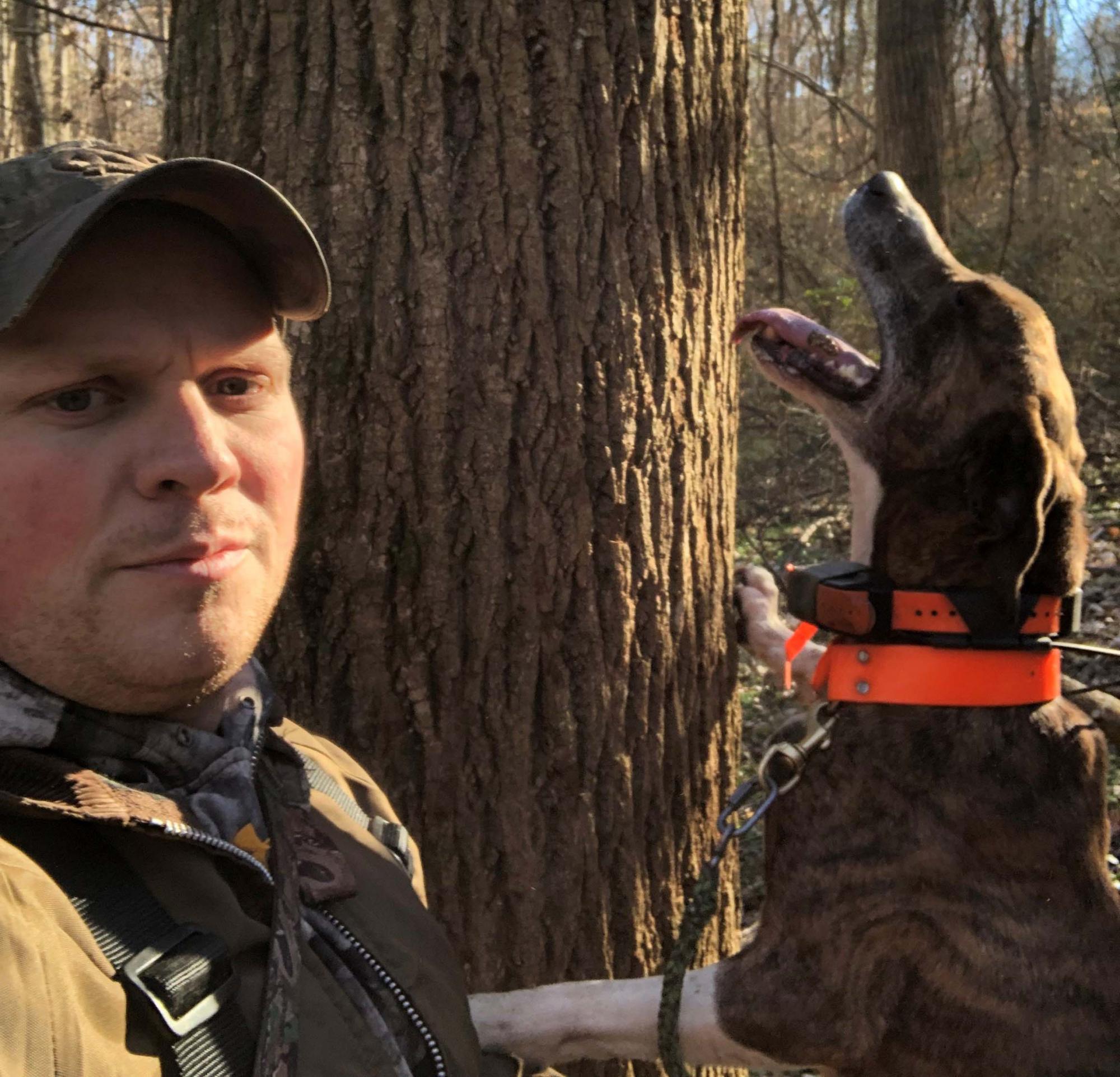 Jordan Baxter of North Carolina is the newest UKC Cur Field Rep.
Baxter is a member of the Rocky River Coon Hunters Association and the Central Carolina Houndsmen. He has, in the past, also served as the president of the Rocky River Club. He remembers the UKC Challenge Series from nearly 15 years ago as one of those that he always loved to compete in. His dogs finished runner-up in two of those series events back in the day. Along the way, his dogs have won 11 different state titles. Today he still loves traveling and hunting in different parts of the country.
His breed of choice is the Mountain Cur and references the 20-20 strain of dogs that suits him well. Baxters Angel is one of his all-time favorites that he has owned. When hes not out in the squirrel woods, you might find him fishing for salt water flounder on the east coast, in a deer stand during season, going after a few coon pelts with his Treeing Walker coonhound, or maybe attending or watching one of the many different Tar Heel sports teams in his state.
Mr. Baxter has a passion for the sport and is excited for the opportunity to serve in this field. More importantly, hes looking forward to working with all those who share his passion and work towards establishing and promoting UKC programs and events across the country. Hell be the in-field consultant for UKC and the voice for all Cur dog enthusiasts as it relates to the UKC squirrel programs and events.
One of his first events in 2019 will be to work with UKCs Allen Gingerich at the Cur World Championship in Corbin, Kentucky on March 8th through the 10th. UKC looks forward to working with Jordan and we wish him all the best working with Cur hunters and enthusiasts all across the country. Email Jordan to say hello or learn more about UKC Curs.
A Kalamazoo, Michigan-based company founded in 1898, United Kennel Club is the largest all-breed performance-dog registry in the world, registering dogs from all 50 states and 25 foreign countries. Celebrating the unique Total Dog philosophy, UKC events highlight the instincts and heritage of dogs that look and perform equally well, as more than 60 percent of its annually licensed events are tests of hunting ability, training, and instinct. United Kennel Club prides itself on its family-oriented, friendly, educational events, welcoming both purebred dogs and dogs of unknown ancestry.
Back to Squirrel Dog News >