UKC is Turning 120!
Since 1898. Celebrate by using #UKC120 on social media!
February 9, 2018
Founded on February 10, 1898, UKC is turning 120!
UKC's founding shares a year in history with some very unique occurrences. Take a look at these other notable events from 1898: Brooklyn joined New York to form the New York we now know. The first ever auto insurance policy was issued. The first automobile land-speed record was set at a 39 mph.
A Look Back at our 120 Years in Kalamazoo, Michigan
We have proudly been a Kalamazoo, Michigan-based company since day one. The UKC office has been located at multiple places in Kalamazoo since its founding. In the early years, UKC operated directly out of founder Chauncey Bennetts household. After Bennetts death in 1936, his daughter, Frances Ruth Bennett, took an active role in everyday management of the company. By 1944, Frances husband, Dr. Furhman, suggested a move to an office space downtown, called the Hansleman building. At the time, it was the tallest building in the Kalamazoo skyline at nine stories. (Demolished in 1973, the Hanselman building was the original occupant of the block now home to the Radisson Inn and Suites.) Within 10 years, the operation was moved a few blocks Southwest to 321 W. Cedar Street. By 1979, under then President Fred Miller, the current UKC building was constructed at 100 E. Kilgore Road. The 3.5-acre lot remains UKCs home base to this day.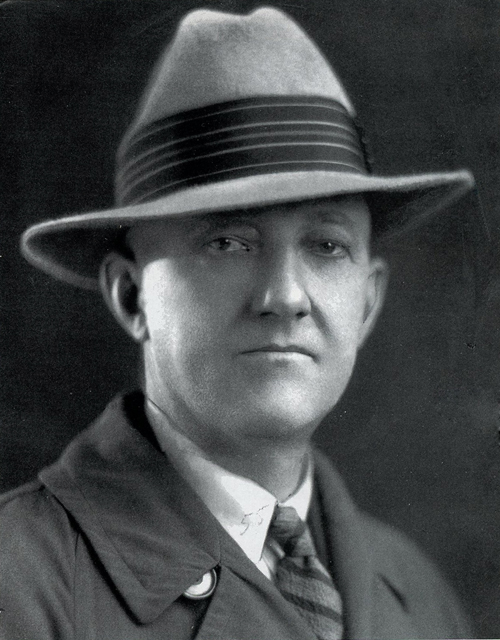 UKC Founder, Chauncey Bennett
In the early 1900's, dog registration was a new concept. People were accustomed to the idea of registering horses, with some registries already 75 years old or more, but the idea of registering pets would take a little getting used to. Bennett believed strongly in fastidious record-keeping. The need for a registration office was a necessity. Human error from hand-written pedigrees was something Bennett sought to greatly improve. Of great importance to Bennett was that dog breeding be considered a reputable undertaking, where the "everyman" could improve his (or her) stock through careful selection and accurate records - not simply a hobby for the "idle rich" as he called them, but a life pursuit for those of middle income who were dedicated to their breeds. The elimination of dubious lineage via the establishment of an honest, precise database worked to bolster UKC's legitimacy. Steadily, Chauncey Bennett's dream of a registry encouraging retention of a dog's working ability, promoted to the common person desiring to better their breeding, with records on file to help breeders make informed decisions became a reality.
By the 1920's, UKC registrations were pouring in and fanciers wanted a way to showcase their stock. The first UKC licensed conformation show was held in Lansing, Michigan in 1927, with more to follow. September 18, 1953 saw the first official coonhound nite hunt under UKC rules. Autumn Oaks became a must-attend event at the inaugural 1960 hunt. A desire for additional tiles of excellence brought the first UKC Coonhound World Championship, then called the Tournament of Champions, in 1975. Winter Classic started its now 31-year legacy in 1988. Premier began in 1994, and Gateway followed in 2010. All of these major events continue to grow. Each is an annual focal point in the UKC community. New events and programs are added to the UKC roster nearly every year. Explore other notable events and progams.
Looking to the Future
Where will the next 120 years find United Kennel Club? Undoubtedly UKC will continue to bring about advancements, offer quality services, and maintain the pedigrees so integral to the UKC mission.
This excerpt from a 1944 issue of Bloodlines magazine perhaps says it best:
"The UKC is proud of its record, proud of its dogs, proud of the UKC breeders and fanciers. We are proud of our long existence of continually serving the fanciers and the continual bettering of all the breeds that register with us. All UKC breeds speak for themselves and for the people who are behind them, and the UKC for itself."
Thank you for your continued support of UKC, its events and programs. We look forward to this year, and many more, with our breeders, owners, exhibitors, competitors, judges, and everyone involved in making UKC what it is.
To help us celebrate our 120th anniversary, post a picture on social media of your UKC dogs and use the hashtag #UKC120.
Related: UKC turns 119
A Kalamazoo, Michigan-based company founded in 1898, United Kennel Club is the largest all-breed performance-dog registry in the world, registering dogs from all 50 states and 25 foreign countries. Celebrating the unique Total Dog philosophy, UKC events highlight the instincts and heritage of dogs that look and perform equally well, as more than 60 percent of its annually licensed events are tests of hunting ability, training, and instinct. United Kennel Club prides itself on its family-oriented, friendly, educational events, welcoming both purebred dogs and dogs of unknown ancestry.
Back to Pointing Dog News >