Refreshed Registration Product Line & Pricing, Effective Dec. 15, 2022
December 1, 2022
As we approach the 125th anniversary of United Kennel Club's founding, February 10, 1898, there have been a multitude of monumental changes over the years. The technology, offerings, and office space itself have all been in a state of constant advancement for over a century now.
Did you know? All aspects of your dogs' storied lineage, from concept to paper sourcing, to printing and packaging of each UKC pedigree occurs on UKC property and is conducted by UKC team members. Each pedigree is printed in the UKC Pedigree Room.
For service and quality unmatched, UKC is thrilled to unveil a brand-new registration product line very soon, which will be produced on an all-new machine (coming in mid-December)! The new production press printing equipment is six times larger than what UKC previously had for many years, and a construction remodel was required to make the Pedigree Room even roomier.
First announced in October, we are excited to be releasing a refreshed product line for Registration certificates and pedigrees launching December 15, 2022. This refreshed lineup of pedigrees has a new look that still pays tribute to the history UKC represents.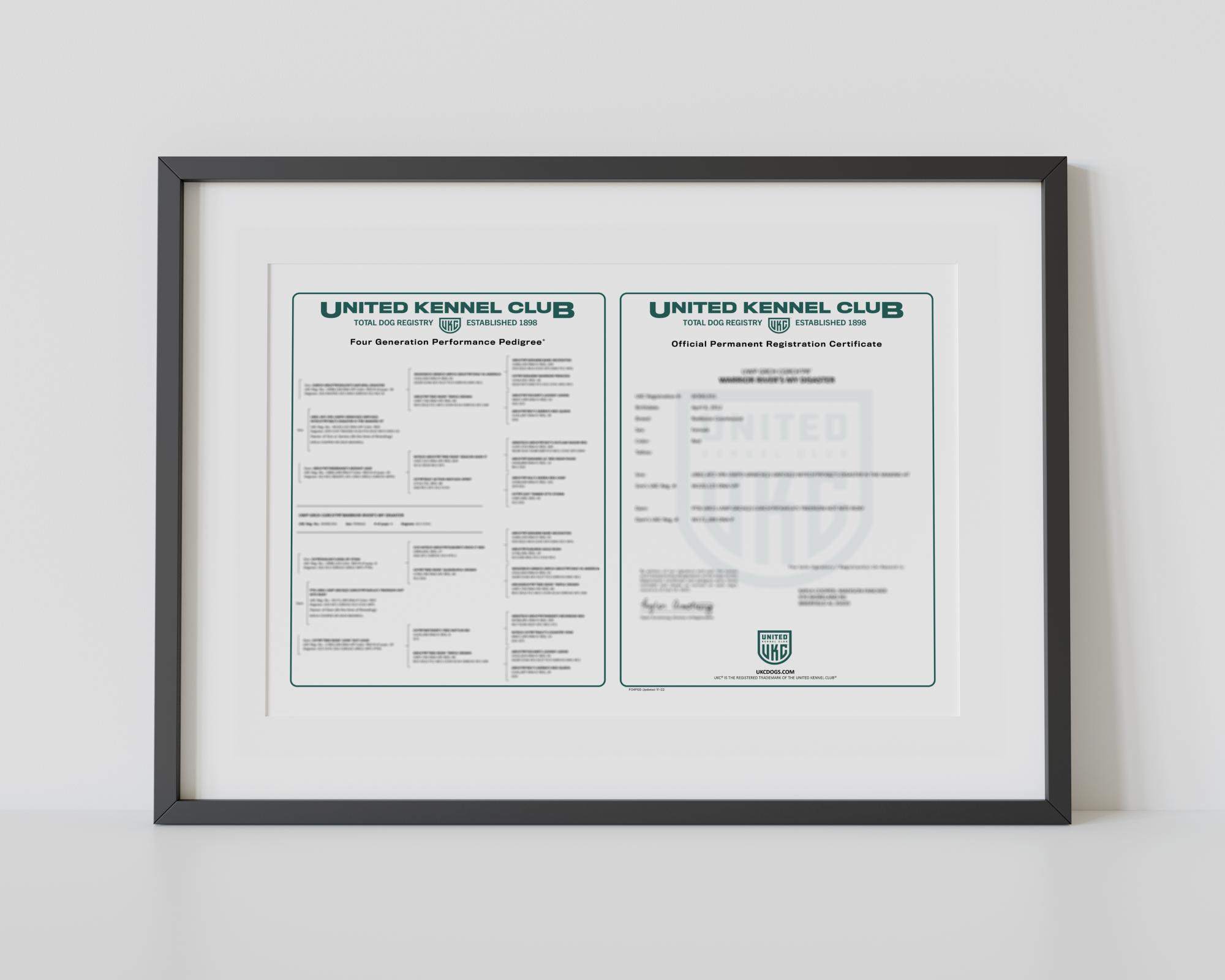 Starting December 15, 2022, the Official Permanent Registration Certificates will be displayed directly next to the 3-Generation Performance Pedigree and 4-Generation Performance Pedigree on 11x17 paper so you can easily frame and see both components together. Frame not included.
The upgraded, high caliber printing press will produce this refreshed product line, one of lasting quality. There are only 1,000 of these high-tech production press machines in the United States and one of them is in the UKC Pedigree Room where it will print your dogs name someday! The new equipment allows us to offer you enhanced capabilities like new sizes (a 5-Generation for one, and an overall larger paper size for all pedigrees to boot!), superior visual clarity and a more vibrant color scheme. Be sure to check out the new Metallic upgrades available. What was formerly gold-foil and only available in the 4-Generation Pedigree for Purple Ribbon Bred dogs will now be a Metallic detail available on any size pedigree for a nominal upgrade fee.
Our incoming printing press is just one more advancement we are proud to offer in our 125+ year history.
UKC Pedigree Options Are More Customizable Than Ever
You can look forward to more upgrade options being available, as well as additional pedigree sizes, including a new Metallic upgrade for our 3-Generation Performance Pedigree Purple Ribbon Bred dogs, never-before-available Metallic upgrades for other permanently registered dogs, and a brand new 5-Generation Performance Pedigree!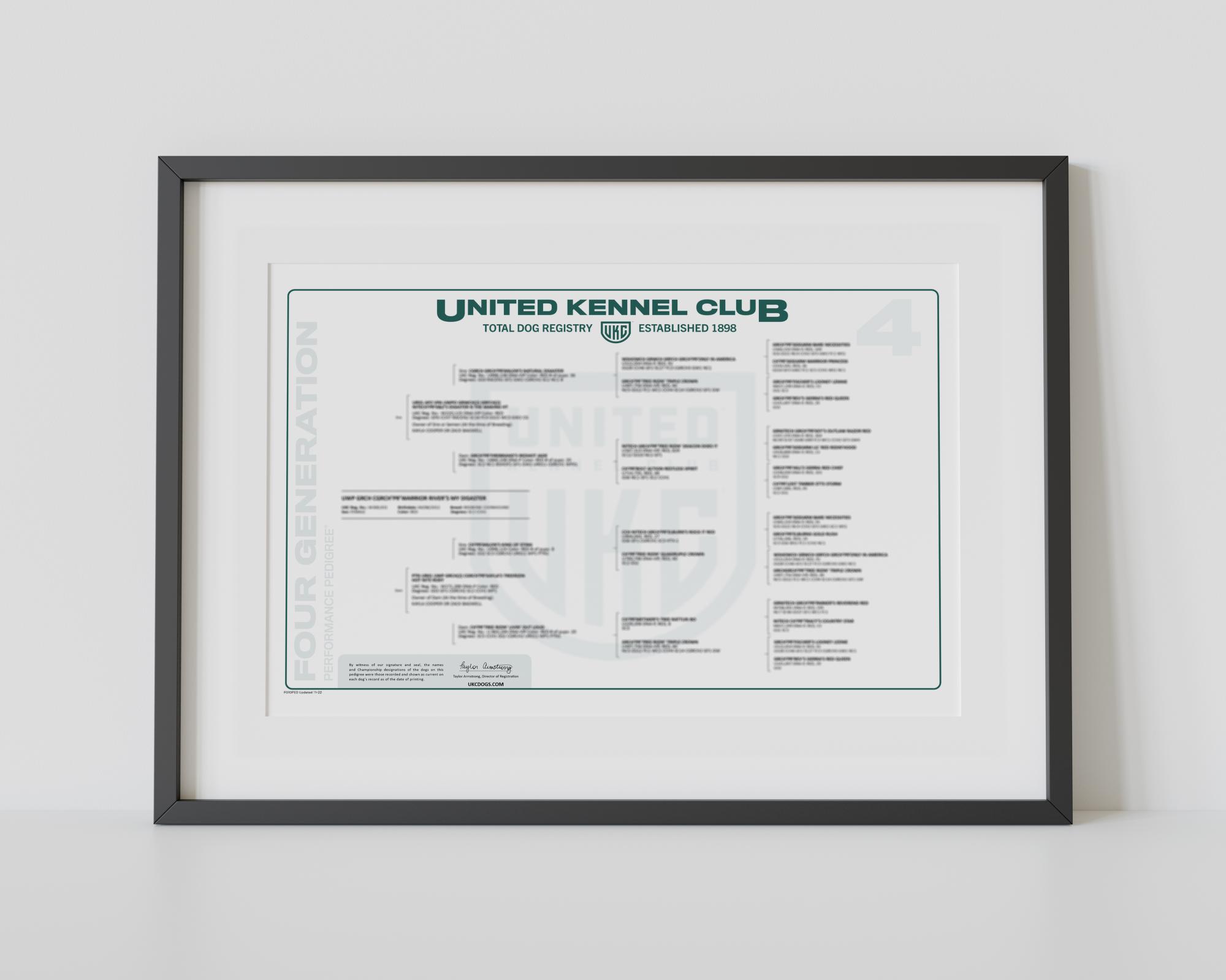 Optional: upgrade to an additional 11x17 Display size for your collection! The Display size upgrade is an additional pedigree for your current dog, or a kennel favorite from years ago, which is a meaningful way to showcase their storied lineage. Available starting December 15, 2022. Frame not included.
The Official Permanent Registration Certificates will be displayed next to the 3-Generation Performance Pedigree and 4-Generation Performance Pedigree so you can easily frame or display both together. Updated pricing for these services will launch along with the refreshed and improved lineup.
'PR' dogs are automatically upgraded to a Purple Ribbon version of any pedigree chosen at no additional cost.
You can upgrade your choice to add enhanced metallic details for ANY dog, 'PR' or not!
Note: only those pedigrees with the certificate on half are eligible for use in transferring dogs. The new Display options are large, high-quality frameable versions of the pedigree portion only, without an official certificate.
We look forward to taking this step into the next 125 years with you.
New pricing is effective December 15, 2022
NEW! Standard Registration Package (11x17 Certificate of Ownership next to the 3-Generation Performance Pedigree® and Easy Entry Card): $30
NEW! Upgrade to 4-Generation Performance Pedigree: add $4
NEW! Additional 11x17 Display Pedigrees (certificate not included available with an official certificate package above or in the UKC online store at any time): add $12 for 5-Generation. Other sizes available for specified rates.
And more!
All pedigrees printed starting December 15th will be completed and returned to you in the new, enhanced format.
Applications postmarked or submitted online on or after December 15th will be subject to the new pricing structure. Fee discrepancies on submissions will result in processing delays, and our team will call you to correct any underpayment if the need arises with your application(s).
The UKC customer service team is available from 8:30am-8:30pm ET, M-F to assist you.
Guided by the belief that dogs make a difference by being the best partner a human can have in the field, on the job, or in a competition event, UKC is a community for people and dogs to pursue excellence together. Founded in 1898, UKC has been dedicated to enhancing the lives of Dogs That Do More, and their owners, by providing essential resources to help owners and breeders make informed decisions. The dog-human bond is celebrated through family-friendly programs highlighting the instincts and heritage of purebred and mixed-breed dogs alike at over 18,000 licensed events annually.
Back to Registration News >