Looking Forward
Thank you for choosing UKC
June 10, 2020
Email: registration@ukcdogs.com

As a Michigan-based company, UKC continues to complete operations with most staff working remotely due to the stay home order. Paired with this, mail service in parts of Michigan continues to be disrupted by coronavirus.
This adjusted processing capacity on our end, combined with slower than usual mail times (to and from), not only across the country but specifically within Michigan (read more below), has resulted in turnaround delays with UKC paperwork. Hold times when you want to reach us have also been unusually long. We know this is frustrating because your papers matter to you, and you are used to receiving them much more quickly.
When this order lifts fully, and it will lift, we will remain in compliance with all state and local regulations to ensure the safety of our staff while still providing our customers with their paperwork in the most timely manner possible. Speeds will continue to increase with the gradual return to full capacity not only the UKC office but various mailing entities such as the United States Postal Service.
Questions about your paperwork? Email registration@ukcdogs.com and provide as much information as possible.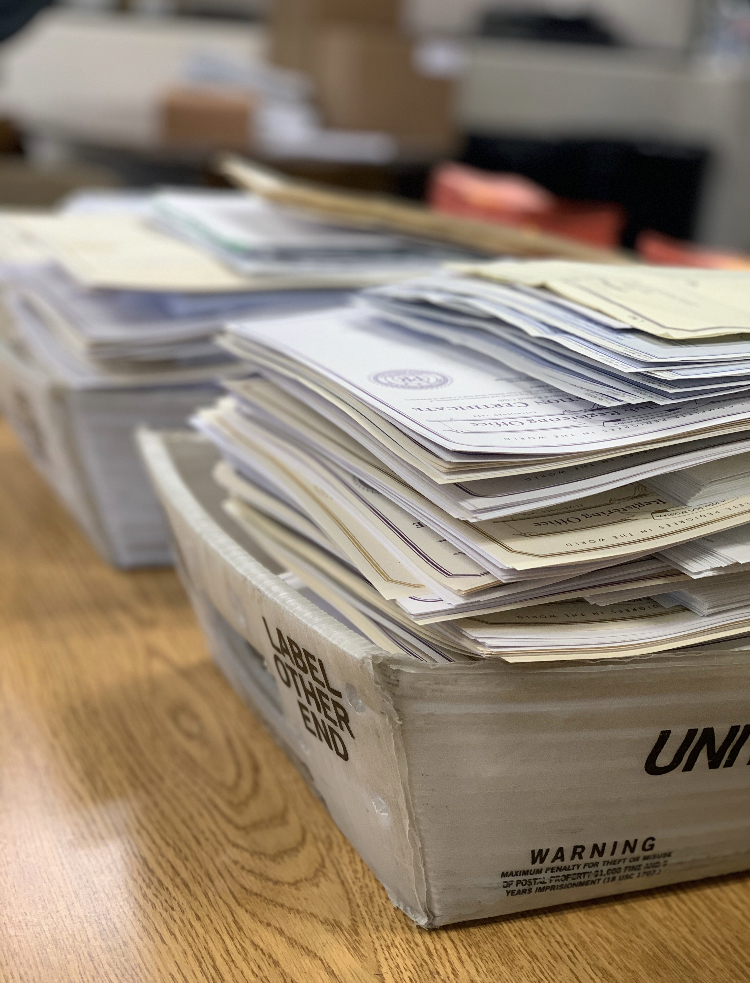 In an average week, there are thousands of UKC pedigrees processed, more than 700 emails attended to by our Registration team, and nearly 3,800 phone calls answered.
James Haggarty, president of the Michigan chapter of the National Postal Mail Handlers Union, has been quoted as saying United States Postal Service staffing in Michigan has been affected by coronavirus.
An article by MLive, a Michigan news outlet, has reported the following on May 6, 2020: "The region continues to be hit hard by the coronavirus, leaving shorthanded staffs working through backlogs at U.S. Postal Service distribution centers. Haggarty said some mail has been sent to West Michigans processing centers to ease the strain on the Detroit area, where coronavirus has been more prevalent."
'We're still a little backed up in Detroit and trying to bring more people on to help,' Haggarty said.
'People are starting to come back to work [at the USPS centers in Michigan] but not everybody. Were trying to get everything out as fast as we can but we can only do so much with the amount of people we have.'
Read the full article on this topic by MLive
Your satisfaction is our goal every day at UKC. We appreciate your continued patience.
Guided by the belief that dogs make a difference by being the best partner a human can have in the field, on the job, or in a competition event, UKC is a community for people and dogs to pursue excellence together. Founded in 1898, UKC has been dedicated to enhancing the lives of Dogs That Do More, and their owners, by providing essential resources to help owners and breeders make informed decisions. The dog-human bond is celebrated through family-friendly programs highlighting the instincts and heritage of purebred and mixed-breed dogs alike at over 15,000 licensed events annually.
Back to Registration News >