UKC To Continue Operations Remotely
State of Michigan under a "Stay Safe, Stay Home" Mandate until mid-April
May 15, 2020
Email: registration@ukcdogs.com

Due to executive order No. 2020-21 issued by Michigan's governor Gretchen Whitmer on 3/23/20 to suppress the spread of COVID-19, the State of Michigan is under a "Stay Home, Stay Safe" mandate. The UKC office, located in Kalamazoo, Michigan, is closed during this time.
From the order, "To suppress the spread of COVID-19, to prevent the states health care system from being overwhelmed, to allow time for the production of critical test kits, ventilators, and personal protective equipment, and to avoid needless deaths, it is reasonable and necessary to direct residents to remain at home or in their place of residence to the maximum extent feasible."
Updated 5/15/20. Note: This order initially went into effect on March 24, 2020 at 12:01 am. It has been extended three times, with a projected end date of May 28, 2020. We will continue to update on our official return date.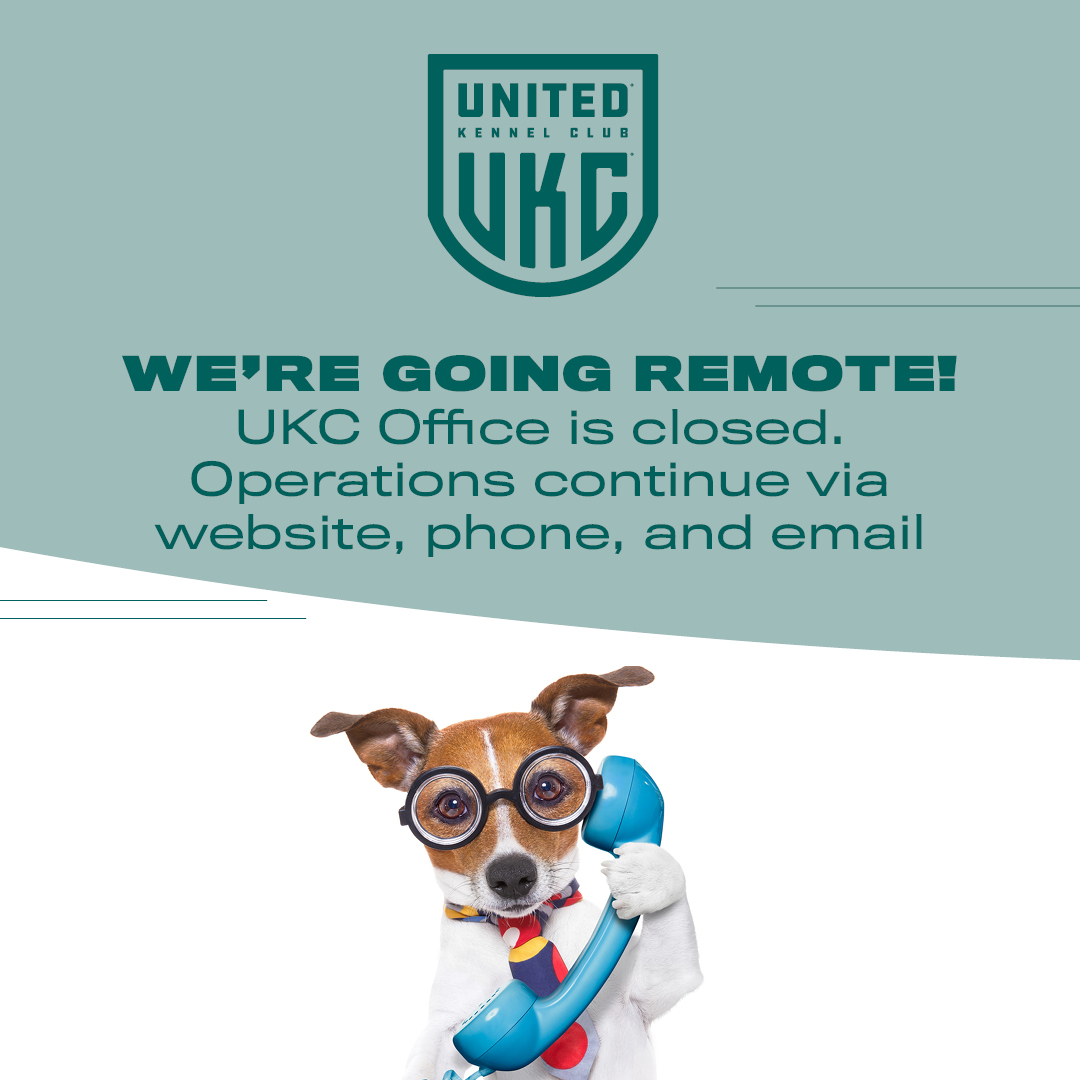 We're going remote! The UKC Office is closed. Operations continue via website, phone, and email

We are committed to keeping our services available to you via remote employee capabilities. We appreciate your patience during this unusual time, and we ask for your understanding for any delays experienced in the coming weeks due to this statewide mandate prohibiting us and many other entities from working at regular capacity. Together as a worldwide community dedicated to Dogs That Do More, we will get through this.
Early in March, UKC had already begun taking proactive steps to facilitate our team's ability to work from home. By Friday, March 20th, a full 20% of our staff was working remotely. Our priorities over the coming weeks will continue to be staff safety and serving our customers as best as possible during this time. Our staff will be working from home to keep UKC services available to our customers. The proactive steps taken early on have provided us with a clear path forward to remain operational until regular hours are permitted to resume at the UKC office. We are well-suited to continue to help you with all of your UKC needs during this time. We will continue to monitor and update you on any changes.
Expect delays as we work within these parameters to provide you the service you deserve.
You can still call us! Were available from 9 a.m.-4:30 p.m. ET Monday-Friday. And remember, we have a callback option. Give us a call, get in line via the callback option, and hang up. We'll call you when it's your turn in the queue.
You can still email us.
You can still submit online registrations for processing.
You can still mail us anything you normally would. Incoming physical mail will be safely held while we are away from the office until we can return to process it.
We will continue to process orders and incoming reports as we are able to receive them.
Guided by the belief that dogs make a difference by being the best partner a human can have in the field, on the job, or in a competition event, UKC is a community for people and dogs to pursue excellence together. Founded in 1898, UKC has been dedicated to enhancing the lives of Dogs That Do More, and their owners, by providing essential resources to help owners and breeders make informed decisions. The dog-human bond is celebrated through family-friendly programs highlighting the instincts and heritage of purebred and mixed-breed dogs alike at over 15,000 licensed events annually.
Back to Coonhound News >