Coonhound World Championship 2020 Pick 'Em Game!
Deadline to play is September 24th at 5 p.m.
September 22, 2020
The Top 100 have been determined!
How does it work?
All picks MUST submitted via the official link by September 24th to be counted.
Choose your 5 picks that you think will make it all the way at the Finals this weekend. Pick your 5 and see how you stack up. BONUS! Current Coonhound Bloodlines subscribers can pick an extra dog!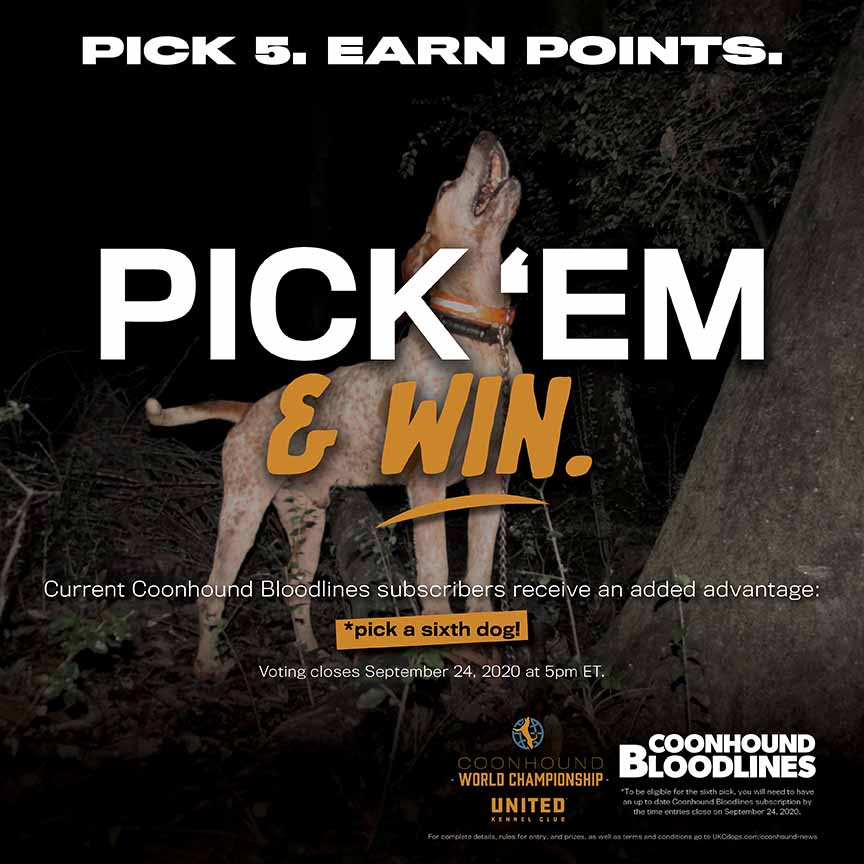 Each person will be allowed to pick 5 hounds out of the 100 that advance to the World Finals to be on their team. Those hounds will accrue points, depending on how far they advance.
As a bonus to Coonhound Bloodline subscribers, they will be allowed to pick an additional dog for their team, giving them an added advantage. To be eligible for the additional dog, you will need to have an up to date Coonhound Bloodlines subscription by the time entries close on Thursday, September 24th.
The points will be earned as follows:
1 Point for every dog advancing past the 1st Round
5 Points for every dog advancing past the 3rd Round
10 Bonus Points to every dog you have in the Final Cast
20 Points awarded to anyone who selects the 2020 UKC Coonhound World Champion
The prize packages for High Scoring Picks:
1st Place 1-year subscription to Coonhound Bloodlines, Free Entry for 1 night at the 2021 Winter Classic OR 2021 Autumn Oaks, UKC hat
Void where prohibited.
Guided by the belief that dogs make a difference by being the best partner a human can have in the field, on the job, or in a competition event, UKC is a community for people and dogs to pursue excellence together. Founded in 1898, UKC has been dedicated to enhancing the lives of Dogs That Do More, and their owners, by providing essential resources to help owners and breeders make informed decisions. The dog-human bond is celebrated through family-friendly programs highlighting the instincts and heritage of purebred and mixed-breed dogs alike at over 15,000 licensed events annually.
Back to Coonhound News >