Trevor Wade Joins UKC Team
Coonhound Program Manager
May 29, 2019
We'd like to extend a warm welcome to our newest team member, Trevor Wade! Trevor's role as Coonhound Program Manager means he'll be attending events across the country and helping to manage how they operate while facilitating overall program goals.
Hailing from Athens, Tennessee, Trevor made the trip to Kalamazoo over Memorial Day weekend. He started with us here in the office on May 28th. The first event on his docket will be English Days, June 6-8 in Portland, Indiana. After that, look for him at Youth Nationals and Autumn Oaks.
Trevor says, "For the past 10 years I've been enamored with the sport of coon hunting and have had the opportunity to be a part of multiple hounds being titled out in competition hunts. I have a soft spot in my heart for the American Black and Tan Coonhound breed, but I've hunted them all."
He's a solid fit with UKC for many reasons. His passion is putting on great events and helping to establish a community of coonhound enthusiasts.
Trevor added, "I believe my true calling in the sport was uncovered in a series of benefit hunts that a couple local hunters and myself established, called 'Track Down Cancer.' Creating, organizing and managing hunting events has become a dream of mine, and I can't wait to utilize my passion and skillset to do just that. I look forward to hitting the ground running this summer and helping UKC continue to thrive into the future. I can't wait to meet as many of you in the industry as I can and talk dogs!"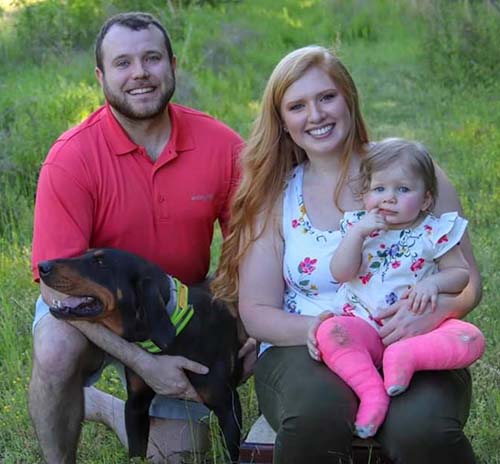 "I've been blessed with a beautiful wife, Jenna, and we have a wonderful daughter named Brynlee. I've been hunting with dogs since I was a kid, whether it was rabbit, squirrel, bird or coon."
-Trevor Wade
We're extremely happy to have Trevor on board. Be sure to say hello when you spot him at a hunt near you!
A Kalamazoo, Michigan-based company founded in 1898, United Kennel Club is the largest all-breed performance-dog registry in the world, registering dogs from all 50 states and 25 foreign countries. Celebrating the unique Total Dog philosophy, UKC events highlight the instincts and heritage of dogs that look and perform equally well, as more than 60 percent of its annually licensed events are tests of hunting ability, training, and instinct. United Kennel Club prides itself on its family-oriented, friendly, educational events, welcoming both purebred dogs and dogs of unknown ancestry.
Back to Coonhound News >