First ESDS Hall of Fame Awarded
Cree, owned by Zoey Rada and Jeff Rada, Wisconsin
December 29, 2020
Zoey Rada and "Cree" make history by earning the first Hall Of Fame title issued in the UKC Elite Shed Dog Series.
ESD BLACK ICE'S INDIAN PRINCESS HOF
DOB: 5/13/2016
Sire: HRCH Black Ices Carbon Copy Of Ammo
Dam: BLKICEPIRATESCANNONBLSTFROMTHEPST
When Zoey Rada told dad Jeff that she wanted another dog to run in the shed dog events he should have realized his truck was about to see highway miles like never before. But if it did cross his mind it was not an issue as they were soon in the market for a new Labrador puppy. The new pup would join fellow shed dog Willow in the Rada household.
The search for a top contender was serious business and they soon enlisted the help of shed dog friend Scott Kuchenbecker. Scott found a pup, the last female in the litter, with Chris Smith at Black Ice Retrievers in Illinois. The pup had an impressive pedigree featuring several dogs titled in UKC's Hunting Retriever Club program. Cree soon joined the Rada family as Zoey's project and at six months of age spent some time with Josh Miller and Dave Larson at Riverstone Kennels for her formal introduction into the sport of shed hunting. For the next four years it was training at home and trialing on the weekends as Zoey and Cree developed a bond and the talent that would carry them to the top of the sport.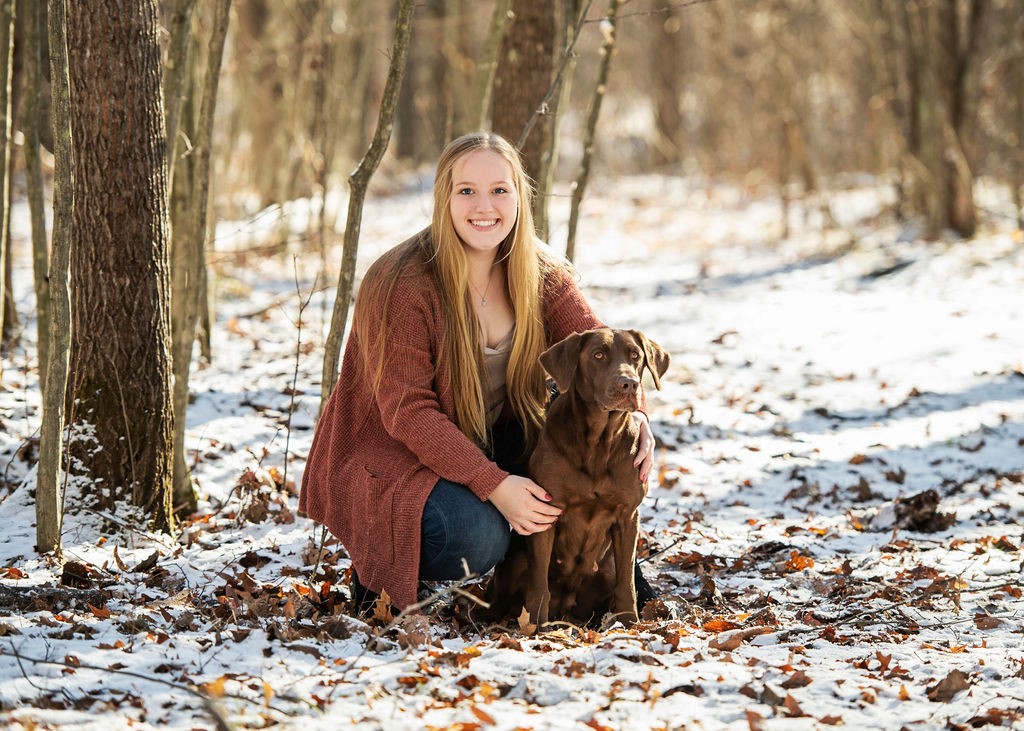 Congratulations to Zoey Rada and Cree, the first ever HOF UKC Elite Shed Dog.
While Zoey was on the road racking up championship points on Cree, many top honors came their way. Some of these would include: Youth Handler Of The Year Finalist, Youth Handler Of The Year Winner, Youth National Champion, and Dog Of The Year Finalist. But even more important than the awards they earned is the way in which they earned them. Zoey is a terrific role model in the Elite Shed Dog Series for both youth and adult handlers! Zoey and Cree are one of our sport's favorite teams which all of us can be very proud of. It is fitting and most deserving that Cree is the first dog in Elite Shed Dog Series to accumulate 1,000 championship points and earn the Hall Of Fame honor.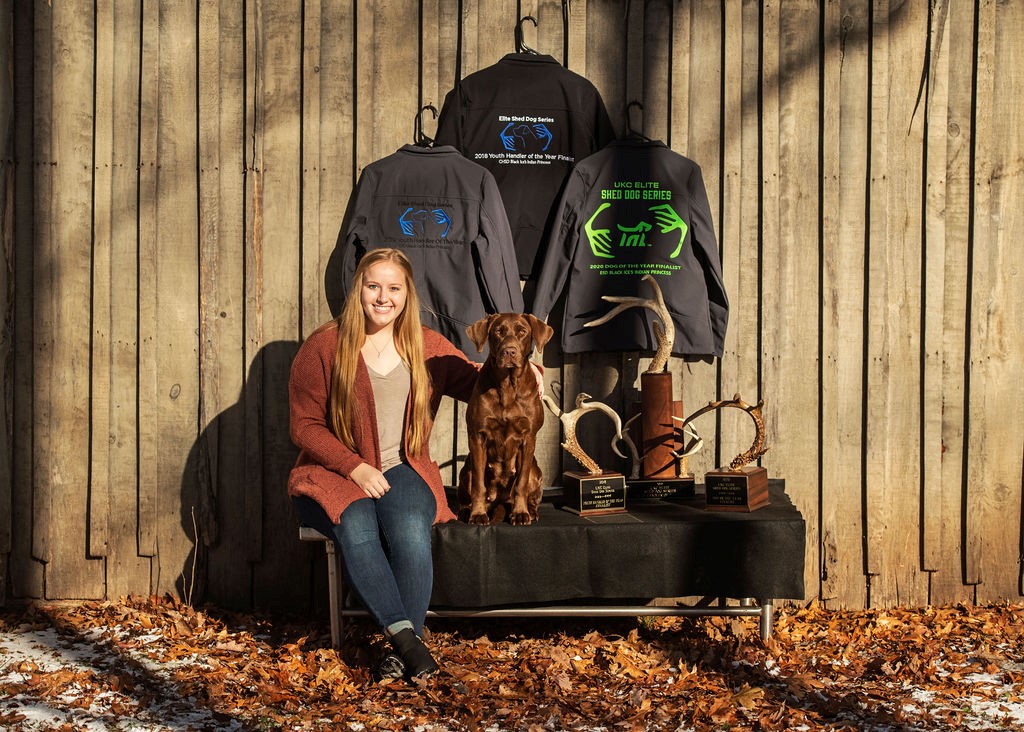 Zoey Rada with Cree and some of their winnings from many successes together in the UKC Elite Shed Dog Series.
What the future holds for team Rada is hard to say. It is safe to say we have not seen the last of them. Cree is just four years old. Zoey is now a Senior in high school. With Willow forced into early retirement due to health issues, Jeff has added top contender Tundra to the string for him to handle. Zoey's mom Cassie is also on the road with the team now running her dog Riot. When you look at the big picture, UKC is proud to acknowledge that this is only one of many great family teams that makes the Elite Shed Dog Series the greatest program in the sport.
Points History Summary
38 passes, 24 placements, 1,000 points
Guided by the belief that dogs make a difference by being the best partner a human can have in the field, on the job, or in a competition event, UKC is a community for people and dogs to pursue excellence together. Founded in 1898, UKC has been dedicated to enhancing the lives of Dogs That Do More, and their owners, by providing essential resources to help owners and breeders make informed decisions. The dog-human bond is celebrated through family-friendly programs highlighting the instincts and heritage of purebred and mixed-breed dogs alike at over 15,000 licensed events annually.
Back to Elite Shed Dog Series News >