Jamie Estep: New UKC Field Rep
Announcement
January 12, 2021
Source: Trevor Wade, UKC Coonhound Program Manager
Email: twade@ukcdogs.com

Jamie Estep, UKC Field Rep
Wife: Valerie Estep
Married for 24 years
Son: Drew (17 years old) and a senior in high school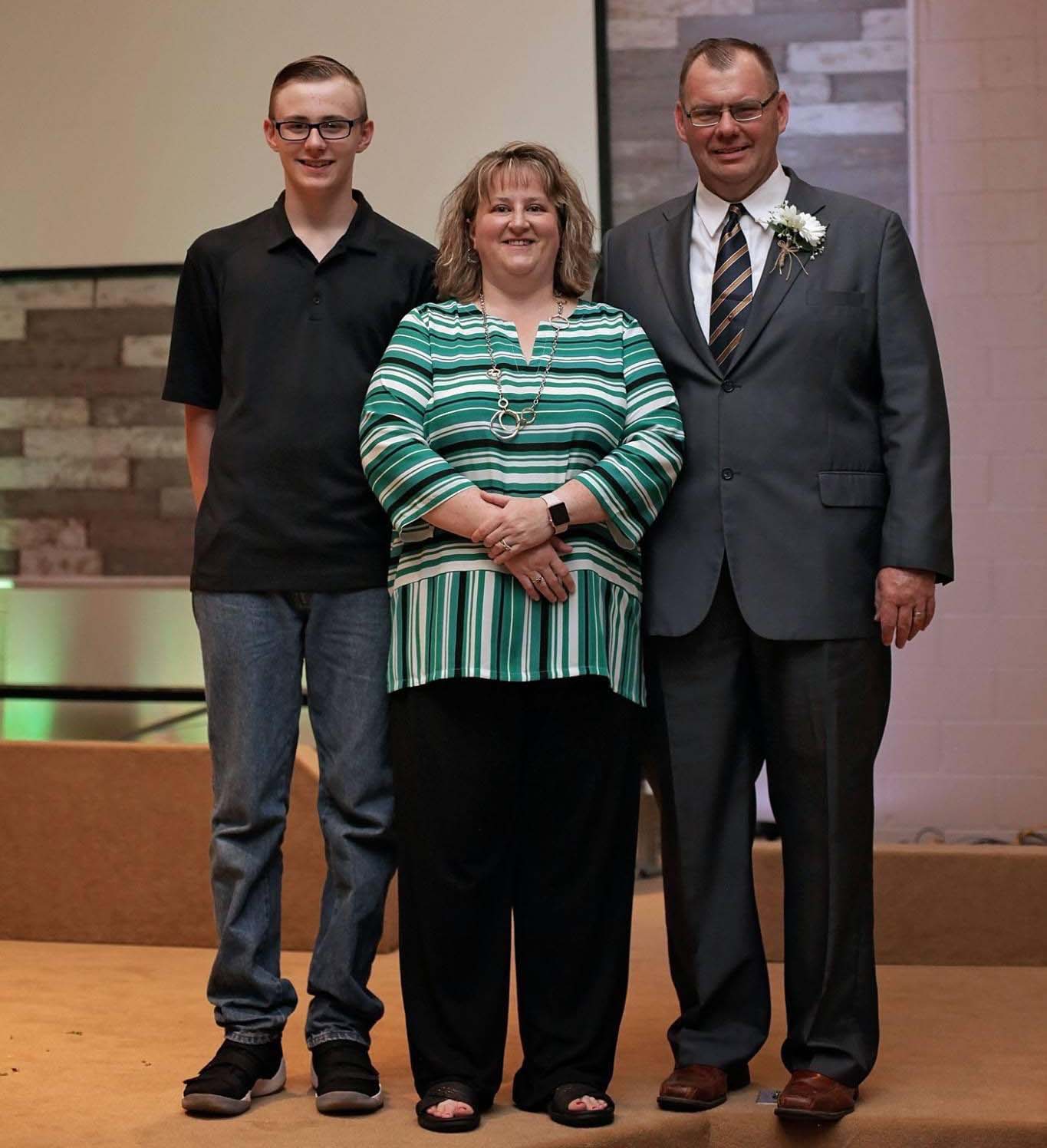 Jamie Estepp, right, with his wife Valerie and son Drew. Jamie is UKC's newest Coonhound Field Rep.
UKC is pleased to welcome Mr. Jamie Estep as an official Field Representative. As a Field Rep, Jamie's duties will include UKC support at major events and assisting on the road in making the UKC Coonhound Program the best it can be.
Jamie is a lifelong resident of West Virginia, raised in the coalfields of southern West Virginia, specifically in McDowell county. At present, Jami and his family (wife Valerie and son Drew) call Elkins, West Virginia, in Randolph County, home.
His background includes graduating from Bluefield State College and immediately beginning a career path he still follows today, serving as Administrator of Elkins Christian Academy as well as serving as Senior Pastor for Elkins Family Worship Center. Jamie has proudly filled many roles in the Church of God over the last 22 years from senior pastor, youth pastor, to state council.
Outside of work and service, Jamie is the current President of Appalachian Coonhunters Association. His family's involvement with the UKC Coonhound program is vast. Jamie played a major role in the 2020 UKC Youth National Championship. His son, Drew, is a Spotlight Series winner and has placed at many UKC youth events, including a division win at Youth Nationals in 2019.
Here's what Jamie had to say:
"In all honesty, I dont ever remember life without a hound. I owe my beginning in my love for hounds and coon hunting to my dad, Danny Estep. It is awesome to be able to pass that on too Drew as well. Drew, Dad, and I have got to enjoy it together and still do as dad will travel to most major events."
Jamie has two memorable event accomplishments with his family he' proud to share:
1. Winning Overall 2016 National Grand Nite at Autumn Oaks with Shredder.
When the hunt was over, we were treed and I went over and bent down beside of Shredder and began to cry. Drew walked up behind me and put his hand on my shoulder. That is a moment I will never forget. Later in the camper seeing dad set on the side of his bed and cry being so happy. UKC Autumn Oaks is tagged as the Event where is history is made, and for me that is true. I believe UKC Autumn Oaks is the greatest coonhound event of all! Nothing compares to the atmosphere and hunting of Autumn Oaks.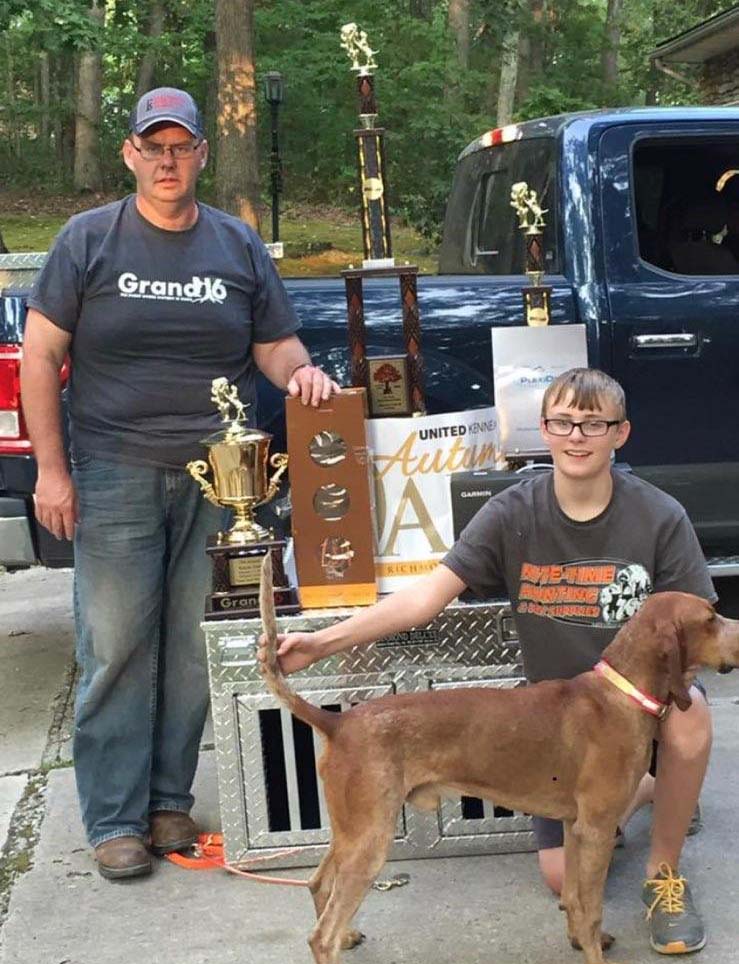 Jamie Estep, son Drew, and Shredder.
2. Being able to pass this sport on to my son and watch him develop into a very solid hunter and handler has been a joy.
In 2019, he won Youth Nationals in Peru, Indiana. As we were shining the last tree and hearing the words, Here it is brought a smile to my face and a joy that only I guess a parent can understand. I made it out of the river from where I was in shining to Drew and hugged him. He didnt think that was too cool. Then seeing him go on to win the Spotlight Series as well was another proud moment.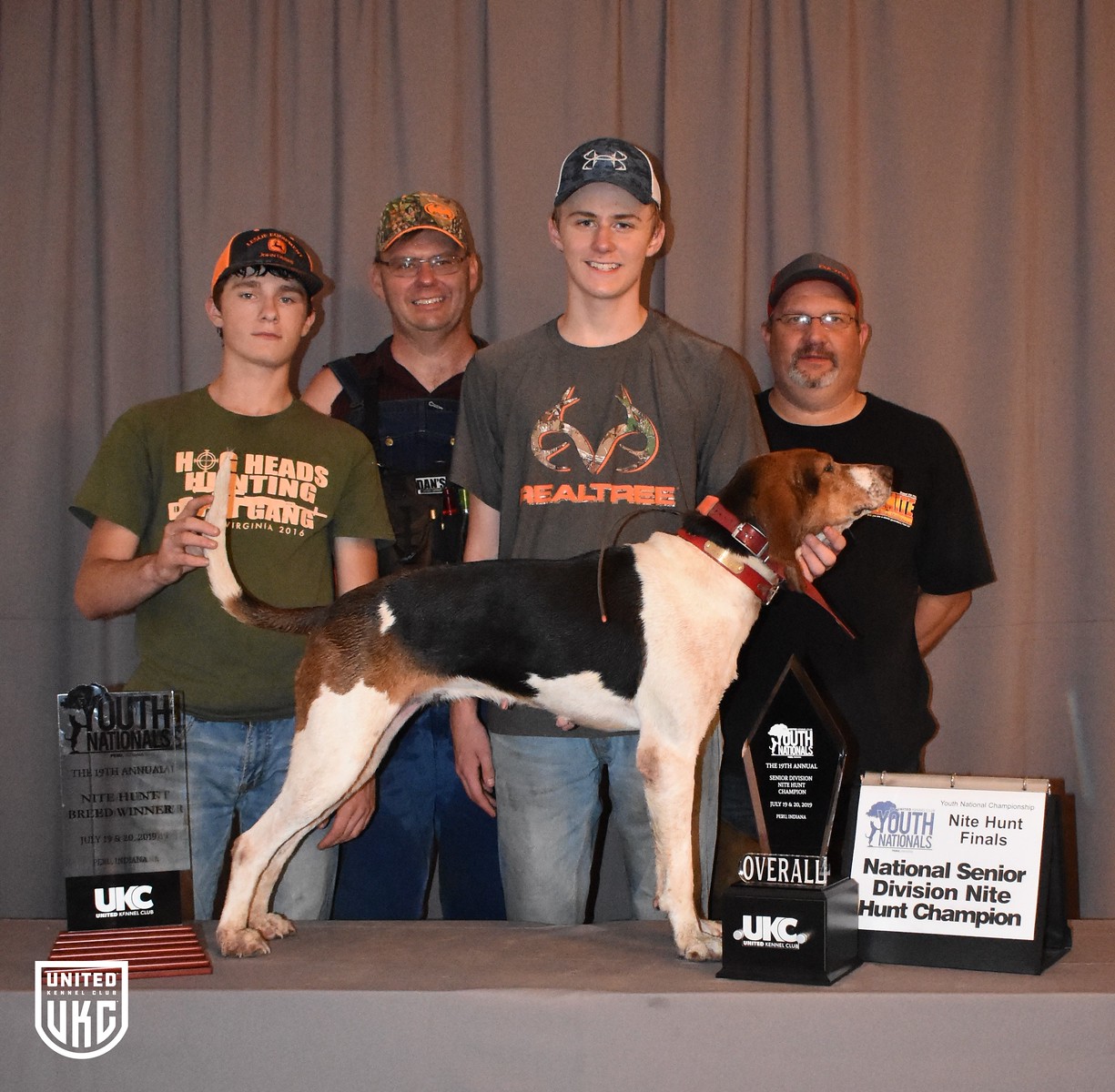 "I look forward to serving as a UKC Field Rep because it is a serving position. To host a major event where youve seen the field reps hard at work, it is an all hands on deck deal to make those events happen. I hope to serve at those events to allow folks to have the opportunity I have had," Jamie said.
Guided by the belief that dogs make a difference by being the best partner a human can have in the field, on the job, or in a competition event, UKC is a community for people and dogs to pursue excellence together. Founded in 1898, UKC has been dedicated to enhancing the lives of Dogs That Do More, and their owners, by providing essential resources to help owners and breeders make informed decisions. The dog-human bond is celebrated through family-friendly programs highlighting the instincts and heritage of purebred and mixed-breed dogs alike at over 15,000 licensed events annually.
Back to Coonhound News >