UKC Celebrates "Hound Day"
June 5, 2018
UKC is known for being the first dog registry in the world to computerize all its registration records. Annually, the UKC office celebrates this day with a company-wide cookout! Around the office it's known as "Hound Day," and all employees look forward to this day as a mini summer kick-off party. Presented on behalf of the UKC Field Operations Department, Hound Day is a staff favorite. Everyone enjoys a group lunch, complete with entertainment!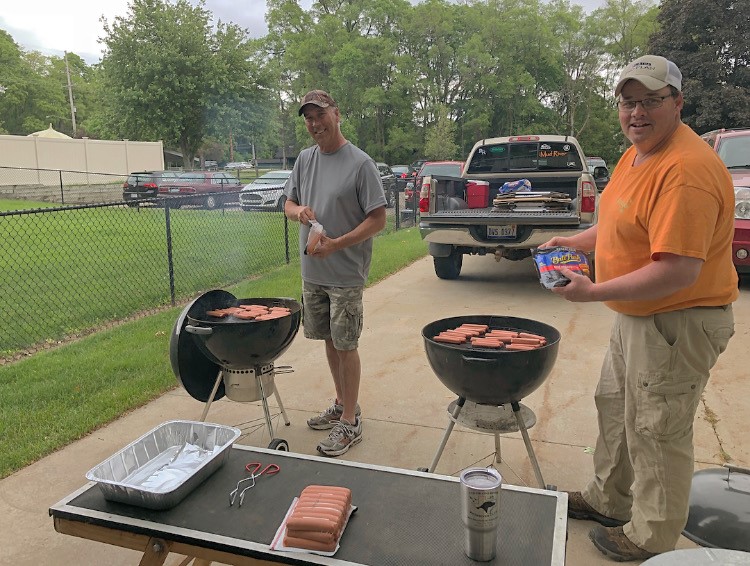 Grilling was courtesy of UKC's Todd Kellam and Roy Swafford (shown), with additional support provided by the Field Ops crew as a whole.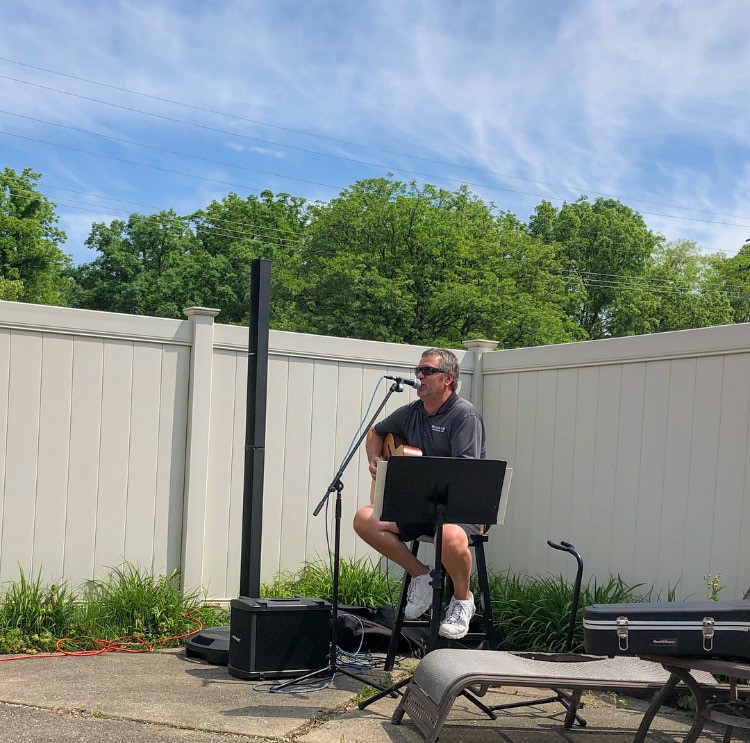 Musical appearances were courtesy of UKC staff members Allen Gingerich (shown) and Melody Albrecht.

History of "Hound Day"
On January 1, 1973, the Fuhrman family sold their interest in the United Kennel Club to the late Fred T. Miller. Before UKC, Fred Miller had been involved in aero-space engineering in western New York. His first impression of the UKC office was a good one, but he immediately saw room for improvement.
"I just knew that eventually we would have to go to a computer system," Miller was quoted as saying in the UKC Centennial Book, published in 1998.
Working with two local computer experts, Miller did just that; the entire database was computerized by early summer. (Of course this included all breeds, and the name "Hound Day" came years later as a fun and memorable way to remember the occasion.) This computerization process was vastly simplified by the numerical registration system Chauncey Bennett had invented so long ago, in 1898, with the registration of Bennetts Ring, assigned UKC # 1. Forethought all those years ago made the transition possible.
In keeping with the theme of computerization improvements early on, additional strides have been made over the years. Features such as online litter registration, online TL applications, online points checks, and most recently online single registration provide our customers with increasingly faster and easier ways to obtain UKC services!
It's our pleasure to be your Total Dog Registry. From all of us here at the UKC office, happy Hound Day!
A Kalamazoo, Michigan-based company founded in 1898, United Kennel Club is the largest all-breed performance-dog registry in the world, registering dogs from all 50 states and 25 foreign countries. Celebrating the unique Total Dog philosophy, UKC events highlight the instincts and heritage of dogs that look and perform equally well, as more than 60 percent of its annually licensed events are tests of hunting ability, training, and instinct. United Kennel Club prides itself on its family-oriented, friendly, educational events, welcoming both purebred dogs and dogs of unknown ancestry.
Back to Registration News >