Coonhound Bloodlines World Championship Pick 'Em Contest
Starting Monday, September 16 at Noon EDT
September 13, 2019
Updated 9/16/19: vote here
Announced last week:
Try your hand at our Coonhound Bloodlines Pick 'Em Contest for the UKC Coonhound World Championship.
The road to the Coonhound World Championship continues this weekend at seven Zone hunts. There are 441 dogs hunting in the Zones September 13 & 14. After this weekend, based on performance, 104 remaining dogs will advance to the World Championship Finals next weekend, September 19-21.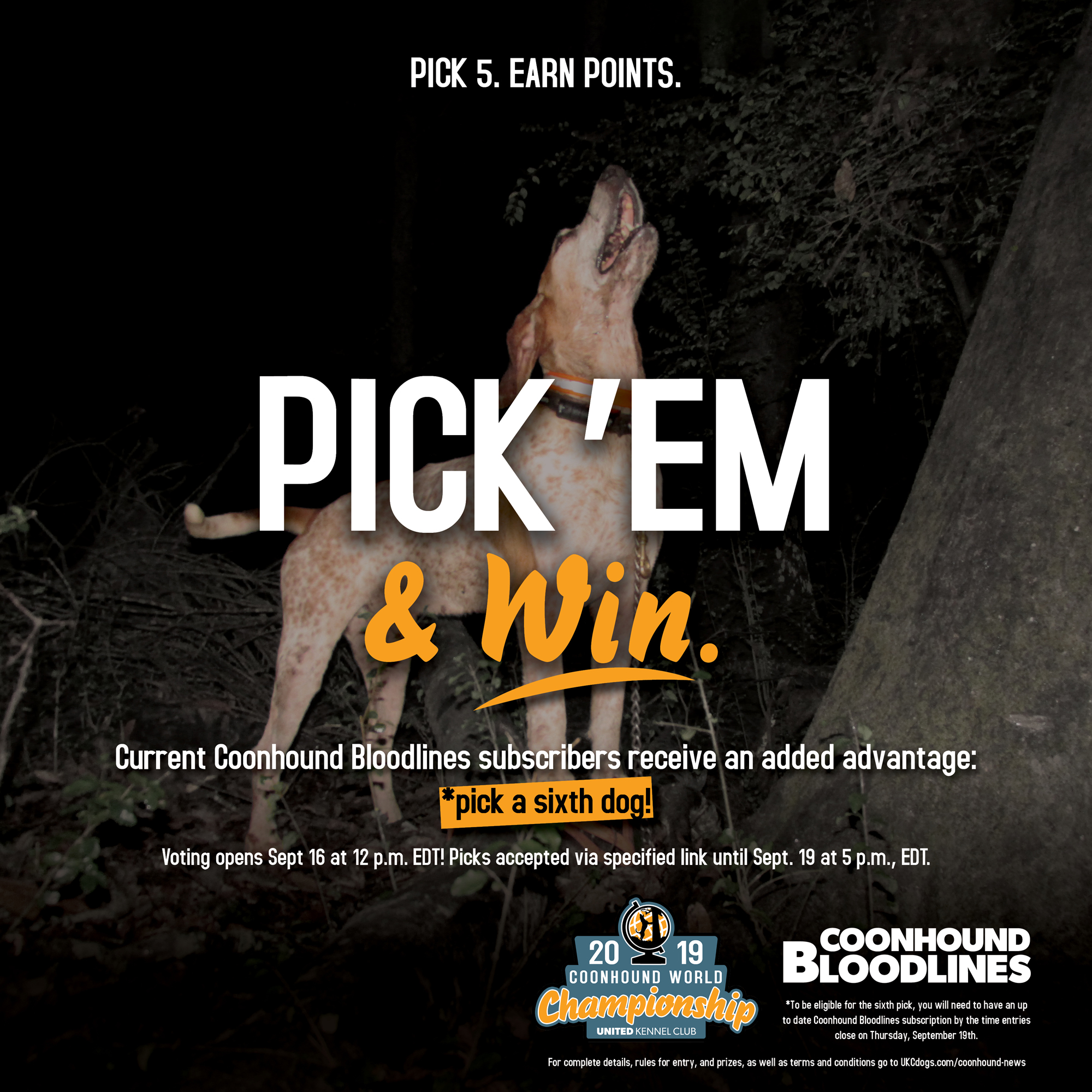 Choose 5 picks (6 if you're a CB subscriber!) of the 104 dogs who will advance for your chance to win bragging rights. Picks will be accepted starting Monday, September 16 at noon. The link to vote will be provided at that time.
When the top 104 dogs are known, choose your 5 picks that you think will make it all the way at the Finals next weekend. Pick your 5 and see how you stack up. BONUS! Current Coonhound Bloodlines subscribers can pick an extra dog!
How does it work?
All picks will be submitted via a specific link. This link will be provided on our website on Monday, September 16th.
Starting Monday, September 16, at Noon EDT picks can be submitted via a specific link that will be provided here on the UKC website. All picks will be closed on Thursday, September 19 at 5 PM EDT.
Each person will be allowed to pick 5 hounds out of the 104 that advance to the World Finals to be on their team. Those hounds will accrue points, depending on how far they advance.
As a bonus to Coonhound Bloodline subscribers, they will be allowed to pick an additional dog for their team, giving them an added advantage. To be eligible for the additional dog, you will need to have an up to date Coonhound Bloodlines subscription by the time entries close on Thursday, September 19th.
The points will be earned as follows:
1 Point for every dog advancing past the 1st Round
5 Points for every dog advancing past the 3rd Round
10 Bonus Points to every dog you have in the Final Cast
20 Points awarded to anyone who selects the 2019 UKC Coonhound World Champion
The prize packages for High Scoring Picks:
1st Place 1-year subscription to Coonhound Bloodlines, Free Entry for 1 night at the 2020 Winter Classic OR 2020 Autumn Oaks, $35 Gift Certificate for UKC, 2019 UKC Coonhound World Championship hat
2nd-10th Place will receive a 2019 UKC Coonhound World Championship hat
Void where prohibited. Subject to change. For additional updates and entry instructions, visit UKCdogs.com/coonhound-news
A Kalamazoo, Michigan-based company founded in 1898, United Kennel Club is the largest all-breed performance-dog registry in the world, registering dogs from all 50 states and 25 foreign countries. Celebrating the unique Total Dog philosophy, UKC events highlight the instincts and heritage of dogs that look and perform equally well, as more than 60 percent of its annually licensed events are tests of hunting ability, training, and instinct. United Kennel Club prides itself on its family-oriented, friendly, educational events, welcoming both purebred dogs and dogs of unknown ancestry.
Back to Coonhound News >