Autumn Oaks Safety Measures
Looking forward to seeing you in September for UKC Autumn Oaks
July 30, 2020
The event is still on! It takes place September 3-6, 2020 in Richmond, Indiana.
The entry deadline is August 14th at midnight ET.
Autumn Oaks will be different this year in a number of ways due to COVID-19 regulations, and we appreciate your understanding and cooperation in these unusual circumstances.
To ensure that the event can be held in a safe way and within the parameters of Indiana's executive orders, we are taking several precautions this year and we ask that you please plan for the below circumstances.
Please be sure to read the following list carefully.
ALL ATTENDEES
As per Indiana executive orders, face covering over the nose and mouth are required in the following areas.
Indoors: Face coverings over the nose and mouth are required. This includes barns and restroom facilities. This is by state mandate.
Outdoors: Face coverings over the nose and mouth are required in places where a six-foot distance from household members cannot be constantly maintained. This is by state mandate.
Wayne County Coonhunters Club has chosen not to open the cafeteria in the Kuhlman Center. It will be closed, and no food will be served in that building. Chairs and tables will not be made available.
In the event that Autumn Oaks cannot be held due to an unforeseen change in Indiana's executive orders, entry fees will be refunded.
Gates will not be open to spectators who are not arriving with an entered hunter/exhibitor. Anyone entered will be provided a parking pass.
Limited shopping will be available. Sponsors are allowed to sell from their vendor booths. Non-sponsor vendor spaces will not be available. Masks will be required within those areas.
Dog and puppy barns will be closed. Dogs should remain in personal setups.
There will be no bleachers or community seating provided. You are encouraged to bring your own chairs.
HUNT
The Kuhlman Center will be used for confirmations and awards. The ability to confirm for both Friday and Saturday at the same time will not be available. Confirm your entry on the night you are scheduled to hunt.
Cast draws will be held in different locations throughout the grounds. Additional instructions to follow.
One person per household may come into the Kuhlman center to confirm dog(s).
SHOW
Pre-Entries will be automatically confirmed. Dogs not at the ring during ring time will be marked absent.
Day of Show entries will all be taken online Wednesday, September 2 Saturday, September 5.
Indoor crating spaces will be available in the Rapper Center. Exhibitors are asked to stay in their crating area throughout the show unless in the ring or called on-deck.
Bleachers/chairs will not be provided. Personal chairs must be removed or placed in your crating area at the end of each day.
6-foot increments will be marked on the floor inside and outside the show rings so appropriate distance may be maintained while competing and while waiting on-deck.
Separate ring entrances and exits will be made to ease congestion.
Kids Bench Show will be canceled this year.
The following signs will be posted at each ring entrance on behalf of our judges:
PLEASE READ BEFORE ENTERING THE RING
I am wearing a face covering for YOUR protection.
I will only examine an entry with a handler with a face covering for MY protection. If necessary, you may pull down your face covering while gaiting.
I will announce when I plan to be within 6 feet of an entry. Please have your face covering in place at that time! Thank you for exhibiting and respecting our mutual heath concerns.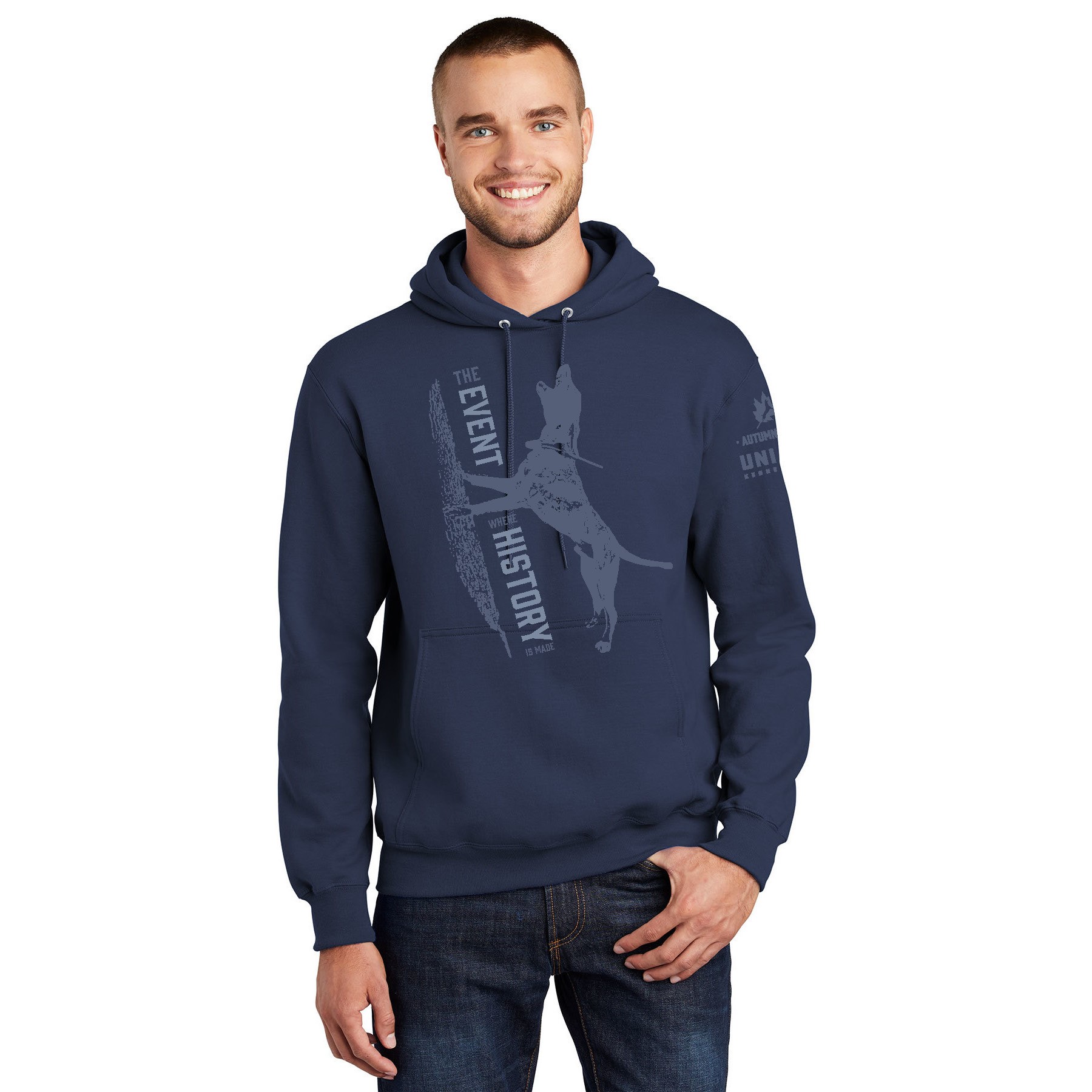 Autumn Oaks clothing is available for purchase online only. You can order online today, and your clothing will be shipped directly to your house. Shop now.
Additional styles and colors available!
Guided by the belief that dogs make a difference by being the best partner a human can have in the field, on the job, or in a competition event, UKC is a community for people and dogs to pursue excellence together. Founded in 1898, UKC has been dedicated to enhancing the lives of Dogs That Do More, and their owners, by providing essential resources to help owners and breeders make informed decisions. The dog-human bond is celebrated through family-friendly programs highlighting the instincts and heritage of purebred and mixed-breed dogs alike at over 15,000 licensed events annually.
Back to Coonhound News >