Congratulations to the Winners at Coonhound World
New World Champions Crowned in Ohio!
September 27, 2023
United Kennel Club wishes to congratulate our major winners at the 46th Annual Coonhound World Championship, held September 21 23, in Mt. Gilead, Ohio!
UKC established the Coonhound World Championship in 1978, with the first event held in Beaverdam, Ohio, a little over an hour northwest of this year's site in Mt. Gilead. This year marked the fourth in Mt. Gilead, with previous stops in 2018, 1999, and 1988.
Before we dive into our winners, let's take a look at how we got here.
This year's event started with over 3,600 dogs who entered at one of our roughly 175 regional qualifying events held across the country in the first half of 2023. 834 of those dogs earned a plus-point cast win at one of these events. Of those 834, nearly 550 entered zone competition to compete for a spot in the World Finals, and from there 108 punched their ticket for the World Finals in Mt. Gilead.
On Thursday, September 21, 106 dogsafter two came in heat in the week between Zone competition and the start of the World Huntheaded into the woods in 25 four-dog casts, and two 3-dog casts. As this year's hunt was held under Full Elimination format rules, plus points were not needed to advance. Fortunately, the game was plentiful and only one cast the entire weekend came back with a cast winner without plus points.
Those 27 cast winners went back out for an early round on Friday, with nine 3-dog casts. These nine cast winners then went back out again in a late round Friday with three 3-dog casts.
By Saturday, we were down to three dogs, competing for the prestige of a World Championship and a $10,000 first prize.
In order of late-round cast, we had NITECH 'PR' The Bush Bandit, a 3-year-old Treeing Walker male, owned by Jeremiah Nissley and Mike Nissley, handled by Mike. We had GRNITECH(3) 'PR' Snookis Cookie, a 6-year-old Treeing Walker female owned by Justin Davenport and Stephen Davenport, and handled by Cody Carter. And finally, GRNITECHHOF Bad Habits Preacher Man, a 6-year-old X-Bred male owned and handled by Caleb Griffin.
In the end, after three nights of fabulous hunting in central Ohio, Cookie and Cody wound up winning this year's World Championship and the $10,000 first prize that went along with it, with a score of 350+ in the final round. This also comes on the heels of Cookie's appearance in the final cast at this year's Autumn Oaks. It's been quite a year for this 6-year-old female. Congratulations are in order to Cody, along with Justin and Stephen on this monumental accomplishment!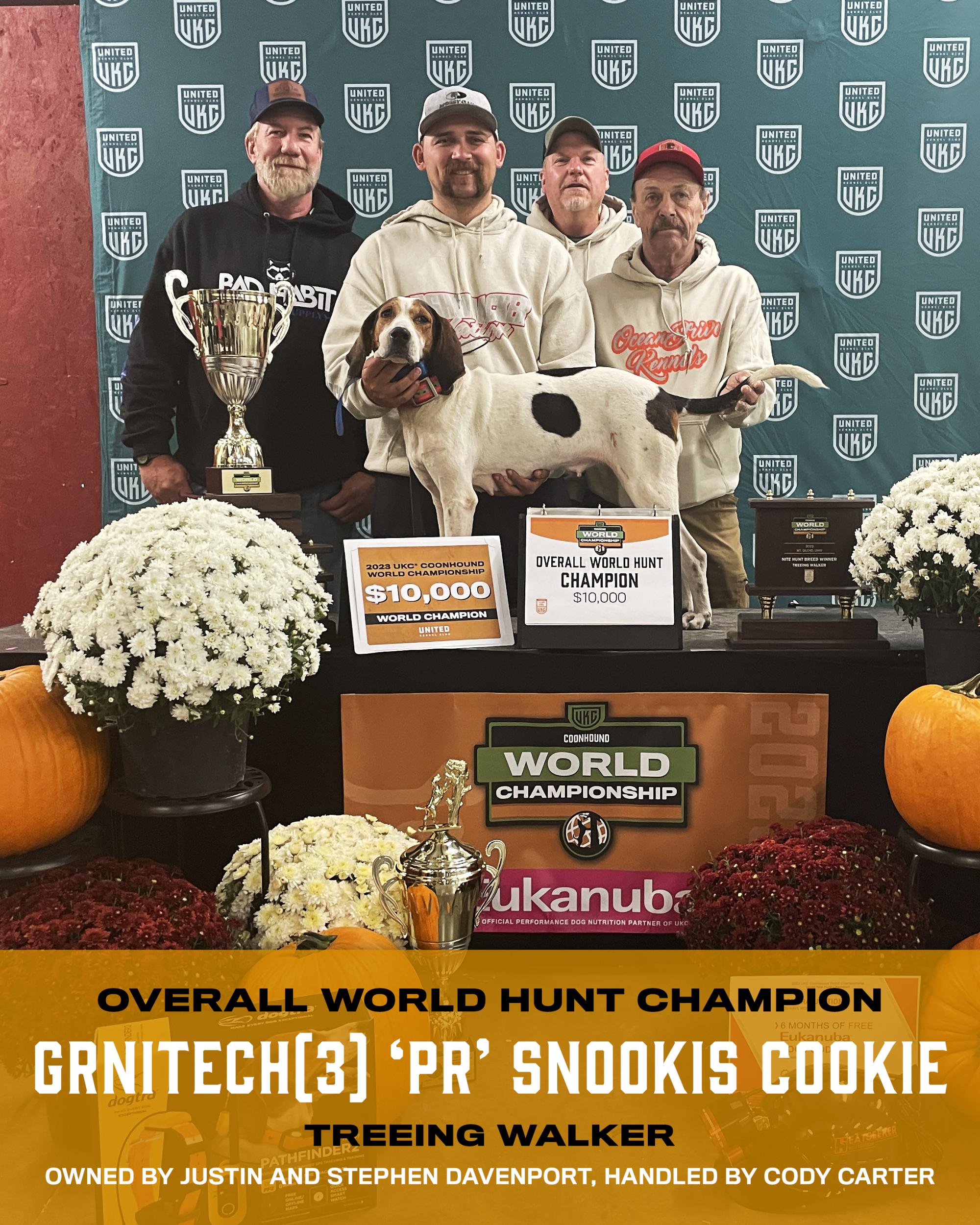 In addition to the hunt, the Coonhound World Championship also features a World Championship Bench Show on Saturday morning, as it has every year since 1985.
Going into this year's Bench Show, Treeing Walkers and American Black & Tan Coonhounds were tied for the most World Champions, with nine apiece in the show's 38 years. This year, that tie was broken, as GRCH 'PR' Gilman's Good Time Blues, a Black & Tan male, owned by Dave and Kelly Myers and handled by Kelly, took home the top prize, and gave the breed its 10th win in 39 years, surpassing Walkers for first place all-time.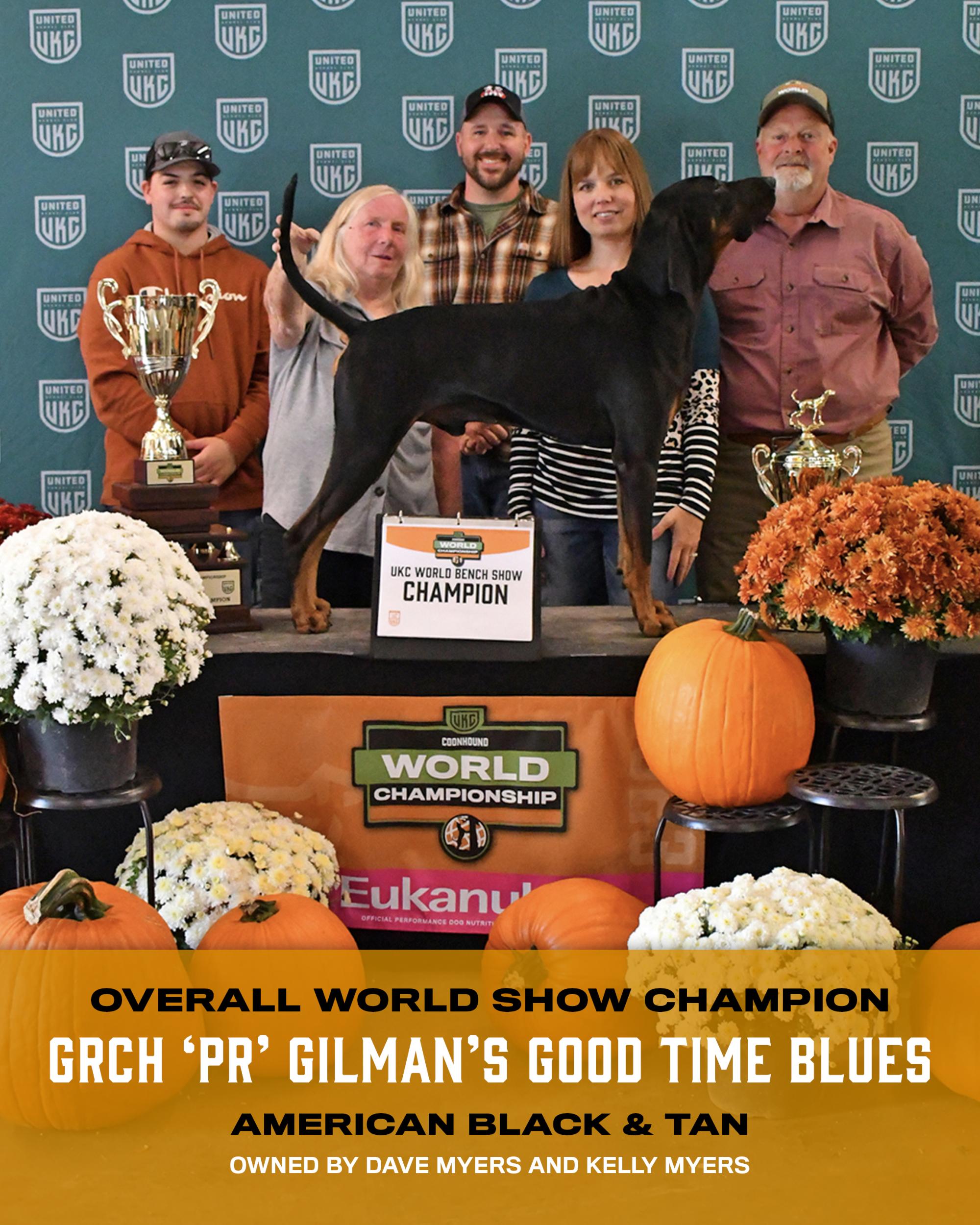 In total, we had over 120 entries confirmed for this year's World Championship bench show, a very strong turnout which saw some remarkable dogs on the bench. Judges Mike Seets and Jackie Carpenter very much had their work cut out for them, and said as much several times through the course of the event. Several participants had won bench shows at Autumn Oaks and Winter Classic, but in the end, the Black and Tan took the crown. Congratulations to Dave and Kelly Myers on this title!
Opposite sex honors went to CH 'PR' Midnight Brindled Gena, a Plott Hound owned and handled by Connie Hogan. Connie and her husband Scott also own this year's National Dual Championship winner at Autumn Oaks, NITECH WCH FCH GRCH 'PR' Midnight Brindled Bindi. Congratulations to them as well!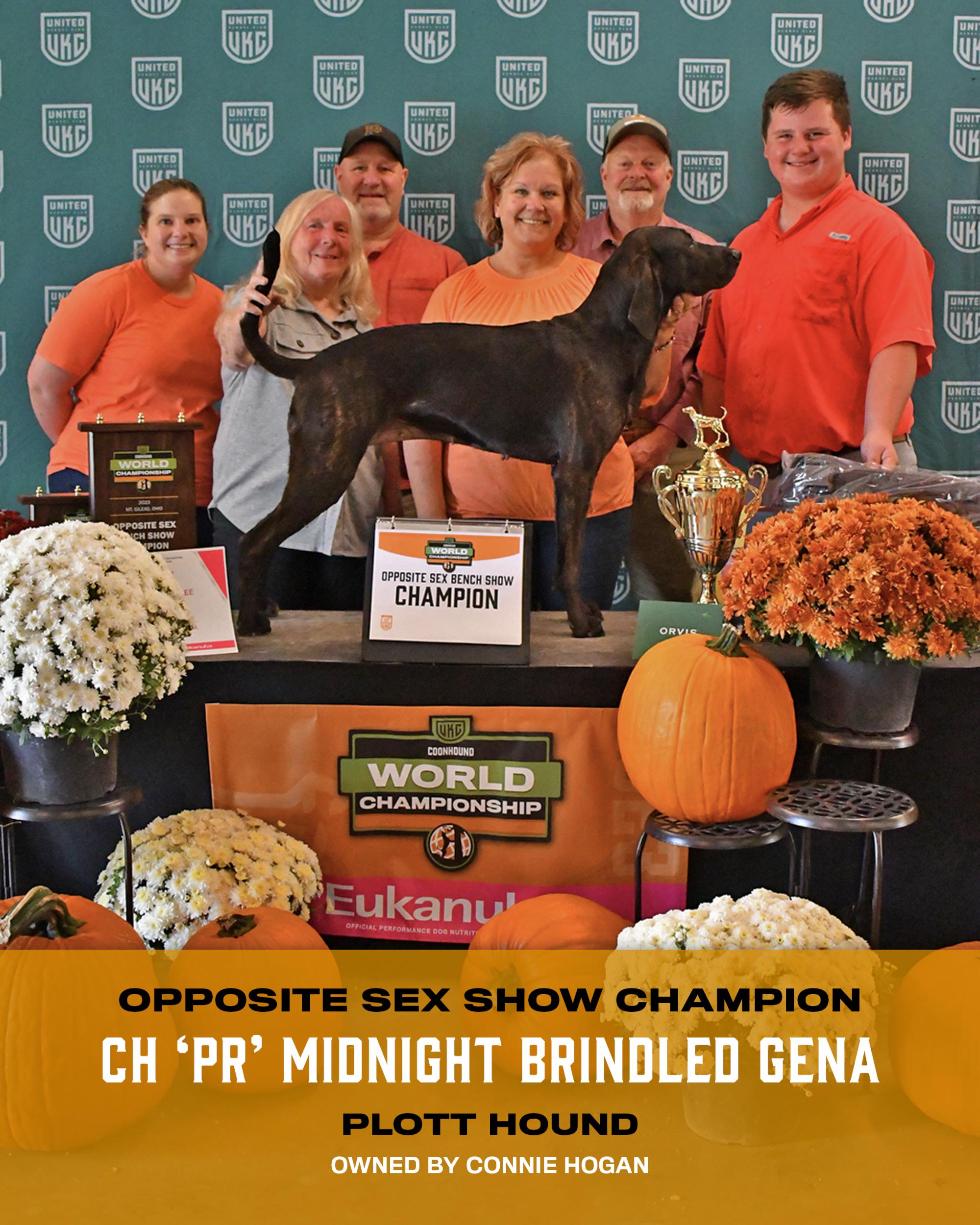 Of course, an event like this doesn't just happen, as it takes the support of a variety of sponsors, partners, and staff. With that in mind, we would also like to thank our partners, Eukanuba, the Official Performance Dog Nutrition Partner of UKC, as well as Dogtra, the Official GPS Collar Partner of UKC.
In addition, we want to thank our prize sponsors, Bright Eyes Lights, Mule Brand Gear & Apparel, Okie Dog Supply, GT's Feed & Hunting Supply, Nite Lite, Easy Loader Dog Kennels, and Yoder Nylon & Razor. As always, we encourage our hunters to support those who support the sport of competitive coon hunting.
The 2024 Coonhound World Championship seems quite far off, but really, we will likely announce next year's Bench Show judges before the end of 2023, and the first RQEs will be here in just over three months. It will truly be here before you know it.
Guided by the belief that dogs make a difference by being the best partner a human can have in the field, on the job, or in a competition event, UKC is a community for people and dogs to pursue excellence together. Founded in 1898, UKC has been dedicated to enhancing the lives of Dogs That Do More, and their owners, by providing essential resources to help owners and breeders make informed decisions. The dog-human bond is celebrated through family-friendly programs highlighting the instincts and heritage of purebred and mixed-breed dogs alike at over 18,000 licensed events annually.
Back to Coonhound News >