2022 Youth Nationals Bench Show Judge
Youth Nationals Bench Show will be held July 23
November 24, 2021
Source: Trevor Wade
Job Title: Coonhound Program Manager
Email: twade@ukcdogs.com

The 2022 UKC Youth Nationals will be July 22-23, 2022. We'll have more information on the event page as we get closer. In the meantime, meet our Bench Show judge, Tiffany Schmersal!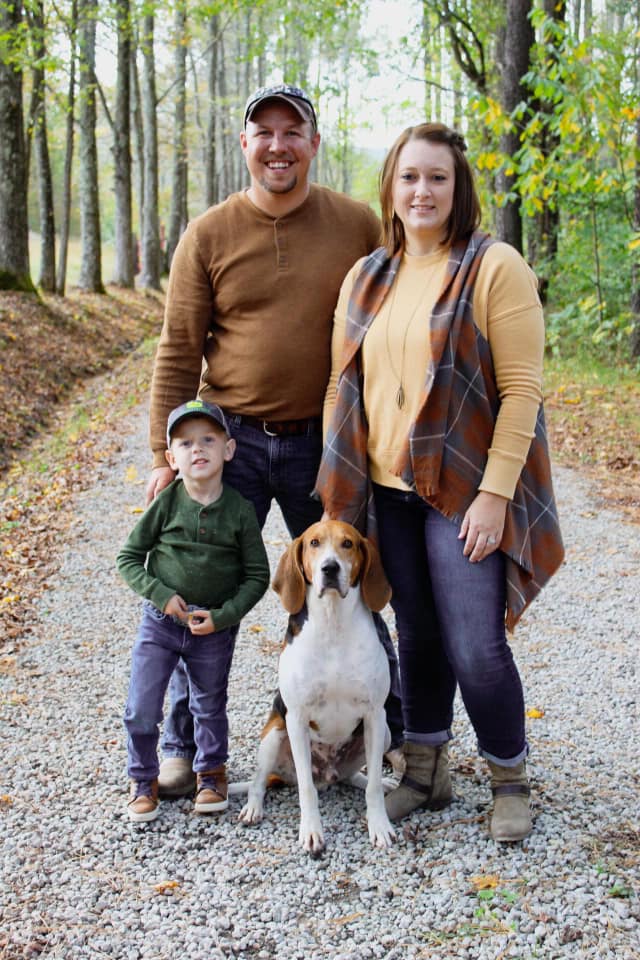 Tiffany Schmersal
I am from southeast Ohio, where I live with my husband Damien, our son Tucker, and our kennel of Treeing Walker Coonhounds. I was born into the hound world. As far back as my great Grandfather, my family has been involved with coonhounds. I immediately took to the hounds at a very young age. I grew up with a variety of hounds like English, Plotts, and Beagles. I started showing my Beagle when I was about 10 years old and then showed the coonhounds when I was big enough to see over them.
Over the last several years I've been very fortunate in my success with the Treeing Walker in both UKC and AKC bench shows and in the conformation ring. A few of my biggest highlights would be winning the 2012 Treeing Walker Days Overall Show Champion, 2014 Lee Crawford Invitational Show, 2015 TWBF&A High Point Bench Show Handler of the Year, 2017 National Grand Champion Treeing Walker Male, 2018 Ohio State Overall Show Champion, 2020 Ohio State Overall Show Champion, 2018 Pink Event Overall Show/Hunt/Field Trial Winner, 2020 Pink Event Overall Show Winner, and competing for the first time at the 2018 Westminster Kennel Club Dog Show. I have since showed at Westminster again and placed within my breed.
I try to be actively involved in as much as I can with our sport. I am the Event Coordinator for the Trimble TWP Coon Hunters Club in Glouster, Ohio where we host Coonhound and Beagle youth events every year. I am the Secretary and Youth Program Coordinator for the Ohio Sportsman & Sporting Dog Association, who are big advocates for the youth and the sport of coonhounds. I am also a Director at Large with the Treeing Walker Breeders & Fanciers Association. I have been a Bench Show Judge with the UKC since 2010 for both Coonhounds and Beagles. I am also a licensed Bench Show Judge for the AKC and WTDA.
My goals are to continue supporting the next generation of coon hunters and doing all that I can to keep them involved in our great sport. I will continue the push to implement more youth and educational programs and events. It is truly an honor to be judging the 2022 Youth Nationals. The kids are the future of dog sports!
Guided by the belief that dogs make a difference by being the best partner a human can have in the field, on the job, or in a competition event, UKC is a community for people and dogs to pursue excellence together. Founded in 1898, UKC has been dedicated to enhancing the lives of Dogs That Do More, and their owners, by providing essential resources to help owners and breeders make informed decisions. The dog-human bond is celebrated through family-friendly programs highlighting the instincts and heritage of purebred and mixed-breed dogs alike at over 15,000 licensed events annually.
Back to Coonhound News >