2022 UKC Elite Shed Dog Series Rule Changes
Effective March 31, 2022
March 30, 2022
Source: Domenick Muoio
Job Title: Field Trial & Hunt Test Program Manager
Email: dmuoio@ukcdogs.com

Established in January 2017, the UKC Elite Shed Dog Series has seen tremendous growth and continues to offer an exciting and challenging experience for competitors and their dogs.
The goal of the UKC Elite Shed Dog Series is two-fold
The improvement of dogs used for recovering shed antlers by the recognition of individual dogs of outstanding merit
To provide shed dog owners with a family friendly environment in which to enjoy participating in an activity that promotes an active, outdoor lifestyle for all individuals and their dogs
As we head into yet another great season in year six of this unique program, here are the Rules & Program updates for 2022.
New rules available now.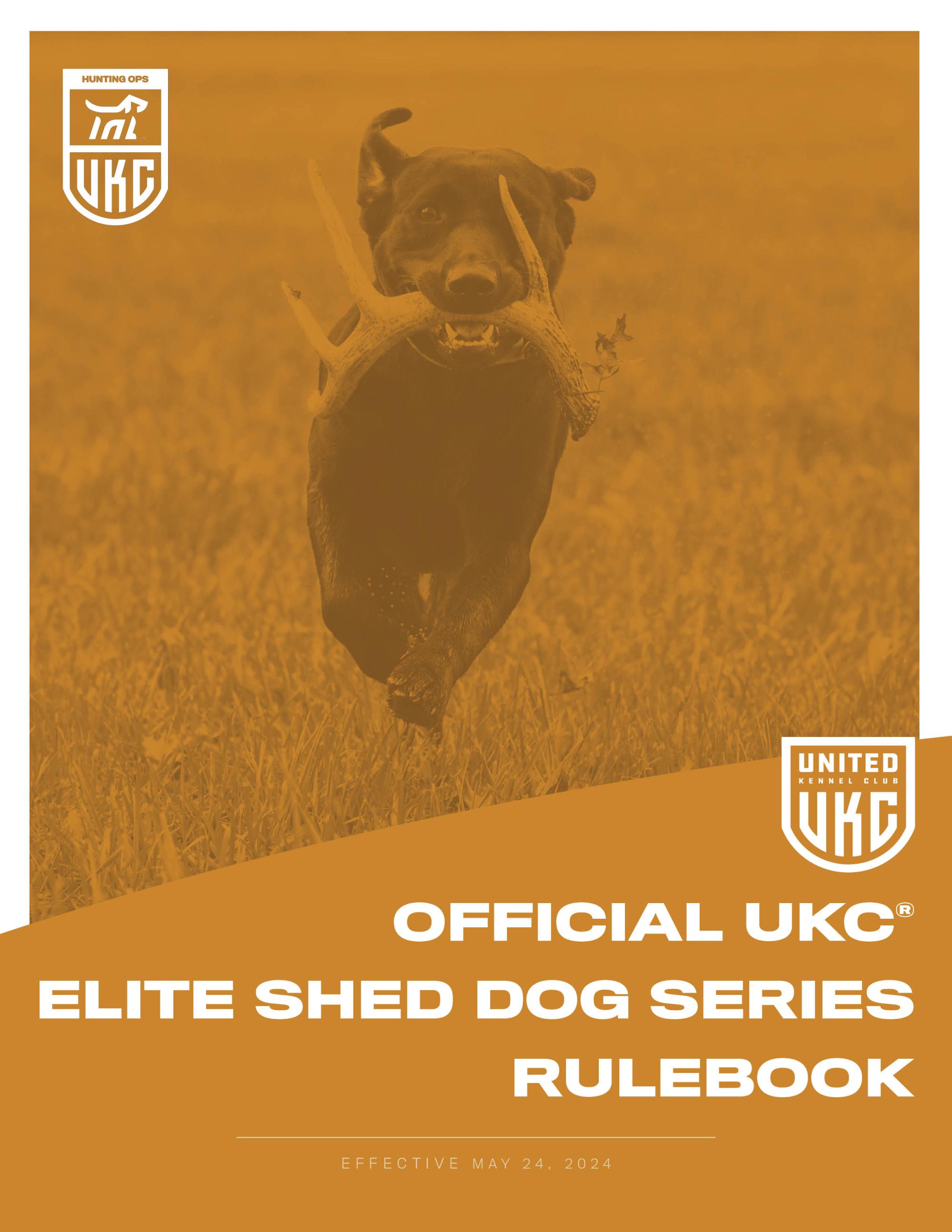 Important Results Recording Note for Clubs
Youth placements will now be tracked. Since we will now be tracking youth placements and will soon track working placements (more on this below), please indicate the placements on your results form for those classes. A new form has been created to track this which is similar to the current champion form. For the clubs that have already received your packets for upcoming events, please record placements on the forms you received.
RULE CHANGES THAT TAKE EFFECT 3/31/2022 ARE AS FOLLOWS
Rule 11 of Entry Requirements. This is a clarification to an existing rule. The rule is now written as:
A dog that has been entered in the Champion Class, but without any Champion Class Passes, may revert to the Working Shed Dog Class to work towards the WSD title.
The addition of a Split-Flight Format. This is a new option available to clubs to help accommodate larger events if they have the grounds, judges, and most importantly dogs to host it in the format. The rule is written as: The split flight format for larger hunts
i. This format must be advertised in the event posting in order to be held and requires 40 dogs participating in the class on the day of the event in order to split the flight. If less than 40 dogs are present to participate on the day of the event, the flights cannot be split. Flights must be randomly drawn. Top 2 dogs from each flight will have a runoff on a complete course that they have not run on that day for top 4 placements.
The Addition of a rule under Host/ Club Information. This rule is to ensure an opportunity for competitors to enter an event and to maintain fair competition among dogs. This rule is written as:
An event must have a minimum of 20 dogs per flight across all classes before closing the event.
Change to Dogs in season being run by Judges/Planters. This is to clarify an existing rule. This rule is now written as:
Because of the conflict between dogs in season and the requirement for judges/planters to run their dogs first on a course, it is now explicit that judges and planters cannot run a female in season.
Addition of rule J under Course Description. It was a common request across the sport for a replant to be defined so that it is consistent across all judges and clubs. This rule is written as:
In the situation where a replant is required for handlers with multiple dogs, a replant must mean that the course has changed in some way but of a similar/comparable difficulty to the original plant.

In order to maintain the highest-level ethics and sportsmanship, we have added line G under rule 6 of General Event Information. It is written as:
Anyone who is caught sharing information or otherwise illegitimately obtaining information about plants or blanks will be disqualified and may face further disciplinary action.
Addition of a rule under General Event Information regarding plant placement to maintain fairness on all courses. It is written as:
No judge or shed planter shall plant an antler where the environmental conditions of the day (including wind, thermals and temperature), require the dog to be in another block or out of bounds in order to locate the antler.
The addition of information regarding the use of treats. This was a common topic in recent years so we wanted to add a rule regarding the use of edible treats as rewards on the courses. It is written as:
Use of Treats as Rewards
Treats may be used in the working dog and youth class however dropping treats on the course will be addressed first with a warning and after a warning is issued the judge may decide if further warnings or disqualification is appropriate.
Changes to Title Structures
To maintain integrity in the title we have added a requirement to the title as well as clarified an existing rule. It now reads:
A dog must beat at a minimum of 6 other dogs in the event in order for the 1st place win to count towards ESD. (1st place wins must be earned after earning CHSD to apply to the ESD title.)
Youth Class / Clarification for the Age of Youth Participants / Points Structure
Youth who are 15 years old at the start of the season are eligible to participate. The addition of a points structure for youth handlers as well.
Youth Handler of The Year Points Structure
1st 35 points
2nd 30 points
3rd 25 points
4th 20 points
Pass but not place 10 points
Changes to UKC Elite Awards
Season Year. As we saw at the Nationals this year, this sport is growing extremely fast. To best serve all particants and provide top notch service, it is most optimal to end the season a week early moving forward than in previous seasons.
Season Year: starts the weekend following the national and ends 2 weekends before the National Championship.
Future UKC Elite Shed Dog Series Program Title Structure Update
The new working title structure previously discussed will not take effect at the start of this 2022 season but will be implemented at a later date to offer advanced notice to the many of you who are in the middle of earning a Working title. We will provide an official notice period and effective date before it officially takes effect.
In preparation, here are the specifics of that change for your early review:
Working Points Structure
The addition of a Point structure. This will mimic the championship format point chart
1st 35 points
2nd 30 points
3rd 25 points
4th 20 points
Pass but not place 10 points
A WSD title will, when this change goes into effect, require 70 points
A WSD title will, when this change goes into effect, no longer have multipliers
Guided by the belief that dogs make a difference by being the best partner a human can have in the field, on the job, or in a competition event, UKC is a community for people and dogs to pursue excellence together. Founded in 1898, UKC has been dedicated to enhancing the lives of Dogs That Do More, and their owners, by providing essential resources to help owners and breeders make informed decisions. The dog-human bond is celebrated through family-friendly programs highlighting the instincts and heritage of purebred and mixed-breed dogs alike at over 18,000 licensed events annually.
Back to Elite Shed Dog Series News >