2021 Winter Classic Bench Show Judge Announcement
February 12 & 13, 2021
December 30, 2020
Source: Trevor Wade, UKC Coonhound Program Manager
Email: twade@ukcdogs.com

The UKC Winter Classic bench show is one bench show held over two days.
Friday is Registered and Pairs (judged by Stacey Criswell).
Saturday is Champions and Grands (judged by Janet Emery).
Learn more about Winter Classic

NEW for 2021 will be the $15,000 total purse for the Top Ten Bench Show! The Top Ten Bench Show will take place Friday evening and be judged by the panel of all three qualified judges together: Janet Emery, Mike Seets, and Stacey Criswell.
Overall Top Ten Bench Show Winner: $3,000
Six Breed Winners from the Top Ten Bench Show: $2,000 each
View the Top Ten Bench Show rules
Meet the 2021 Winter Classic & Top Ten Bench Show Judges
Janet Emery
Assignments: Top Ten Bench Show Panel Member on Friday, Winter Classic Bench Show judge on Saturday.
Janet Emery resides in Portland, Indiana with her husband Rich, where she owns and operates her Real Estate Appraisal business. Janet is a co-owner of Thompson's Hillbilly Kennel with her partner, Dean Thompson of Brookville, Indiana. "We were recently honored with having one of our favorite hounds, GRCH 'PR' Thompson's Hillbilly Gingerbread Man, inducted into the UEB&FA Hall of Fame this past June at English Days," she explained.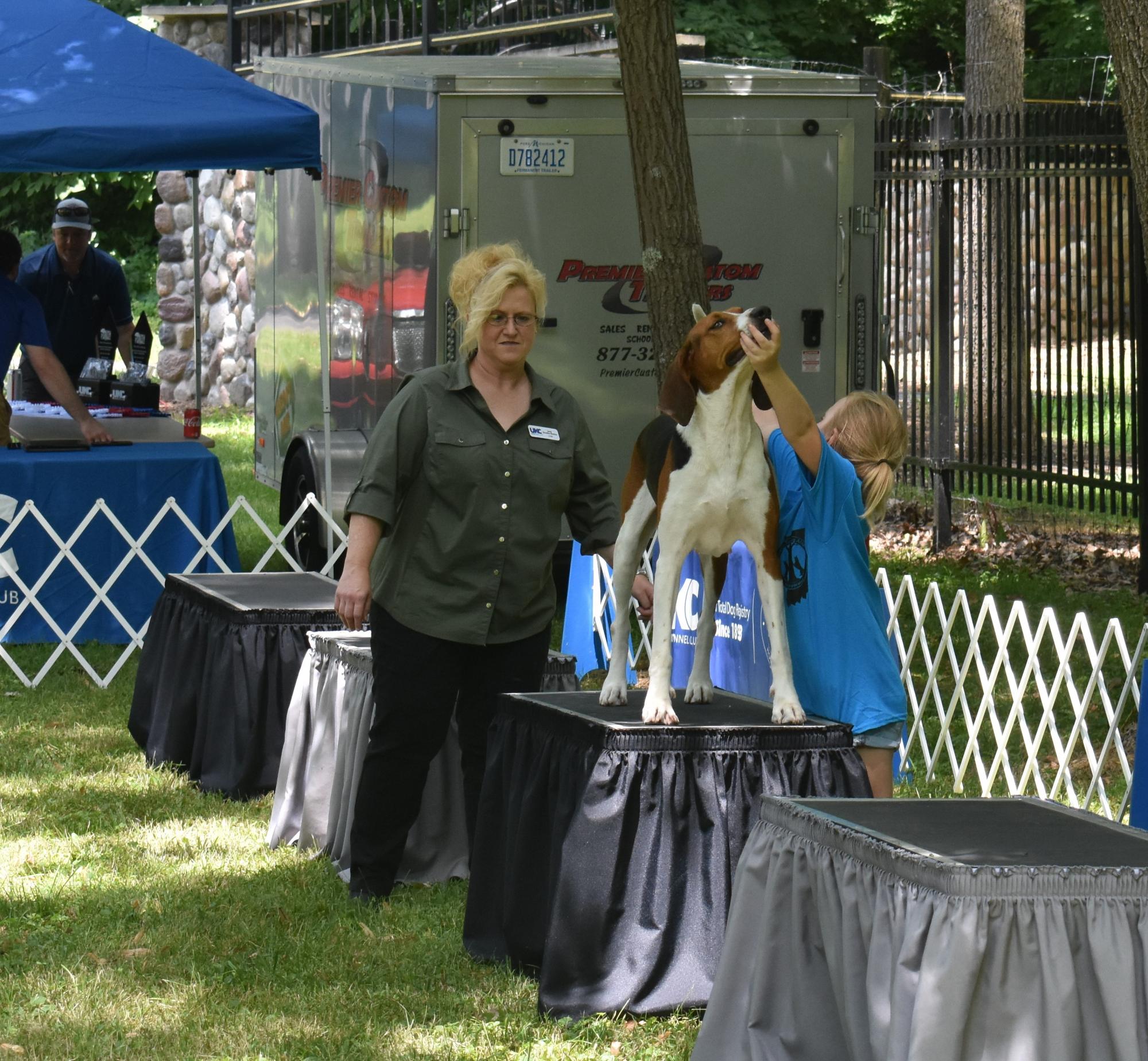 Janet Emory shown above judging at UKC Nationals in 2019.
Janet has been raising, hunting, and showing English Coonhounds for over 25 years and while she has owned Redbones, Blueticks, Leopards and a Doberman, the English breed will forever be her first love. Not only does she love the breed, but she has dedicated over a decade of her life serving on the UEB&FA board, including six years as President or Vice President.
Janet is a licensed Bench Show Judge in UKC and AKC, as well as a licensed All-Breed Conformation Show judge in UKC. Her judging resume is a mile long and if you can think of an event, she has probably showed in it and judged it at some point in her life. That resume includes but isn't limited to the UKC Coonhound World Championship, UKC Beagle World Championship, UKC Cur World Championship, Grand American, UKC Youth Nationals and more breed day, state championship and qualifying shows than you can count. This doesnt even include the numerous major shows she has judged in other registries.
Janet concluded by saying, "I am very excited and honored to be serving as the Bench Show Judge for the 2021 UKC Winter Classic. Thank you UKC for the opportunity to judge this prestigious event."
Mike Seets
Assignment: Top Ten Bench Show Panel Member
Mike Seets was born and raised in Stonefort, Illinois on his family's farm. He still resides there now with his wife Myra. While Mike enjoys a good dog of any breed, he has a strong love and admiration for the English Breed in particular.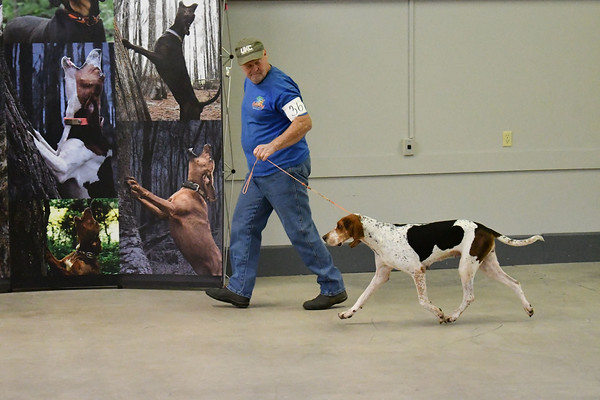 Mike Seets.
Mike has been an English breeder since 1980. In that time, he has handled some outstanding hounds of his own and for other people. Although Mike has won a pile of events including World Champion English Hound several times, numerous breed day and state championships, etc., his favorite wins would have to be the year he won the Winter Classic and his most recent Purina National Championship win with his beloved Bobbie Lou in 2020.
His judging resume includes many of the major events UKC offers, including the World Championship, Autumn Oaks, Grand American and the Winter Classic. His other major judging tasks include various breed day, state championships and other notable events. Mike stated in final, "I appreciate the opportunity to judge this event and look forward to this assignment."
Stacey Criswell
Assignments: Top Ten Bench Show Panel Member on Friday night, as well as judging the shows on Friday of the Winter Classic.
Stacey Criswell is no stranger to being in and around the show ring. For the past 25 years she has been breeding and showing dogs. "I originally started with the American Pit Bull Terrier but got into coonhounds in the 1990s," she explained. Thought she dabbled in all the coonhound breeds, she preferred Treeing Walker Coonhounds.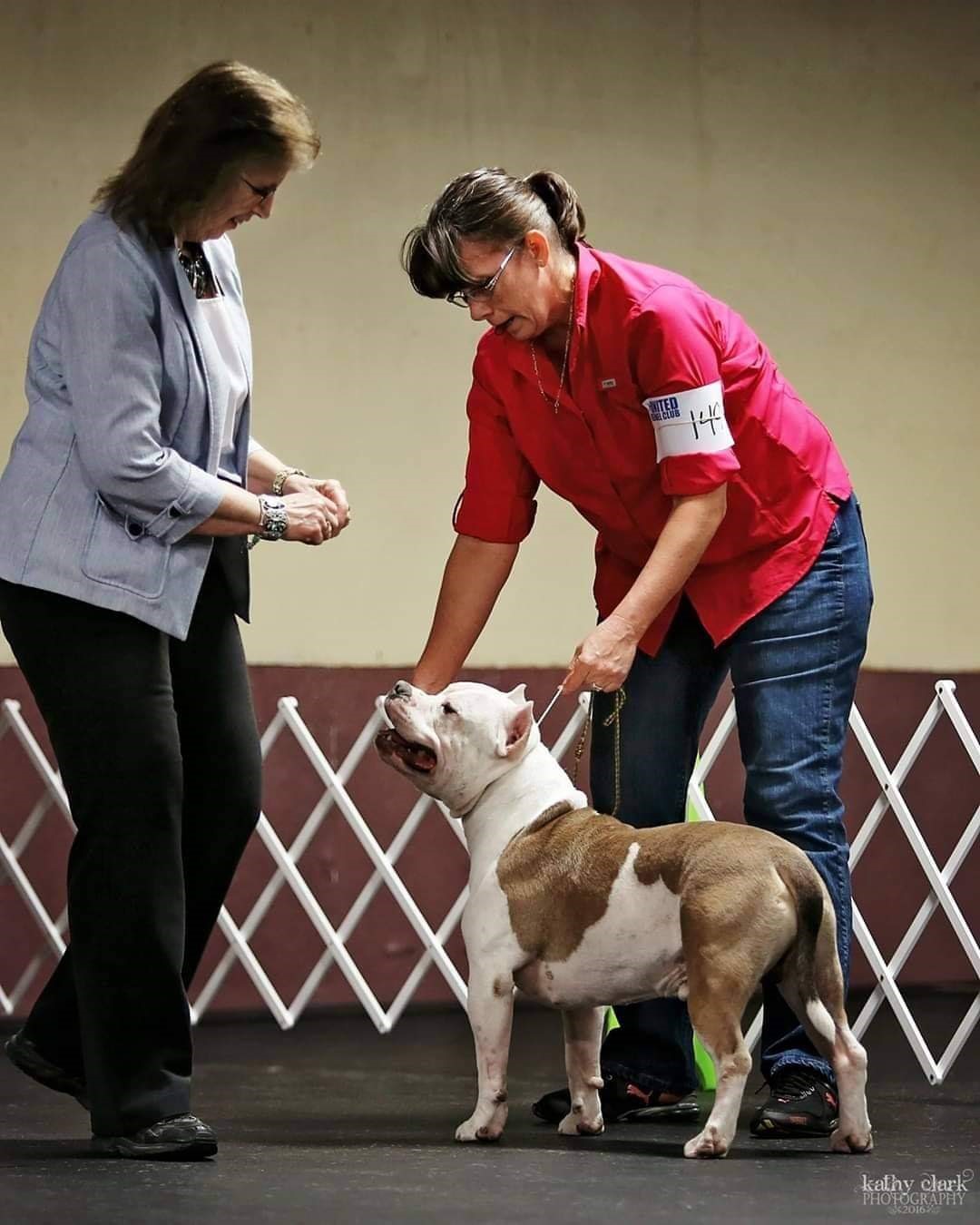 Stacey Criswell (right) presenting her dog to the judge.
"I purchased my first real show hound from Jack Anderson, back when we had to write letters and send pictures by mail," Stacey said. That pup was named Jack and Stacey was able to win the Florida State Show Championship with him before the age of one. She wasnt one dimensional though, hunting her own hound in the nite hunts and finishing it out to Nite Champion all on her own. Stacey went on to say, "We trekked all over the country so our two daughters could show including frequent visits to Autumn Oaks, Winter Classic and Grand American." Though the family finished several dogs into Show and Nite Hunt Champions, a couple of her favorite wins are the Florida State Nite Hunt Championship and winning the National Grand Show Champion title in 2005 at Autumn Oaks with NGRCH GRCH 'PR' Bolt Action Mundar Rick.
As times change and hunting land became sparser in her part of the country, Stacey has shifted from coonhounds toward the American Bully breed. She shows mostly in UKC conformation shows and frequents the breeds Top Ten charts. Stacey and her husband Dave are now working on molding their grandchildren with the recent purchase of a beagle pup to hit the competition circuit with. Stacey keeps her Coonhound Bench Show Judge license up to date in UKC and other registries, in addition to her Master of Hounds license. She is also honored to be a BBCR Multi-Breed Judge, Bullypedia Rep and the President of the Florida American Bully Club.
In conclusion, she added, "I'm really looking forward to judging some awesome hounds and I thank UKC for this opportunity."
Guided by the belief that dogs make a difference by being the best partner a human can have in the field, on the job, or in a competition event, UKC is a community for people and dogs to pursue excellence together. Founded in 1898, UKC has been dedicated to enhancing the lives of Dogs That Do More, and their owners, by providing essential resources to help owners and breeders make informed decisions. The dog-human bond is celebrated through family-friendly programs highlighting the instincts and heritage of purebred and mixed-breed dogs alike at over 15,000 licensed events annually.
Back to Coonhound News >