2020 Coonhound World Zone Entries
Zones are September 18 & 19. The finals are held September 24-26.
September 11, 2020
Source: Trevor Wade, UKC Coonhound Program Manager
Email: twade@ukcdogs.com

Let's get ready for a few great weekends of World Championship hunting! We'll kick off first with the Zones on September 18 & 19 leading up to the World finals September 24-26.
You must confirm your Zone entry on the grounds from 3-5 p.m., local time each day at the zone where you're entered to hunt. Directions are available in the events calendar or click the Zone title in the table list below.
There are 8 Zone hunt locations. The dog must advance from Zones to have a spot in the World Hunt.
Of these 529 dogs, 104 will advance from Zones to the World Finals. Best of luck to these hounds hitting the road on the hunt for their invite to the World Championship!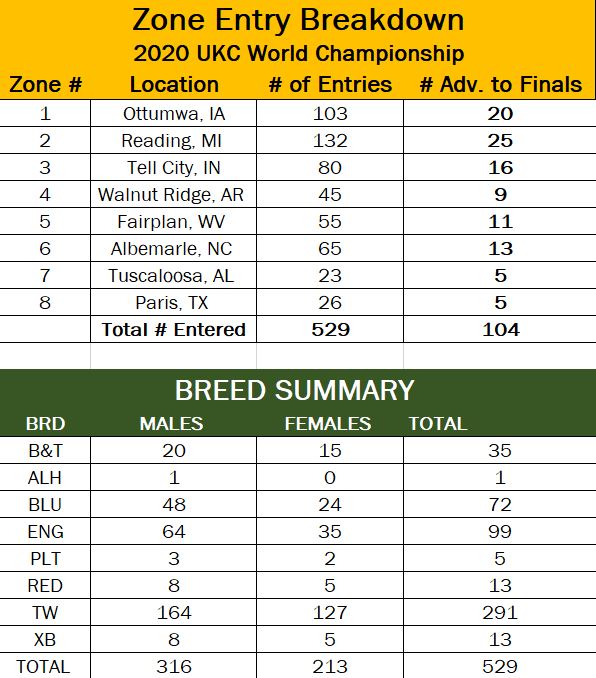 WORLD NITE HUNT STATES REPRESENTED
ALABAMA 18
ARKANSAS 18
FLORIDA 3
GEORGIA 17
ILLINOIS 13
INDIANA 65
IOWA 39
KANSAS 7
KENTUCKY 38
LOUISIANA 4
MARYLAND 1
MICHIGAN 16
MINNESOTA 2
MISSISSIPPI 11
MISSOURI 40
NEBRASKA 6
NEW YORK 5
NORTH CAROLINA 27
NORTH DAKOTA 1
OHIO 41
OKLAHOMA 21
PENNSYLVANIA 13
SOUTH CAROLINA 17
TENNESSEE 24
TEXAS 8
UTAH 2
VERMONT 1
VIRGINIA 22
WEST VIRGINIA 40
WISCONSIN 9
TOTAL 529
Zone
Dog
Breed
Sex
Owner 1
Owner 2
Location
Zone


ZONE 1 - OTTUMWA, IA

Zone


457

Dog


NITECH'PR'COULTER'S SEOUL SINGER

Breed


B&T

Sex


F

Owner 1


J REESE COULTER

Owner 2


TERRI COULTER

Location


MO

Zone


290

Dog


GRNITECH'PR'MIDNIGHT SMOKEY 7 JR

Breed


B&T

Sex


M

Owner 1


DONNIE EGLI

Location


IA

Zone


180

Dog


NATLDC GRNITECH GRCH'PR'GILMAN'S REBEL'S REDNECK ROLL

Breed


B&T

Sex


M

Owner 1


DAVID GILMAN

Location


IL

Zone


203

Dog


NITECH'PR'SCIPIO KANSAS TJ

Breed


B&T

Sex


M

Owner 1


JEFF PEDROW

Owner 2


BLAISE BAUER

Location


KS

Zone


150

Dog


'PR'ILLWIND BLUE RIVER BLACK QUEEN

Breed


B&T

Sex


F

Owner 1


SCOTT SHEPLER

Location


NE

Zone


362

Dog


GRNITECH(2) GRCH'PR'BAD TO THE BONE CHAMP

Breed


B&T

Sex


M

Owner 1


AARON WOLKEN

Location


KS

Zone


234

Dog


GRNITECH'PR'AHRENS BLUE SPIRIT

Breed


BLU

Sex


M

Owner 1


JERRY L AHRENS

Location


WI

Zone


25

Dog


GRNITECH'PR'NIGHT FURY'S RAGING BULL

Breed


BLU

Sex


M

Owner 1


TONY BAER

Location


OH

Zone


3

Dog


'PR'BANKSTONS MR BOJANGLES

Breed


BLU

Sex


M

Owner 1


STEVE BANKSTON

Location


MS

Zone


129

Dog


GRNITECH GRCH'PR'DIGGER'S BLUE CAJUN SWAMPER

Breed


BLU

Sex


M

Owner 1


TYLER BATTERSON

Owner 2


DARREN BATTERSON

Location


IA

Zone


156

Dog


GRNITECH GRCH'PR'DIGGER'S BLUE MABLE

Breed


BLU

Sex


F

Owner 1


DARREN BATTERSON

Owner 2


LISA BATTERSON

Location


IA

Zone


157

Dog


GRNITECH GRCH'PR'DIGGER'S BLUE SPOT

Breed


BLU

Sex


F

Owner 1


DARREN BATTERSON

Owner 2


LISA BATTERSON

Location


IA

Zone


320

Dog


NITECH CH'PR'SWAN-DINGER'S BLUE LYNX

Breed


BLU

Sex


F

Owner 1


TAMMY BEEGHLY

Owner 2


JUSTIN ENGELHARDT

Location


IA

Zone


176

Dog


GRNITECH(2)'PR'BLESSING'S MIDNITE RAGE

Breed


BLU

Sex


F

Owner 1


HENRY BLESSING II

Owner 2


STEWART BLESSING

Location


MO

Zone


462

Dog


'PR'COFFINS CREEK RUNNIN J.R.

Breed


BLU

Sex


M

Owner 1


CARSON CRANE

Owner 2


AARON CRANE

Location


IA

Zone


464

Dog


'PR'COFFINS CREEK RUNNIN SHERMAN

Breed


BLU

Sex


M

Owner 1


AARON CRANE

Owner 2


THOMAS CRANE

Location


IA

Zone


202

Dog


GRNITECH'PR'DAVIS' WAKENDA CR BLUE JESSUP

Breed


BLU

Sex


M

Owner 1


SHAWN DAVIS

Owner 2


BRIAN DAVIS

Location


MO

Zone


522

Dog


GRNITECH(2) GRCH(2)'PR'DOWNING'S TREEIN ALL BLUE REBEL HTX

Breed


BLU

Sex


F

Owner 1


DANIEL DOWNING

Location


WI

Zone


212

Dog


GRNITECH GRCH(2)'PR''TURKEY RIVER' BLACK EYED KATE

Breed


BLU

Sex


F

Owner 1


PAUL FRANZEN

Owner 2


ELIZABETH FRANZEN

Location


IA

Zone


200

Dog


GRNITECH GRCH'PR'MORGAN BRANCH WILLING & ABEL

Breed


BLU

Sex


M

Owner 1


MICHAEL HARWARD

Location


IL

Zone


357

Dog


CH GRNITECH'PR'HULSE'S WHITE RIVER TRAVELER HTX

Breed


BLU

Sex


M

Owner 1


TONY HODGE JR

Location


KS

Zone


348

Dog


CH NITECH'PR'LYDIC'S THUNDER BLUE BOOMER

Breed


BLU

Sex


M

Owner 1


DON L LYDIC III

Location


WI

Zone


373

Dog


'PR'FALLCREEKS GUNS & ROSES

Breed


BLU

Sex


F

Owner 1


RONALD MEYERS

Owner 2


DAVE LANGAN

Location


IL

Zone


170

Dog


GRCH'PR'DIAMOND M LEWEY'S BLUE ICE

Breed


BLU

Sex


F

Owner 1


JEREMY MUNSON

Location


IA

Zone


121

Dog


GRNITECH(2) GRCH'PR'BUFFALO CREEK POP EM UP WOODROW

Breed


BLU

Sex


M

Owner 1


DAN PEREZ

Owner 2


MEGAN PEREZ

Location


MO

Zone


228

Dog


CH GRNITECH(2)'PR'PRAIRE CREEK TINKS SHOOTER

Breed


BLU

Sex


M

Owner 1


CHRIS SCHAFFNER

Owner 2


JASON SCHULTE

Location


IA

Zone


27

Dog


GRNITECH(3)'PR'PRAIRIE CREEK BLUE BOTOX

Breed


BLU

Sex


M

Owner 1


JASON SCHULTE

Location


IA

Zone


383

Dog


GRNITECH GRCH'PR'RIVER BOTTOM SHOCK'N'AWE SADIE

Breed


BLU

Sex


F

Owner 1


JACOB SCOTT

Location


IL

Zone


62

Dog


CH GRNITECH(2)'PR'KUKS B.C. BLUE BELLA

Breed


BLU

Sex


F

Owner 1


PHIL VOGEL

Location


MO

Zone


273

Dog


GRNITECH'PR'WILLOW CREEK BULL

Breed


ENG

Sex


M

Owner 1


JOHN C ANDERSON

Owner 2


KEYLYN ANDERSON

Location


NE

Zone


274

Dog


NITECH'PR'WILLOW CREEK RED HOT SUMMER

Breed


ENG

Sex


F

Owner 1


JOHN C ANDERSON

Location


NE

Zone


370

Dog


CH NITECH'PR'WILLOW CREEK COPPERHEAD

Breed


ENG

Sex


M

Owner 1


JOHN C ANDERSON

Owner 2


BRANDON GAINES

Location


NE

Zone


488

Dog


NITECH CH'PR'HARDTIME AWESOME SAUCE

Breed


ENG

Sex


M

Owner 1


SAVANNA BROOKS

Location


WI

Zone


207

Dog


CH GRNITECH'PR'B&S TRAILERS BAD NEWS ROWDY

Breed


ENG

Sex


M

Owner 1


BRANDON GAINES

Location


OK

Zone


287

Dog


NITECH'PR'WABASH RIVER LATE NITE MAGIC

Breed


ENG

Sex


F

Owner 1


BRANDON GAINES

Owner 2


JOSHUA KNOX

Location


OK

Zone


248

Dog


CH'PR'SPENCE CREEK MIDNITE ADDICTION

Breed


ENG

Sex


M

Owner 1


ADAM KELLER

Location


KY

Zone


275

Dog


NITECH'PR'SWEET TALKIN IN THE BREEZE

Breed


ENG

Sex


F

Owner 1


CODY LONG

Location


MO

Zone


337

Dog


NITECH'PR'LIM'S CLAYTON BIGSBY

Breed


ENG

Sex


M

Owner 1


LANCE MYERS

Owner 2


JERRY MYERS

Location


AL

Zone


109

Dog


GRNITECH'PR'NORTHRIDGE KATE'S BONNIE

Breed


ENG

Sex


F

Owner 1


DENNIS STEINHAUSER

Location


NE

Zone


255

Dog


NITECH'PR'WANNABE A LUNATIC

Breed


ENG

Sex


F

Owner 1


BLAINE STOUT

Owner 2


COLT REGERS

Location


IA

Zone


83

Dog


NITECH'PR'MOSQUITO CREEK DANNO'S BUGGS

Breed


RED

Sex


F

Owner 1


JACK BINGHAM

Owner 2


JACOB BINGHAM

Location


IA

Zone


84

Dog


NITECH'PR'MOSQUITO CREEK HANK HTX

Breed


RED

Sex


M

Owner 1


JACK BINGHAM

Owner 2


DEVIN WILLIAMS

Location


IA

Zone


423

Dog


'PR'VIAGRAS RED RIFLE

Breed


RED

Sex


M

Owner 1


MATTHEW SCHULTZ

Location


ND

Zone


297

Dog


NITECH'PR'ALLISON'S KOSHKONONG LITTL MAN

Breed


TW

Sex


M

Owner 1


TERRY A ALLISON

Location


WI

Zone


57

Dog


'PR'ANDERSONS HARD KNOCKIN CHIC

Breed


TW

Sex


F

Owner 1


JASON ANDERSON

Location


IA

Zone


103

Dog


GRNITECH'PR'DEAMONS STYLISH FIRE

Breed


TW

Sex


F

Owner 1


MATT ANDERSON

Location


IA

Zone


104

Dog


NITECH'PR'BAD WHISKEY BUZZ

Breed


TW

Sex


M

Owner 1


MATT ANDERSON

Location


IA

Zone


88

Dog


'PR'BACKWATER BAD TO THE BONE

Breed


TW

Sex


M

Owner 1


DARREL BARKER

Location


IL

Zone


214

Dog


'PR'REEZON TO GO FULL THROTTLE

Breed


TW

Sex


F

Owner 1


KOSHKO BENNETT

Owner 2


TERRY BENNETT

Location


MO

Zone


85

Dog


NITECH'PR'WIPE OUT SMALL POX

Breed


TW

Sex


F

Owner 1


JACK BINGHAM

Owner 2


JACOB BINGHAM

Location


IA

Zone


422

Dog


'PR'SNOOKI'S JERSEY GIRL

Breed


TW

Sex


F

Owner 1


JACK BINGHAM

Owner 2


JACOB BINGHAM

Location


IA

Zone


420

Dog


GRNITECH(3)'PR'SAP SUCKIN INDIAN WARRIOR

Breed


TW

Sex


M

Owner 1


TOM BRISLAWN

Location


IA

Zone


283

Dog


GRNITECH'PR'THE PORCUPINE VALLEY SIS DOG

Breed


TW

Sex


F

Owner 1


BEN BROWN

Owner 2


JOHN FLICEK R

Location


MN

Zone


131

Dog


GRNITECH(2)'PR'TRUMAN LAKE GOOBER

Breed


TW

Sex


M

Owner 1


STEVEN CODY

Owner 2


MIKE HICKS

Location


MO

Zone


449

Dog


NITECH GRCH'PR'ROLLING HILLS CANDY

Breed


TW

Sex


F

Owner 1


AMANDA DEXTER

Owner 2


LUKE DEXTER

Location


KS

Zone


450

Dog


'PR'CARRY ON WAYWARD SON

Breed


TW

Sex


M

Owner 1


LUKE DEXTER

Location


KS

Zone


455

Dog


NITECH'PR'KANSAS WILD CARD JR

Breed


TW

Sex


M

Owner 1


JACOB DEXTER

Location


MO

Zone


171

Dog


'PR'MALEAN'S FULL CRY REBEL

Breed


TW

Sex


M

Owner 1


JOEL ERNST

Owner 2


WES GILROY

Location


IA

Zone


333

Dog


GRNITECH(2) SPLIT CREEK HISTORY STRAP

Breed


TW

Sex


M

Owner 1


TODD FELDERMAN

Owner 2


DENNIS JAMES FELDERMAN

Location


IA

Zone


335

Dog


SPLIT CREEK HISTORY FULLCRY

Breed


TW

Sex


F

Owner 1


DENNIS FELDERMAN

Owner 2


TODD FELDERMAN

Location


IA

Zone


132

Dog


'PR'FERRARI'S WILD WINCHESTER

Breed


TW

Sex


M

Owner 1


TROY FERRARI

Location


IA

Zone


167

Dog


GRNITECH'PR'QUICK DASH

Breed


TW

Sex


F

Owner 1


JASON FITZ

Location


IA

Zone


33

Dog


NITECH'PR'MISTER STYLISH CHIRP

Breed


TW

Sex


M

Owner 1


JOHN FLOWERS

Location


IA

Zone


10

Dog


NITECH'PR'HALF BREED DEEP POCKETS

Breed


TW

Sex


F

Owner 1


DEREK FURNISS

Location


WI

Zone


394

Dog


NITECH'PR'MUGS MO. CHIC

Breed


TW

Sex


F

Owner 1


MIKE GLOVER

Location


MO

Zone


11

Dog


GRNITECH(2)'PR'POOR BOYS JIMMY

Breed


TW

Sex


M

Owner 1


JARED GOERING

Owner 2


JEREMIAH BROWN

Location


IA

Zone


91

Dog


'PR'TYNER CREEK SPICE GIRL

Breed


TW

Sex


F

Owner 1


NATHAN GUTHRIE

Location


OK

Zone


101

Dog


'PR'HEMMS LIPPER WIPEOUT NITE

Breed


TW

Sex


M

Owner 1


TRAPPER HEMM

Owner 2


JUNIOR HEMM

Location


IA

Zone


102

Dog


NITECH CH'PR'LIPPER S STYLISH RIPLEY

Breed


TW

Sex


M

Owner 1


HUNTER JUNIOR HEMM

Owner 2


RANDY V HEMM JR

Location


IA

Zone


445

Dog


GRNITECH'PR'TRUMAN LAKE ROSS

Breed


TW

Sex


M

Owner 1


KENNETH L JOHNSON

Location


MO

Zone


452

Dog


'PR'MASTER JACK O.D.

Breed


TW

Sex


M

Owner 1


PAT KELLER

Location


IL

Zone


301

Dog


NITECH'PR'KOCH'S POP'EM UP DAISY

Breed


TW

Sex


F

Owner 1


NICHOLAS S KOCH

Owner 2


AMANDA SCHLOTTMAN

Location


WI

Zone


415

Dog


GRNITECH'PR'TRUMAN LAKE PEE WEE

Breed


TW

Sex


F

Owner 1


STEVEN MACKEY

Location


MO

Zone


416

Dog


GRNITECH(2)'PR'TRUMAN LAKE LITTLE BIT

Breed


TW

Sex


F

Owner 1


STEVEN MACKEY

Location


MO

Zone


215

Dog


NITECH'PR'MALEAN'S STYLISH GOOSER

Breed


TW

Sex


M

Owner 1


DAVE MALEAN

Location


WI

Zone


175

Dog


NITECH'PR'WIPEOUT HUNTER

Breed


TW

Sex


M

Owner 1


ZACH MC BEE

Owner 2


DOUG DOUGLAS

Location


MO

Zone


64

Dog


NITECH'PR'HARDWOOD WILD FIRE

Breed


TW

Sex


M

Owner 1


SAM MC CLURE

Location


IA

Zone


366

Dog


NITECH'PR'TRIPLE M'S TROOPER

Breed


TW

Sex


M

Owner 1


DENNIS MC DOWELL

Location


MO

Zone


314

Dog


GRNITECH'PR'PEPPER'S HALF BREED ACE

Breed


TW

Sex


M

Owner 1


NATHAN MEYERS

Owner 2


BRETT MEYERS

Location


IA

Zone


66

Dog


GRNITECH'PR'MEET JOE BLACK

Breed


TW

Sex


M

Owner 1


JEREMY MICHAELIS

Location


MO

Zone


349

Dog


'PR'INSANE VENUS

Breed


TW

Sex


F

Owner 1


JEREMY MICHAELIS

Location


MO

Zone


453

Dog


NITECH'PR'SKIPPERS WIPEOUT DUDS

Breed


TW

Sex


M

Owner 1


JOSH MICHAELIS

Location


MO

Zone


355

Dog


GRNITECH'PR'ROLLING HILLS ROCK

Breed


TW

Sex


M

Owner 1


RICK MICK

Owner 2


SKYLER MICK

Location


KS

Zone


112

Dog


NITECH CH'PR'BARGAR BACKWATER SPINNER

Breed


TW

Sex


F

Owner 1


GARRETT L MILLER

Location


MO

Zone


284

Dog


'PR'PRETTY LITTLE LIAR

Breed


TW

Sex


F

Owner 1


REID MUXFELDT

Owner 2


SHANE MUXFELDT

Location


IA

Zone


144

Dog


GRNITECH'PR'ADRENALINE JILL

Breed


TW

Sex


F

Owner 1


BOB L NOBLE

Owner 2


BRET R DANIEL

Location


OK

Zone


140

Dog


CH GRNITECH HIGH SPEED CASH

Breed


TW

Sex


M

Owner 1


ARTHUR PATCHEN

Owner 2


AARON KUEBLI

Location


WI

Zone


479

Dog


NITECH'PR'POTTS HAMMER TWO

Breed


TW

Sex


M

Owner 1


JJ POTTS

Location


MS

Zone


463

Dog


GRNITECH'PR'RISERS SENSATIONAL CECIL

Breed


TW

Sex


M

Owner 1


RON RISER

Owner 2


JOHNIE RISER

Location


IA

Zone


130

Dog


'PR'LEGENDS LONE PINE TAR

Breed


TW

Sex


M

Owner 1


HEATHER ROBERTS

Location


MO

Zone


160

Dog


NITECH'PR'HARDOAKS LIL JIGGS

Breed


TW

Sex


F

Owner 1


LARRY ROBINSON

Location


IA

Zone


346

Dog


'PR'SOMMER'S SCIPIO DJANGO

Breed


TW

Sex


M

Owner 1


BRUCE A SOMMER

Location


KS

Zone


324

Dog


GRCH GRNITECH(2)'PR'YOCONA RIVER WILDMAN WILLIE

Breed


TW

Sex


M

Owner 1


RONNIE W STARK

Location


MS

Zone


310

Dog


'PR'NIGHT CALL PRETTY FOGGY

Breed


TW

Sex


F

Owner 1


LEVI STEPHENSON

Owner 2


TONY BOWMAN

Location


KY

Zone


113

Dog


GRCH NITECH'PR'WICKLIFFE CREEK SWEETY

Breed


TW

Sex


F

Owner 1


STEPHEN STILES

Owner 2


HOLLY STILES

Location


OK

Zone


114

Dog


NITECH'PR'WHITEWATERS SACKETTS REVENGE

Breed


TW

Sex


M

Owner 1


STEPHEN STILES

Owner 2


HOLLY TANNER

Location


OK

Zone


419

Dog


'PR'ROCKCREEK RHETT

Breed


TW

Sex


M

Owner 1


DAVE STUART

Location


IA

Zone


411

Dog


NITECH'PR'ANNIE OAKLEY

Breed


TW

Sex


F

Owner 1


MIKE TAUL

Location


MO

Zone


141

Dog


NITECH'PR'NEOSHO RIVER RALPH

Breed


TW

Sex


M

Owner 1


JR WALL

Owner 2


SHANE DEERING

Location


MO

Zone


508

Dog


NITECH CH'PR'PEDDLER CREEK SCAR

Breed


TW

Sex


M

Owner 1


GARY WEAR

Location


MO

Zone


384

Dog


ROLIN BLUE BABY GIRL

Breed


XB

Sex


F

Owner 1


RON BEHNE

Location


IA

Zone


12

Dog


WCH HOUNDS OF LIBERTY'S POTUS

Breed


XB

Sex


M

Owner 1


AARON GREEN

Location


MN

Zone

Zone


ZONE 2 - QUINCY, MI

Zone


265

Dog


'PR'SUGAR ISLAND'S OZARK MTN RIDGE

Breed


B&T

Sex


M

Owner 1


BRITTANY BEHM

Location


MI

Zone


168

Dog


GRNITECH GRCH'PR'JONES' NORTHERN COUNTRY COLT HTX

Breed


B&T

Sex


M

Owner 1


DAVID CORBIN

Owner 2


JOHN CORBIN JR

Location


PA

Zone


461

Dog


NITECH'PR'KY RIVER POISON IVY

Breed


B&T

Sex


F

Owner 1


STEPHEN DEZARA

Location


KY

Zone


302

Dog


CH GRNITECH'PR'BOTTOMLAND GUTSHOT

Breed


B&T

Sex


M

Owner 1


ALAN R HOLDING

Location


IN

Zone


303

Dog


CH GRNITECH'PR'FORDS TRAVELING CHIGGER

Breed


B&T

Sex


F

Owner 1


ALAN R HOLDING

Owner 2


PAUL BENNETT

Location


IN

Zone


230

Dog


NITECH GRCH'PR'JONES COUNTRY BOY TOBY HTX

Breed


B&T

Sex


M

Owner 1


FRANK R JONES SR

Owner 2


ANNETTE L JONES

Location


PA

Zone


317

Dog


GRNITECH'PR'LEWIS' IND MIDNITE GRADY HTX

Breed


B&T

Sex


M

Owner 1


RYLEY LEWIS

Location


IN

Zone


313

Dog


GRNITECH'PR'BLACK RIVER PONCHO

Breed


B&T

Sex


M

Owner 1


CHAD MC COIN

Owner 2


BRAD HILE

Location


IN

Zone


173

Dog


'PR'TREEBOUND BUCKEYE BLACK IZZY

Breed


B&T

Sex


F

Owner 1


LIZ NIDY

Owner 2


SONNY PHIPPS

Location


OH

Zone


162

Dog


'PR'HARDWOOD STICK BLACK JAZZ

Breed


B&T

Sex


F

Owner 1


JAMIE B SATTERFIELD

Location


NC

Zone


161

Dog


'PR'RALPH'S CRISPY FRIED BACON

Breed


ALH

Sex


M

Owner 1


RALPH FUSSNECKER

Location


OH

Zone


325

Dog


GRNITECH'PR'NORTHERN'S BLUE TUFF TINY

Breed


BLU

Sex


M

Owner 1


BRANDON JAY FEIST JR

Owner 2


ALEXIS HORST

Location


OH

Zone


87

Dog


NITECH CH'PR'BACKWOODS NORTHERN BLUE WILLIE

Breed


BLU

Sex


M

Owner 1


GEORGE GUTHRIE

Location


MI

Zone


501

Dog


'PR'LOCKTITE BLUE BRUTUS

Breed


BLU

Sex


M

Owner 1


JACOB HARRELL

Owner 2


MICHAEL E SHEPPARD

Location


IN

Zone


388

Dog


NITECH'PR'MEAD'S BLUE MOESE JET ELEVEN

Breed


BLU

Sex


M

Owner 1


DEBBIE HOVIOUS

Location


IN

Zone


295

Dog


GRCH GRNITECH'PR'BLUE CREEK GET HOOKED

Breed


BLU

Sex


M

Owner 1


RONALD A JACKSON

Owner 2


DANIEL RAINVILLE

Location


OH

Zone


261

Dog


NITECH'PR'JONES' ICE BLUE STORM

Breed


BLU

Sex


M

Owner 1


SAM JONES

Location


IN

Zone


124

Dog


GRNITECH FCH CH'PR'FLYNN'S MIDNIGHT DOC HUDSON HTX

Breed


BLU

Sex


M

Owner 1


CHARLES A KOONS

Owner 2


HAROLD D KOONS III

Location


OH

Zone


68

Dog


NITECH'PR'MEAD'S BL JET 10 AGAIN

Breed


BLU

Sex


M

Owner 1


ED MEAD

Location


MI

Zone


344

Dog


'PR'MICHAELS MIDNITE JET BLUE SPANKY

Breed


BLU

Sex


M

Owner 1


JERRY A MICHAEL JR

Owner 2


DONNY MICHAEL

Location


IN

Zone


358

Dog


NITECH'PR'SILCOX'S MTN BLUE BANJO

Breed


BLU

Sex


M

Owner 1


NATE MOORE

Location


IN

Zone


26

Dog


GRNITECH GRCH'PR'BLUE RIVER THE AVON LADY III

Breed


BLU

Sex


F

Owner 1


LARRY RASEY

Owner 2


JEREMIAH LITTERAL

Location


OH

Zone


492

Dog


NITECH CH'PR'SMITHS BLUE DREAMIN TESS

Breed


BLU

Sex


F

Owner 1


JASON SMITH

Location


OH

Zone


356

Dog


GRNITECH(2)'PR'PLANES BLU HORIZON HONEY

Breed


BLU

Sex


F

Owner 1


RYAN ST MARY

Location


NY

Zone


188

Dog


GRNITECH'PR'PSYCHO SIS

Breed


BLU

Sex


F

Owner 1


TERRY TAPPY

Owner 2


BRAD O KELLY

Location


IN

Zone


263

Dog


'PR'ROCK CREEK'S WOODSTOCK

Breed


BLU

Sex


M

Owner 1


TERRY TAPPY

Location


IN

Zone


272

Dog


GRNITECH(2)'PR'ROCK CREEK COUNTRY CLUB

Breed


BLU

Sex


M

Owner 1


TERRY TAPPY

Owner 2


MATT LINGO

Location


IN

Zone


345

Dog


NITECH'PR'ROCK CREEK RACKET

Breed


BLU

Sex


F

Owner 1


TERRY TAPPY

Location


IN

Zone


510

Dog


NITECH'PR'KASKASKIA RIVER BLUE MOLLY

Breed


BLU

Sex


F

Owner 1


MARK VAN DEVENTER

Location


IL

Zone


146

Dog


GRNITECH'PR'HELL HOUND'S JUDY CHOP

Breed


ENG

Sex


F

Owner 1


JACOB BARTON

Owner 2


CHASE ELLISON

Location


KY

Zone


148

Dog


GRNITECH'PR'BARTON'S BALLRIDGE RAVEN

Breed


ENG

Sex


F

Owner 1


JACOB BARTON

Location


KY

Zone


468

Dog


GRNITECH'PR'OHIO WAR NYHAWK

Breed


ENG

Sex


M

Owner 1


TIM BOLDEN

Owner 2


BRAYDEN BOLDEN

Location


KY

Zone


232

Dog


GRNITECH'PR'OAKWOODS POISON IVY

Breed


ENG

Sex


F

Owner 1


ASA D BRIGGS JR

Owner 2


JASON WARD

Location


MI

Zone


30

Dog


GRNITECH GRCH'PR'CRON'S KEYSTONE LUCY

Breed


ENG

Sex


F

Owner 1


PAUL CRONAUER

Location


PA

Zone


179

Dog


NITECH'PR'CRON'S KEYSTONE MISS JANE

Breed


ENG

Sex


F

Owner 1


PAUL CRONAUER

Location


PA

Zone


434

Dog


GRCH GRNITECH(2)'PR'SILVER CREEK RAZOR HTX

Breed


ENG

Sex


M

Owner 1


RON CUMBERLAND

Owner 2


EARL EVERETTS

Location


PA

Zone


253

Dog


GRNITECH'PR'MR. BONE'S COPPERHEAD

Breed


ENG

Sex


M

Owner 1


TROY EUSTACE

Owner 2


BRIAN CHAMBERLAIN

Location


OH

Zone


318

Dog


GRNITECH'PR'WILDCATS KENTUCKY JAY

Breed


ENG

Sex


M

Owner 1


JOEL GAITHER

Location


KY

Zone


403

Dog


GRNITECH'PR'RED RUBY HARDTIME ROCK

Breed


ENG

Sex


M

Owner 1


ROGER C GEESAMAN

Location


IN

Zone


484

Dog


GRNITECH(4)'PR'MAIN ST. BLUE

Breed


ENG

Sex


M

Owner 1


TREVOR HACK

Owner 2


GRANT WHITMER

Location


OH

Zone


390

Dog


GRNITECH CH'PR'NATHAN'S GREEN MTN WILLIE

Breed


ENG

Sex


M

Owner 1


NATHAN KISAMORE

Location


WV

Zone


435

Dog


GRNITECH'PR'SPRUCE RUN LIGHTNING

Breed


ENG

Sex


M

Owner 1


MICK LILLEY

Location


PA

Zone


271

Dog


CH GRNITECH'PR'HARDTIME BLACK SHARPIE

Breed


ENG

Sex


F

Owner 1


DAVID MAGRUM

Location


OH

Zone


147

Dog


'PR'ROCKY CREEK SUPER GLUE

Breed


ENG

Sex


F

Owner 1


CHAD NAY

Owner 2


JACOB BARTON

Location


OH

Zone


249

Dog


NITECH'PR'ROCKY CREEK SUNDROP

Breed


ENG

Sex


F

Owner 1


CHAD NAY

Owner 2


JACOB BARTON

Location


OH

Zone


250

Dog


CH NITECH'PR'ROCKY CREEK FLICKA

Breed


ENG

Sex


F

Owner 1


CHAD NAY

Owner 2


JACOB BARTON

Location


OH

Zone


251

Dog


NITECH'PR'ROCKY CREEK FIRECRACKER

Breed


ENG

Sex


F

Owner 1


CHAD NAY

Owner 2


JACOB BARTON

Location


OH

Zone


252

Dog


NITECH'PR'ROCKY CREEK INSANE ROCK

Breed


ENG

Sex


M

Owner 1


CHAD NAY

Owner 2


VAN THOMAS

Location


OH

Zone


108

Dog


'PR'ONEY'S ZUES

Breed


ENG

Sex


M

Owner 1


CLIFF ONEY

Location


OH

Zone


118

Dog


GRNITECH(2)'PR'SANDY CREEK BRANDY

Breed


ENG

Sex


F

Owner 1


SCOTT ONEY

Location


OH

Zone


119

Dog


GRNITECH'PR'OUTBACK FRED

Breed


ENG

Sex


M

Owner 1


SCOTT ONEY

Location


OH

Zone


48

Dog


GRNITECH'PR'LTD CRAZY RIVER BLUE SCREAMER

Breed


ENG

Sex


M

Owner 1


CLAYTON PUSEY

Owner 2


ANDREW FISHER

Location


IN

Zone


242

Dog


NITECH'PR'RIDGES UNCLE CRAKER

Breed


ENG

Sex


M

Owner 1


DARREN RIDGE

Owner 2


HANNAH RIDGE

Location


IN

Zone


286

Dog


'PR'JOHN THE FASTEST

Breed


ENG

Sex


M

Owner 1


DAMON SAVAGE

Owner 2


EDDIE LEMON

Location


PA

Zone


138

Dog


NITECH CH'PR'BACKYARD STEEL DOT

Breed


ENG

Sex


F

Owner 1


DOUG TERRELL

Location


OH

Zone


499

Dog


GRNITECH(2)'PR'MAIN STREET WHITE POISON

Breed


ENG

Sex


M

Owner 1


GARRETT TRUSTY

Owner 2


ASA BRIGGS

Location


IN

Zone


430

Dog


GRNITECH'PR'HEATSEEKER UNLEASH THE KRAKEN

Breed


ENG

Sex


M

Owner 1


GRANT WHITMER

Owner 2


TREVOR HACK

Location


UT

Zone


480

Dog


GRNITECH GRCH'PR'WILCOX' THUNDER GUNS PRIDE

Breed


ENG

Sex


M

Owner 1


L L WILCOX

Location


MI

Zone


241

Dog


'PR'CLASSIC COUNTRY QUEEN

Breed


ENG

Sex


F

Owner 1


TROY WILLIAMS

Location


MI

Zone


513

Dog


CH'PR'MAPLE RIVER BEALS HOSS

Breed


PLT

Sex


M

Owner 1


CAMDON WRIGHT

Location


IN

Zone


418

Dog


GRNITECH'PR'BRITTONS DIAMOND SHADOW

Breed


RED

Sex


M

Owner 1


DONALD FLOWER

Location


OH

Zone


459

Dog


'PR'ELECTROLYTE MOONLIGHT

Breed


RED

Sex


F

Owner 1


JOSHUA GUFFEY

Location


IN

Zone


519

Dog


'PR'ANTHONY JILL

Breed


TW

Sex


F

Owner 1


HOWARD ANTHONY

Location


OH

Zone


137

Dog


NITECH'PR'A$A BAD GIRL PATSY CLINE

Breed


TW

Sex


F

Owner 1


FREDRICK AWALD

Owner 2


JOSH JONES

Location


IN

Zone


14

Dog


CH GRNITECH'PR'MICHIGAN JUMBO

Breed


TW

Sex


M

Owner 1


MARWOOD A BACKING

Location


MI

Zone


92

Dog


'PR'STONEYCREEK PENNY

Breed


TW

Sex


F

Owner 1


JOHN T BEBOUT

Location


IN

Zone


521

Dog


NITECH'PR'RICK'S LICKETY SPLIT

Breed


TW

Sex


F

Owner 1


RICHARD L BOAK

Location


OH

Zone


505

Dog


CH GRNITECH'PR'BOLDEN'S SUPER BEETLE

Breed


TW

Sex


F

Owner 1


TIM BOLDEN

Owner 2


BRAYDEN BOLDEN

Location


KY

Zone


456

Dog


GRNITECH'PR'J'S STYLISH CHARM

Breed


TW

Sex


F

Owner 1


CRAIG BOONE

Location


KY

Zone


311

Dog


GRNITECH(3)'PR'HANDSOME TUCKER

Breed


TW

Sex


M

Owner 1


NICK BRADY

Owner 2


PHIL PETERSON

Location


WV

Zone


380

Dog


GRNITECH'PR'68 STICK

Breed


TW

Sex


M

Owner 1


TODD BRINGMAN

Owner 2


BRAD BRINGMAN

Location


OH

Zone


246

Dog


'PR'CHARLEY CREEK BIG EARL

Breed


TW

Sex


M

Owner 1


DICK BROTHERS

Location


IA

Zone


247

Dog


'PR'CHARLEY CREEK BIG TIMER

Breed


TW

Sex


M

Owner 1


DICK BROTHERS

Owner 2


BOBBY OVERBY

Location


IA

Zone


506

Dog


NITECH'PR'BURGE'S FULL MOON SHINE

Breed


TW

Sex


M

Owner 1


SHAWN BURGE

Location


IN

Zone


4

Dog


GRNITECH CH'PR'MONEY IN THE BANK

Breed


TW

Sex


M

Owner 1


KEVIN CABLE JR

Location


IN

Zone


483

Dog


GRNITECH'PR'TRUSTYS KING ROLO

Breed


TW

Sex


M

Owner 1


SCOTT CALIHAN

Owner 2


MIKE CARMACK

Location


IN

Zone


257

Dog


GRNITECH(2)'PR'ROCK BOTTOM COLD CRANK IT

Breed


TW

Sex


M

Owner 1


BLAKE CARTER

Location


IN

Zone


399

Dog


'PR'LOST CREEK JEN

Breed


TW

Sex


F

Owner 1


DANIEL F CHAPMAN

Location


WV

Zone


237

Dog


NITECH'PR'WIPE'EM CLEAN OLLIE

Breed


TW

Sex


M

Owner 1


JUSTIN CLARK

Location


IN

Zone


495

Dog


GRNITECH'PR'MALLARD ROOST KUSCO

Breed


TW

Sex


M

Owner 1


JEFFREY COLE

Location


IN

Zone


77

Dog


'PR'J AND J'S STONY CREEK GLENN

Breed


TW

Sex


M

Owner 1


JOHN T COLEMAN

Location


NY

Zone


36

Dog


GRNITECH'PR'ICE COLD MAVERICK

Breed


TW

Sex


M

Owner 1


JESSE COLVIN

Location


OH

Zone


307

Dog


NITECH'PR'LIBERTY'S HARDWOOOD RIP IT

Breed


TW

Sex


M

Owner 1


CURTIS CONWAY

Location


IN

Zone


93

Dog


GRNITECH'PR'RUSHIN RUCKUS

Breed


TW

Sex


M

Owner 1


SCOTT ENGLE

Owner 2


RANDY MORGAN

Location


OH

Zone


336

Dog


'PR'MOJO'S ELECTRIC RODEO

Breed


TW

Sex


M

Owner 1


SCOTT ENGLE

Owner 2


RANDY MORGAN

Location


OH

Zone


438

Dog


NITECH'PR'SUGAR BRITCHES

Breed


TW

Sex


F

Owner 1


ERIC FRANKS

Owner 2


JOSH SPARKS

Location


SC

Zone


258

Dog


GRNITECH'PR'CHILLIN THE MOST

Breed


TW

Sex


M

Owner 1


RANDY GADD

Owner 2


TOM COMPTON

Location


IN

Zone


260

Dog


GRNITECH'PR'KEHRES' STYLISH TWO FACE HAZEL

Breed


TW

Sex


F

Owner 1


RANDY GADD

Owner 2


TOM COMPTON

Location


IN

Zone


67

Dog


GRNITECH'PR'INDIANA OUTLAW

Breed


TW

Sex


M

Owner 1


FRANK GIDDINGS

Owner 2


RICKEY BRYANT JR

Location


MI

Zone


381

Dog


NITECH GRCH(2)'PR'FINLEE'S BLOCKER GABBY

Breed


TW

Sex


F

Owner 1


RAYMOND GRATTON

Owner 2


ALPHONSE GRATTON

Location


VT

Zone


49

Dog


CH GRNITECH'PR'WILD SALLY

Breed


TW

Sex


F

Owner 1


CHARLES HITE

Location


WV

Zone


50

Dog


GRNITECH(2)'PR'EAGLE CREEK JJ

Breed


TW

Sex


M

Owner 1


JIM HOFFMAN

Location


OH

Zone


385

Dog


NITECH'PR'NIGHTTIME SLIM

Breed


TW

Sex


M

Owner 1


DALE HUFF

Location


MI

Zone


262

Dog


GRNITECH CH'PR'R&D TREE SHAKIN JED

Breed


TW

Sex


M

Owner 1


MIKE JENNINGS

Location


OH

Zone


218

Dog


GRNITECH(2)'PR'J&J BAD BOY GEORGE STRAIT

Breed


TW

Sex


M

Owner 1


JOSH JONES

Owner 2


JESSICA R JONES

Location


IN

Zone


238

Dog


NITECH'PR'KEEGANS HE'S THE REAL NEAL

Breed


TW

Sex


M

Owner 1


JERALD L KEEGAN

Location


MI

Zone


239

Dog


GRNITECH'PR'KEEGAN'S ADELLE

Breed


TW

Sex


F

Owner 1


JERALD L KEEGAN

Location


MI

Zone


240

Dog


'PR'KEEGANS LET'N LOOSE LYLE

Breed


TW

Sex


M

Owner 1


WADE C KEEGAN

Owner 2


JERALD KEEGAN

Location


MI

Zone


334

Dog


WLDNITECH GRNITECH'PR'KEEGANS LET'N LOOSE LYLA

Breed


TW

Sex


F

Owner 1


JERALD KEEGAN

Location


MI

Zone


512

Dog


GRNITECH'PR'HIGH FLYIN DONKEY

Breed


TW

Sex


M

Owner 1


AUSTIN LANE

Owner 2


DERRICK MURPHY

Location


IL

Zone


442

Dog


GRNITECH'PR'MAXEYS STONERIDGE PEYTON

Breed


TW

Sex


M

Owner 1


JOHN J MAXEY

Location


OH

Zone


443

Dog


'PR'MAXEYS STONERIDGE HANK

Breed


TW

Sex


M

Owner 1


JOHN J MAXEY

Location


OH

Zone


367

Dog


NITECH'PR'MIDNIGHT'S SCREAMING DELILA

Breed


TW

Sex


F

Owner 1


JAY MILLER

Location


IN

Zone


369

Dog


NITECH'PR'MIDNIGHT WACKSTAR

Breed


TW

Sex


F

Owner 1


JAY MILLER

Owner 2


TYLER STEURY

Location


IN

Zone


38

Dog


'PR'INSANE BUCK CREEK REBEL

Breed


TW

Sex


M

Owner 1


MICHAEL MITCHELL

Location


IN

Zone


211

Dog


GRNITECH'PR'KOKOSING RIVER HARD ROCK

Breed


TW

Sex


M

Owner 1


RICK MORGAN

Location


OH

Zone


460

Dog


NITECH'PR'SIGLER CREEK STAR

Breed


TW

Sex


F

Owner 1


GERALD MULLIS

Location


IN

Zone


269

Dog


GRNITECH(2)'PR'NISSLEY'S QUICK FLASH

Breed


TW

Sex


F

Owner 1


DAVE NISSLEY

Location


IN

Zone


270

Dog


GRNITECH(2)'PR'MUDS MS REBA

Breed


TW

Sex


F

Owner 1


MICHAEL NISSLEY

Owner 2


TODD FISHER

Location


IN

Zone


338

Dog


NITECH'PR'DEEPWOODS ZOEY BELLE

Breed


TW

Sex


F

Owner 1


RAY PAUL

Location


OH

Zone


136

Dog


NITECH'PR'LITTLE MUDDY GIRLE

Breed


TW

Sex


F

Owner 1


CRAIG PHILLIPO

Location


MI

Zone


39

Dog


GRNITECH(2) GRCH'PR'STYLISH DIAMOND

Breed


TW

Sex


F

Owner 1


SCOTT PRIVITERA

Owner 2


CHARLES PRIVITERA

Location


NY

Zone


40

Dog


CH GRNITECH'PR'HOTSHOT FRANKE

Breed


TW

Sex


M

Owner 1


SCOTT PRIVITERA

Owner 2


MASON MARDINO

Location


NY

Zone


398

Dog


'PR'CWS REDNECK BOONE

Breed


TW

Sex


M

Owner 1


SCOTT PRIVITERA

Owner 2


NATHAN HOELSCHER

Location


NY

Zone


289

Dog


GRNITECH'PR'STYLISH BRUTUS

Breed


TW

Sex


M

Owner 1


STEVE SCOTT

Owner 2


STEVE AKERS

Location


OH

Zone


201

Dog


NITECH'PR'LONE PINE JILLIAN

Breed


TW

Sex


F

Owner 1


RANDY SMITH

Owner 2


DALE MONTGOMERY

Location


PA

Zone


387

Dog


'PR'HOLLY HOOKWORM

Breed


TW

Sex


F

Owner 1


JASON SMITH

Owner 2


STEVE BRYAN

Location


IN

Zone


391

Dog


NGRNCH GRNITECH(2) GRCH'PR'DARK SIDE OF SKUNA RIVER

Breed


TW

Sex


F

Owner 1


JASON SMITH

Owner 2


DUELL MURPHY

Location


IN

Zone


401

Dog


'PR'LONE PINE PEARL

Breed


TW

Sex


F

Owner 1


RANDY SMITH

Owner 2


DAN CARR

Location


PA

Zone


296

Dog


NITECH'PR'MITCHELL CREEK LUCIELL

Breed


TW

Sex


F

Owner 1


JOSHUA SPARKS

Location


GA

Zone


372

Dog


NITECH'PR'WIPEOUT SHINE AGAIN

Breed


TW

Sex


M

Owner 1


CHRIS STEPHENSON

Owner 2


AYDIN MUSGRAVE

Location


IL

Zone


473

Dog


'PR'1ST AND TEN

Breed


TW

Sex


F

Owner 1


JOHN STRICKLAND

Owner 2


ASHLEY OXENDINE

Location


KY

Zone


321

Dog


GRNITECH'PR'TW'S WHATS UP GUNNER

Breed


TW

Sex


M

Owner 1


JARED THIRY

Owner 2


JOHNNY WADKINS

Location


IN

Zone


400

Dog


GRNITECH'PR'HANDSOME RUBY D

Breed


TW

Sex


F

Owner 1


BRYAN WHITTED

Owner 2


MICHAEL THOMAS

Location


IN

Zone


524

Dog


GRNITECH'PR'WILD BILL

Breed


TW

Sex


M

Owner 1


BRYAN WHITTED

Owner 2


MICHAEL THOMAS

Location


IN

Zone


13

Dog


GRNITECH'PR'WEBB'S REBEL SON HTX2

Breed


TW

Sex


M

Owner 1


BOBBY WORKMAN

Location


WV

Zone


323

Dog


GRNITECH'PR'CRAZY TRAIN

Breed


TW

Sex


M

Owner 1


JACOB WYATT

Location


IN

Zone


264

Dog


COUNTRY'S HOT BABE

Breed


XB

Sex


F

Owner 1


RONALD L CHAPMAN

Owner 2


STEVE BURKHOLDER

Location


TN

Zone


386

Dog


NIGHTTIME HURRICANE

Breed


XB

Sex


M

Owner 1


DALE HUFF

Location


MI

Zone


322

Dog


SAGINAW RED X

Breed


XB

Sex


M

Owner 1


GEORGE ZAPATA

Location


MI

Zone

Zone


ZONE 3 - TELL CITY, IN

Zone


485

Dog


GRNITECH(2)'PR'KY RIVER SUPERMAN

Breed


B&T

Sex


M

Owner 1


MICAH AYERS

Location


KY

Zone


486

Dog


NITECH'PR'KY RIVER CASH FLO

Breed


B&T

Sex


F

Owner 1


MICAH AYERS

Location


KY

Zone


110

Dog


CH GRNITECH'PR'MIDNIGHT TWO TIME BELLA HTX

Breed


B&T

Sex


F

Owner 1


TONY BARNES

Owner 2


MITCHELL B AMMONS

Location


KY

Zone


55

Dog


GRNITECH'PR'MARTINS BLACKWATER KIZZ

Breed


B&T

Sex


F

Owner 1


MILLARD BROWN JR

Owner 2


JACOB REED

Location


TN

Zone


198

Dog


'PR'SYCAMORE BLACK KAT

Breed


B&T

Sex


F

Owner 1


WALTER CARLEE

Location


AL

Zone


306

Dog


GRNITECH'PR'KY RIVER NITRO

Breed


B&T

Sex


M

Owner 1


AARON GRAY

Location


KY

Zone


107

Dog


GRNITECH'PR'NOCTURNAL COOPER

Breed


B&T

Sex


M

Owner 1


TYLER PARKS

Location


KY

Zone


9

Dog


NITECH CH'PR'BROCKMAN'S BLUE BUZZ

Breed


BLU

Sex


M

Owner 1


MARK BROCKMAN JR

Owner 2


DUNCAN BROTHERS

Location


KY

Zone


293

Dog


GRNITECH'PR'RACKET RIDGE CRASH

Breed


BLU

Sex


M

Owner 1


ROCKY CUNDIFF

Owner 2


RYLEE CUNDIFF

Location


KY

Zone


134

Dog


'PR'LITTLE SALT CREEK COLT'S 45

Breed


BLU

Sex


M

Owner 1


LANCE KAISER

Location


IN

Zone


497

Dog


GRNITECH'PR'SHEPPARDS NORTHERN BLUE GOOMBA

Breed


BLU

Sex


M

Owner 1


MICHAEL E SHEPPARD

Location


IN

Zone


493

Dog


GRNITECH(2) GRCH'PR'STEBER'S MIGHTY LONESOME II

Breed


BLU

Sex


M

Owner 1


JOHN STEBER

Location


IL

Zone


494

Dog


NITECH'PR'STEBERS MIGHTY LONESOME III

Breed


BLU

Sex


M

Owner 1


JOHN STEBER

Location


IL

Zone


135

Dog


GRNITECH'PR'SOUIX VALLEY JACK

Breed


BLU

Sex


M

Owner 1


RON TAYLOR

Owner 2


DAN SHERIDAN

Location


IN

Zone


208

Dog


GRNITECH'PR'MISTY RIVER RAMBLIN BL SMOKE

Breed


BLU

Sex


M

Owner 1


ROGER WELCH

Location


MS

Zone


279

Dog


GRNITECH'PR'COONVALLEY BLACKJACK HTX

Breed


ENG

Sex


M

Owner 1


CHAD BALLARD

Location


TN

Zone


439

Dog


GRNITECH'PR'BROWNS DEEP WOODS GRIZZLY

Breed


ENG

Sex


M

Owner 1


DALTON BROWN

Owner 2


CLAYTON BROWN

Location


IN

Zone


342

Dog


NITECH'PR'AWESOME'S AMERICAN GANGSTER

Breed


ENG

Sex


M

Owner 1


JASON BULLARD

Location


GA

Zone


523

Dog


'PR'G2'S TRIMMED IN COPPER

Breed


ENG

Sex


M

Owner 1


RONALD GATONS

Location


IL

Zone


149

Dog


GRNITECH'PR'BRIAR CREEK JAKE THE SNAKE

Breed


ENG

Sex


M

Owner 1


CHRIS GERTH

Owner 2


JIM RIDGE

Location


IN

Zone


465

Dog


'PR'WILSON CREEK LITTLE DUKE

Breed


ENG

Sex


M

Owner 1


JEREMY HURST

Location


IN

Zone


329

Dog


GRNITECH(4) GRCH'PR'TOUGH RED RUBY BIG RIG

Breed


ENG

Sex


M

Owner 1


DAVID JAMES

Location


TN

Zone


21

Dog


GRCH GRNITECH(2)'PR'KING'S MOUNTAIN TOUGH WOODROW

Breed


ENG

Sex


M

Owner 1


PHILLIP KING

Owner 2


TAYLOR KING

Location


TN

Zone


502

Dog


GRNITECH'PR'HARDTIME COOPER

Breed


ENG

Sex


M

Owner 1


JARED LEHMAN

Owner 2


ERIC EMERY

Location


IN

Zone


407

Dog


'PR'BIG OCONEE RIVER SADIE

Breed


ENG

Sex


F

Owner 1


MARK LOONEY

Location


GA

Zone


392

Dog


GRCH'PR'WILEYS MAIN STREET MOUSE HTX

Breed


ENG

Sex


M

Owner 1


RUSSELL J MALCOLM

Location


PA

Zone


343

Dog


CH GRNITECH(2)'PR'MILLS HARDTIME RED ROSE HTX

Breed


ENG

Sex


F

Owner 1


PAUL MAUPIN

Owner 2


CHARLIE KIGHT

Location


TN

Zone


125

Dog


NITECH'PR'ALLEN'S BIG RIVER HOMEBOY

Breed


ENG

Sex


M

Owner 1


THOMAS MILLER

Location


OH

Zone


529

Dog


GRNITECH'PR'OCONEE RIVER WAYLON JR

Breed


ENG

Sex


M

Owner 1


TRENT SAXON

Owner 2


MARK LOONEY

Location


GA

Zone


476

Dog


NITECH'PR'MILLERS CAROLINA CANDY

Breed


ENG

Sex


F

Owner 1


KIM STRATTON

Location


TN

Zone


89

Dog


GRNITECH'PR'BIG RIVER MAGGIE MAE

Breed


ENG

Sex


F

Owner 1


IRVIN SUTTON

Location


IN

Zone


70

Dog


'PR'BAD MOON RISINGS MAC

Breed


ENG

Sex


M

Owner 1


JAMIN A THOMAS

Location


IN

Zone


410

Dog


GRNITECH'PR'SALACOA VALLY JT

Breed


ENG

Sex


M

Owner 1


JERRELL THOMAS

Location


GA

Zone


61

Dog


GRNITECH'PR'BLUE RIVER BILL

Breed


ENG

Sex


M

Owner 1


JASON WEBSTER

Owner 2


DONNY WHITTAKER

Location


IN

Zone


354

Dog


GRNITECH'PR'DAN RIVER DAMPER DAN

Breed


ENG

Sex


M

Owner 1


WILLIAM WHITE

Owner 2


RANDY SELBY

Location


NC

Zone


451

Dog


'PR'HEATSEEKER BRODIE

Breed


ENG

Sex


M

Owner 1


GRANT WHITMER

Location


UT

Zone


80

Dog


NITECH'PR'MAIN STREET JENNA

Breed


ENG

Sex


F

Owner 1


LUKE WILLIAMS

Owner 2


MIKE KIDD

Location


IN

Zone


94

Dog


GRNITECH(2) GRCH'PR'HALLS TWIN BRANCH BOONE

Breed


PLT

Sex


M

Owner 1


JOHNNY CODY

Location


TN

Zone


397

Dog


'PR'COFFMANS SMOKING CHARLIE

Breed


RED

Sex


M

Owner 1


JOHNNY K COFFMAN

Location


TN

Zone


526

Dog


PARKER'S QUEENIE II

Breed


RED

Sex


F

Owner 1


HOLLIE PARKER

Location


KY

Zone


288

Dog


'PR'WHITAKERS RED BOURBON JACK

Breed


RED

Sex


M

Owner 1


SAM WHITAKER

Owner 2


JEFF MURPHY

Location


IN

Zone


32

Dog


CH NITECH'PR'SOUTHERN STYLISH ACE

Breed


TW

Sex


M

Owner 1


MARK ADKINS

Owner 2


BRENT GIBSON

Location


WV

Zone


298

Dog


GRNITECH CH'PR'BIG TIME BABE

Breed


TW

Sex


F

Owner 1


RYAN BAKER

Location


KY

Zone


359

Dog


NITECH'PR'JUNE BUG'S JOY

Breed


TW

Sex


F

Owner 1


ROCKY BASKERVILLE

Location


TN

Zone


353

Dog


GRNITECH'PR'HISTORY REPEATS ITSELF

Breed


TW

Sex


M

Owner 1


LANCE BELCHER

Owner 2


TIM TIPTON

Location


TN

Zone


417

Dog


'PR'DID IT ALL FOR THE NOOKIE

Breed


TW

Sex


M

Owner 1


NOLAN BROWN

Owner 2


CONNER VAN CLEEK

Location


IN

Zone


117

Dog


GRNITECH'PR'PUSHER'S TRUE GRIT HTX

Breed


TW

Sex


M

Owner 1


DUSTIN BRUMMETT

Location


KY

Zone


152

Dog


GRNITECH'PR'PUSHER'S AMAZING GRACE HTX

Breed


TW

Sex


F

Owner 1


DUSTIN BRUMMETT

Location


KY

Zone


127

Dog


NITECH'PR'BUECHLER'S BO

Breed


TW

Sex


M

Owner 1


SCOTT BUECHLER

Owner 2


EVAN BUECHLER

Location


IN

Zone


448

Dog


NITECH'PR'C3 HN NEOSHO RIVER STORM

Breed


TW

Sex


F

Owner 1


CALVIN CASH III

Owner 2


JEREMY ETIENNE

Location


IN

Zone


115

Dog


GRNITECH'PR'CASSIUS CLAY

Breed


TW

Sex


M

Owner 1


RYAN CECIL

Location


KY

Zone


315

Dog


GRNITECH(2)'PR'HOWARD'S BODACIOUS BOBO

Breed


TW

Sex


M

Owner 1


STEVE EARNEST

Owner 2


JASON COOPER

Location


IN

Zone


184

Dog


GRNITECH'PR'TUG RIVER RAY RAY

Breed


TW

Sex


F

Owner 1


ED FREEMAN

Location


KY

Zone


259

Dog


NITECH'PR'STYLISH CRAZY

Breed


TW

Sex


F

Owner 1


RANDY GADD

Owner 2


TOM COMPTON

Location


IN

Zone


352

Dog


GRNITECH'PR'PITMAN CREEK JOY

Breed


TW

Sex


F

Owner 1


STEPHEN GODBY

Location


KY

Zone


22

Dog


NGRNCH GRNITECH CH'PR'SUN DOWN

Breed


TW

Sex


M

Owner 1


ASHLEY GUTHRIE

Owner 2


JOHN STRICKLAND

Location


GA

Zone


350

Dog


'PR'SMOKIN HOT TUFF MAN

Breed


TW

Sex


M

Owner 1


JONATHAN HADDEN

Owner 2


CARLTON REYNOLDS

Location


KY

Zone


396

Dog


NITECH'PR'KEEN'S STYLISH MACY

Breed


TW

Sex


F

Owner 1


ELLIS KEEN

Location


KY

Zone


469

Dog


NITECH'PR'KEEN'S REBA

Breed


TW

Sex


F

Owner 1


ELLIS KEEN

Location


KY

Zone


126

Dog


NITECH'PR'BOBBED TAIL BOBIE

Breed


TW

Sex


F

Owner 1


ALLEN KNIGHT

Location


IN

Zone


23

Dog


NITECH'PR'BOZO'S STYLISH WHITEY'S

Breed


TW

Sex


M

Owner 1


BUZZ LYNCH

Owner 2


CURT AHRING

Location


TN

Zone


24

Dog


'PR'BAD MELON HEAD

Breed


TW

Sex


M

Owner 1


BUZZ LYNCH

Owner 2


CURT AHRING

Location


TN

Zone


219

Dog


NITECH'PR'RIVER BEND DIXIE

Breed


TW

Sex


F

Owner 1


JEFF MC CALLUM

Owner 2


JASON O'BRIEN

Location


IN

Zone


254

Dog


'PR'NEALS TAKEM TO THE HILL JILL

Breed


TW

Sex


F

Owner 1


JIMMIE A NEAL

Location


KY

Zone


331

Dog


GRNITECH'PR'MILL CREEK WILLY B

Breed


TW

Sex


M

Owner 1


KENDALL NORRIS

Owner 2


ZACH NORRIS

Location


KY

Zone


406

Dog


NITECH'PR'TRIP JUNIOR

Breed


TW

Sex


M

Owner 1


DAVE PATELSKI

Owner 2


BILL JELLEY

Location


IL

Zone


436

Dog


GRNITECH'PR'WIPEOUT ANNA BELLE

Breed


TW

Sex


F

Owner 1


DERRICK ROBERTS

Location


TN

Zone


204

Dog


NITECH'PR'POWER TRAP

Breed


TW

Sex


M

Owner 1


RODGER SHABEL

Location


AL

Zone


181

Dog


NITECH'PR'RASPE'S COONHOLLOW TIM

Breed


TW

Sex


M

Owner 1


RILEY SHANKLE

Location


PA

Zone


496

Dog


GRCH'PR'TFJ RIDDLES MIDNIGHT BOCEPHUS

Breed


TW

Sex


M

Owner 1


MICKEY SIMMONS

Location


TN

Zone


503

Dog


'PR'LONE PINE KID ROCK

Breed


TW

Sex


M

Owner 1


EDDIE SPENCER

Owner 2


BOBBY CARROL

Location


VA

Zone


504

Dog


GRNITECH'PR'WIPEOUT DAISY

Breed


TW

Sex


F

Owner 1


EDDIE SPENCER

Owner 2


ROBERT CARROLL JR

Location


VA

Zone


405

Dog


GRNITECH'PR'STARCHER'S BACKWATER BELLE

Breed


TW

Sex


F

Owner 1


JOHN STARCHER

Location


WV

Zone


516

Dog


'PR'STEPHENSON'S WILLOW

Breed


TW

Sex


F

Owner 1


LEVI STEPHENSON

Location


KY

Zone


515

Dog


GRNITECH(2)'PR'WOOTENS OHIO RIVER STORM

Breed


TW

Sex


M

Owner 1


IRVIN SUTTON

Owner 2


BRIAN SUTTON

Location


IN

Zone


482

Dog


GRNITECH'PR'WADE'S BIG SHOT ROCKET

Breed


TW

Sex


M

Owner 1


LEE WADE

Owner 2


ALAN STANTZ

Location


IN

Zone


305

Dog


NITECH'PR'HOLLYWOOD HUSTLER

Breed


TW

Sex


M

Owner 1


RANDY WEBB

Owner 2


ANDREW GILVIN

Location


KY

Zone


316

Dog


NITECH'PR'EEL RIVER WALL STREET

Breed


TW

Sex


M

Owner 1


CHUCK WELLS

Location


IN

Zone


42

Dog


GRNITECH'PR'TAR HILL TUFF

Breed


TW

Sex


M

Owner 1


MICHAEL WILLIS

Owner 2


BILLY MORRIS

Location


TN

Zone


308

Dog


GRNITECH'PR'WIPEOUT WOODY

Breed


TW

Sex


M

Owner 1


JEFF WILSON

Owner 2


BOBBY AMON

Location


KY

Zone

Zone


ZONE 4 - WALNUT RIDGE, AR

Zone


229

Dog


'PR'CROCKETT BLK TRAP

Breed


B&T

Sex


M

Owner 1


MIKE CROCKETT

Owner 2


EVAN ROSS

Location


MS

Zone


163

Dog


NITECH'PR'3G MAGGIE ON ROCKET FUEL

Breed


B&T

Sex


F

Owner 1


JASON GREENSTREET

Location


MO

Zone


166

Dog


GRNITECH GRCH'PR'SCHENKER ESTES SMOKIN BLACKIE

Breed


B&T

Sex


F

Owner 1


ROGER GURLEY

Location


MO

Zone


266

Dog


NITECH'PR'REDMON'S MAYBE

Breed


B&T

Sex


F

Owner 1


DEREK REDMON

Owner 2


DON REDMON

Location


MO

Zone


75

Dog


NITECH'PR'BOTTOMLAND BLK OXX

Breed


B&T

Sex


M

Owner 1


RANDY SMITH

Location


MS

Zone


312

Dog


'PR'FOX'S INDIAN CREEK BLUE SOPHIE

Breed


BLU

Sex


F

Owner 1


DYLAN FOX

Owner 2


DENZIL FOX

Location


MO

Zone


76

Dog


NITECH'PR'YEAGERS BLUE LIGHTNING BOLT

Breed


BLU

Sex


M

Owner 1


EDDIE GREEN

Location


OK

Zone


466

Dog


NITECH'PR'GREEN'S TRIPLE B BLUE ABBY

Breed


BLU

Sex


F

Owner 1


EDDIE GREEN

Location


OK

Zone


71

Dog


NITECH'PR'LITTLECREEKS BLUE VOODOO

Breed


BLU

Sex


M

Owner 1


CARL TACKITT

Owner 2


BJ TACKITT

Location


AR

Zone


72

Dog


'PR'LITTLE CREEKS CRAZY YANK

Breed


BLU

Sex


M

Owner 1


BJ TACKITT

Location


AR

Zone


282

Dog


GRNITECH'PR'WILLIAMS' BLUE LUKE

Breed


BLU

Sex


M

Owner 1


DANNY WILLIAMS

Owner 2


JAY WILLIAMS

Location


MO

Zone


471

Dog


NITECH'PR'BIG COUNTRY ROSE

Breed


ENG

Sex


F

Owner 1


BLAKE DAUGHERTY

Owner 2


KURTIS DAUGHERTY

Location


MO

Zone


187

Dog


CH GRNITECH'PR'EUREKA SPRINGS COME ON WIDIT

Breed


ENG

Sex


F

Owner 1


CHUCK HENSON

Owner 2


BRANDON HENSON

Location


MS

Zone


154

Dog


NITECH REDROCK REBA

Breed


ENG

Sex


F

Owner 1


DALTON LEWIS

Location


AR

Zone


414

Dog


NITECH'PR'ONLY HEAVENS FIREBALL DAN

Breed


ENG

Sex


M

Owner 1


BILLY RANKIN

Owner 2


JUSTIN HERRING

Location


AR

Zone


58

Dog


GRNITECH GRCH'PR'B&S LOUD MOUTH TREE SHAKER

Breed


ENG

Sex


M

Owner 1


POKEY SELF

Location


OK

Zone


151

Dog


GRNITECH'PR'ROCKIN' RED RUBY

Breed


ENG

Sex


F

Owner 1


CLAYTON SMITH

Location


AR

Zone


194

Dog


GRNITECH'PR'WATSONS BLUE CREEK JUDY PERL

Breed


ENG

Sex


F

Owner 1


HAROLD WATSON

Location


AL

Zone


195

Dog


'PR'WATSON'S BLUE CREEK BLAZE

Breed


ENG

Sex


M

Owner 1


HAROLD WATSON

Location


AL

Zone


196

Dog


NITECH'PR'WATSONS BLUE CREEK JEPSY JUCE

Breed


ENG

Sex


F

Owner 1


HAROLD WATSON

Location


AL

Zone


474

Dog


GRNITECH GRCH STONER'S TREE GRABIN GATOR

Breed


ENG

Sex


M

Owner 1


GARY WENZ

Location


NE

Zone


139

Dog


GRNITECH'PR'HARD TIME SUE

Breed


ENG

Sex


F

Owner 1


COTY YOUNG

Owner 2


STEVEN LOWERY

Location


TN

Zone


364

Dog


CH GRNITECH(2)'PR'PRIDE'S COPPER

Breed


PLT

Sex


M

Owner 1


JOE PRIDE

Owner 2


MONTANA BUFFINGTON

Location


MO

Zone


377

Dog


CH GRNITECH'PR'MOFFITT'S COMA STYLE SMOKE

Breed


TW

Sex


M

Owner 1


TERRY BENNETT

Location


MO

Zone


79

Dog


'PR'BREEDLOVES BUFFALO RIVER BILLY

Breed


TW

Sex


M

Owner 1


JIM BREEDLOVE

Location


AR

Zone


52

Dog


GRNITECH'PR'BROWN'S SHAKER ARKANSAS THUNDER

Breed


TW

Sex


M

Owner 1


TOMMY BROWN

Location


AR

Zone


192

Dog


GRNITECH'PR'CHURCH'S INSANE COPPER

Breed


TW

Sex


M

Owner 1


ROBERT CHURCH

Location


MO

Zone


256

Dog


GRNITECH'PR'GET GONE JENNA

Breed


TW

Sex


F

Owner 1


CHEYENNE CUMMINGS

Owner 2


TYLER COMPTON

Location


MO

Zone


291

Dog


NGRNCH GRCH GRNITECH(3)'PR'REDNECK BACKWOODS SHACK

Breed


TW

Sex


M

Owner 1


CHEYENNE CUMMINGS

Location


MO

Zone


292

Dog


CH GRNITECH'PR'REDNECK SHACK ATTACK

Breed


TW

Sex


M

Owner 1


CHEYENNE CUMMINGS

Location


MO

Zone


217

Dog


NITECH CH'PR'DUTTONS ELVIS

Breed


TW

Sex


M

Owner 1


HEATHER DE SHIELDS

Location


MO

Zone


81

Dog


NITECH'PR'FULLY COMMITTED MONEY SHOT

Breed


TW

Sex


M

Owner 1


LANE DENNY

Location


OK

Zone


363

Dog


WLDNITECH CH GRNITECH(2)'PR'SPAVINAW CREEK INSANE EMMY

Breed


TW

Sex


F

Owner 1


LANE DENNY

Owner 2


CARL REED

Location


OK

Zone


158

Dog


GRNITECH'PR'NOT TO FANCY

Breed


TW

Sex


F

Owner 1


DOUG DOUGLAS

Owner 2


ZACH MCBEE

Location


MO

Zone


29

Dog


GRCH GRNITECH(2)'PR'GRAVITT'S HARDWOOD KATE

Breed


TW

Sex


F

Owner 1


JAMES JONES

Owner 2


BRAXTON WILLS

Location


OK

Zone


360

Dog


GRNITECH'PR'ARKANSAS OZARK MT GUNSLINGER

Breed


TW

Sex


M

Owner 1


ROBERT NEWMAN

Owner 2


JAY HARTWICK

Location


AR

Zone


277

Dog


'PR'WHERE'S STYLISH MERLE

Breed


TW

Sex


M

Owner 1


KEVIN RAGSDALE

Location


OK

Zone


382

Dog


'PR'GRIND B4U SHINE PENNY$

Breed


TW

Sex


F

Owner 1


LANCE RANDOLPH

Location


MS

Zone


7

Dog


NITECH'PR'HILLBILLY KNOT

Breed


TW

Sex


M

Owner 1


BRENT ROBERSON

Owner 2


JARED STANDRIDGE

Location


AR

Zone


467

Dog


NITECH'PR'WORMINGTONS BIG DREAM

Breed


TW

Sex


F

Owner 1


WILL ROBINSON

Location


AR

Zone


328

Dog


'PR'IT'S ME AGAIN MARGARET

Breed


TW

Sex


F

Owner 1


JONATHAN STANLEY

Owner 2


MASON GAINES

Location


AR

Zone


183

Dog


GRNITECH'PR'DRY CREEKS REBEL ROUSIN' RINGO

Breed


TW

Sex


M

Owner 1


JUSTIN VON ALLMEN

Location


MO

Zone


186

Dog


NITECH'PR'TRASH ROUTE TRINA

Breed


TW

Sex


F

Owner 1


RICK WINN

Location


MO

Zone


73

Dog


NITECH'PR'WOOD'S LUKE

Breed


TW

Sex


M

Owner 1


L.B. WOOD

Location


AR

Zone


90

Dog


GRNITECH MISS OAKLEY

Breed


XB

Sex


F

Owner 1


RANDY BELDING

Location


AR

Zone

Zone


ZONE 5 - FAIRPLAIN, WV

Zone


517

Dog


'PR'SMOKIN JOE'S OUTLAW ANNIE

Breed


BLU

Sex


F

Owner 1


JOSEPH CLAY DAKAN

Location


WV

Zone


361

Dog


NITECH'PR'LOCKDOWN BLUE SIX SHOOTER

Breed


BLU

Sex


M

Owner 1


JON HOLBROOK

Location


OH

Zone


236

Dog


'PR'UP THE TREE ALEX

Breed


BLU

Sex


M

Owner 1


DONNIE JONES

Location


WV

Zone


285

Dog


GRNITECH'PR'SML ROYAL BLUE POP A DUKE

Breed


BLU

Sex


M

Owner 1


SHANE D LESTER

Location


VA

Zone


281

Dog


CH NITECH'PR'MOORE'S BLUE MOUNTAIN SASSY

Breed


BLU

Sex


F

Owner 1


RONALD MOORE

Location


WV

Zone


145

Dog


NITECH'PR'LOCK DOWN SADIE

Breed


BLU

Sex


F

Owner 1


BARRY PAULSON

Location


WV

Zone


330

Dog


GRNITECH'PR'S & E JETSTREAM BLUE BUSTER

Breed


BLU

Sex


M

Owner 1


BRANDON SCALF

Owner 2


LOGAN ESTRIDGE

Location


KY

Zone


433

Dog


NITECH'PR'SMITH'S POWERFUL HOMER

Breed


BLU

Sex


M

Owner 1


DAVID SMITH

Location


WV

Zone


47

Dog


GRNITECH GRCH'PR'ADKINS GOYONDER LUCKYBIRD HTX2

Breed


ENG

Sex


F

Owner 1


CHARLES E ADKINS

Owner 2


CHARLES E ADKINS II

Location


WV

Zone


111

Dog


CH NITECH'PR'GRAVEL ROAD RED

Breed


ENG

Sex


M

Owner 1


DAVID CAIN

Location


WV

Zone


509

Dog


CH GRNITECH'PR'ROCKY CREEK BATMAN

Breed


ENG

Sex


M

Owner 1


DREW ESTEP

Location


WV

Zone


97

Dog


GRCH'PR'QHK BLAIR'S BIG ATT-I-TUDE BA

Breed


ENG

Sex


M

Owner 1


ERIC HARDY

Owner 2


BLAIR A WEESE

Location


WV

Zone


6

Dog


GRNITECH(2) GRCH'PR'MUD RIVER MOLLY HTX

Breed


ENG

Sex


F

Owner 1


CHRIS HOGSTEN

Owner 2


MIKE WHITT

Location


WV

Zone


528

Dog


NITECH GRCH'PR'KAYS COOLHAND LUKE

Breed


ENG

Sex


M

Owner 1


GARY L KAY

Location


WV

Zone


327

Dog


GRNITECHHOF'PR'PRIME TIME OUTLAW JESSE JAMES HTX3

Breed


ENG

Sex


M

Owner 1


ROBBIE SPEARS

Location


KY

Zone


74

Dog


NITECH'PR'WHITES ELECTRIC COPPER

Breed


ENG

Sex


M

Owner 1


BRIAN WHITE

Owner 2


SAVANNAH WHITE

Location


WV

Zone


376

Dog


NITECH'PR'ROARK'S PLUM CREEK MINK

Breed


PLT

Sex


F

Owner 1


ALLEN GILSTRAP

Owner 2


KENNETH ROARK

Location


SC

Zone


35

Dog


NITECH'PR'RIVERTOWN BUSTER

Breed


TW

Sex


M

Owner 1


JOHN ALBRIGHT

Owner 2


TERRY ALBRIGHT

Location


WV

Zone


458

Dog


GRNITECH'PR'EIGHT MILE RIDGE JUNIOR

Breed


TW

Sex


M

Owner 1


MICHAEL L BASSETT

Location


WV

Zone


454

Dog


NITECH CH'PR'BRITTONS DIAMOND DAISEY

Breed


TW

Sex


F

Owner 1


RYAN BRITTON

Location


OH

Zone


378

Dog


CH NITECH'PR'COONSHINE'S ICE COLD STUNNER

Breed


TW

Sex


M

Owner 1


MATTHEW BRUNTY

Location


WV

Zone


28

Dog


NITECH'PR'THE ROCK

Breed


TW

Sex


M

Owner 1


ASHLEY DALTON

Location


WV

Zone


120

Dog


'PR'ROCK OAK LIL

Breed


TW

Sex


F

Owner 1


RENE H DUBEL

Location


MD

Zone


122

Dog


GRNITECH'PR'EALY'S COONHOLLOW ON THE FRITZ

Breed


TW

Sex


M

Owner 1


TIM EALY

Location


PA

Zone


487

Dog


'PR'ICE COLD DIRTY WILLOW

Breed


TW

Sex


F

Owner 1


ZACHARY EAVES

Owner 2


CHAD MANNS

Location


WV

Zone


133

Dog


NITECH'PR'FLINT'S TIGER LILLY

Breed


TW

Sex


F

Owner 1


STEVEN FLINT

Location


OH

Zone


8

Dog


GRNITECH'PR'GOLD RIVER GABBY

Breed


TW

Sex


F

Owner 1


LARRY GOLDIZEN

Location


WV

Zone


18

Dog


'PR'FALLS CK. MASTER LOCK

Breed


TW

Sex


M

Owner 1


BRETT HALL

Owner 2


ROCKY HALL

Location


VA

Zone


169

Dog


GRNITECH(2)'PR'FALL'S CK CLEAN'S SLAM

Breed


TW

Sex


M

Owner 1


ROCKY S HALL

Location


VA

Zone


220

Dog


'PR'HALL'S CAROLINA HURRIKANE

Breed


TW

Sex


M

Owner 1


BRETT HALL

Owner 2


ROCKY HALL

Location


VA

Zone


332

Dog


NITECH CH'PR'COW CREEK LADY

Breed


TW

Sex


F

Owner 1


TOM HASHMAN

Location


WV

Zone


347

Dog


NITECH'PR'WIPEOUT JUNKIE

Breed


TW

Sex


M

Owner 1


TRAVIS JEWELL

Location


VA

Zone


116

Dog


GRCH GRNITECH(2)'PR'KEATON'S MUD RIVER BIG MACK

Breed


TW

Sex


M

Owner 1


DOUGLAS KEATON

Owner 2


DAVID KOCH

Location


WV

Zone


351

Dog


GRCH GRNITECH'PR'NITE-TIME IN-A-RAGE

Breed


TW

Sex


M

Owner 1


CHAD KENNEDY

Location


VA

Zone


227

Dog


NITECH'PR'ROSE'S ROOF TOP DIDDLER

Breed


TW

Sex


M

Owner 1


DENVER R KETTERMAN

Location


WV

Zone


379

Dog


GRNITECH'PR'MIDNITE COON COLLECTOR

Breed


TW

Sex


M

Owner 1


NASON T LONG

Owner 2


PAUL L WILLIAMS

Location


WV

Zone


489

Dog


GRCH GRNITECH(3)'PR'ICE COLD DOWN-N-DIRTY

Breed


TW

Sex


M

Owner 1


CHAD MANNS

Location


WV

Zone


490

Dog


GRNITECH'PR'ICE COLD DIRTY CRICKET

Breed


TW

Sex


F

Owner 1


CHAD MANNS

Location


WV

Zone


491

Dog


'PR'DIRTY JET

Breed


TW

Sex


M

Owner 1


CHAD MANNS

Location


WV

Zone


155

Dog


CH GRNITECH'PR'NOCTURNAL GREEN BEAN

Breed


TW

Sex


M

Owner 1


HARVEY MARTIN

Location


WV

Zone


44

Dog


NITECH'PR'MILLER'S INSANE KATE

Breed


TW

Sex


F

Owner 1


WILLIAM M MILLER

Location


TN

Zone


235

Dog


NITECH GRCH'PR'TREE SINGING CROCKETT

Breed


TW

Sex


M

Owner 1


MARK MILLER

Location


NC

Zone


105

Dog


GRNITECH CH'PR'HOUDINI'S MAGIC TRICK

Breed


TW

Sex


F

Owner 1


ETHAN SALYER

Location


VA

Zone


53

Dog


GRCH(3) GRNITECH(2)'PR'THUNDERIN THOR

Breed


TW

Sex


M

Owner 1


JASON R SMITH

Location


WV

Zone


69

Dog


GRNITECH GRCH'PR'STORMIN LYSSA GIRL

Breed


TW

Sex


F

Owner 1


JASON SMITH

Location


WV

Zone


59

Dog


NITECH'PR'STOVERS CHARLEY CREEK BAD BUTCH

Breed


TW

Sex


M

Owner 1


BILL STOVER

Location


OH

Zone


45

Dog


GRNITECH'PR'BONECRUSHER INSANE KATE

Breed


TW

Sex


F

Owner 1


MIKE DUNKLE

Owner 2


GREG TOPPINS

Location


WV

Zone


481

Dog


GRNITECH'PR'TREE SLAMIN STYLISH HANK

Breed


TW

Sex


M

Owner 1


GREG TOPPINS

Owner 2


MIKE DUNKLE

Location


WV

Zone


165

Dog


NITECH CH'PR'COONHOLLOW ICE COLD

Breed


TW

Sex


M

Owner 1


COLE WARNER

Location


PA

Zone


475

Dog


NITECH'PR'J&W OHIO RIVER HUDSON

Breed


TW

Sex


M

Owner 1


WILLIAM A WOOTEN

Location


WV

Zone


46

Dog


NITECH CH'PR'RATS TRACKER ATTACK

Breed


TW

Sex


M

Owner 1


CHARLIE YOUNG

Location


WV

Zone


514

Dog


GRNITECH'PR'SHOWTIME STYLE

Breed


TW

Sex


M

Owner 1


KENNETH ZUSPAN

Owner 2


CLARENCE JUSTICE

Location


OH

Zone


199

Dog


GRNITECH ALL NIGHT SASSY HTX

Breed


XB

Sex


F

Owner 1


ROGER EDWARDS

Location


VA

Zone


431

Dog


GRNITECH COAL RUN MOUNTAIN DEW

Breed


XB

Sex


M

Owner 1


JEREMY PERSINGER

Owner 2


SHANTEL SPIKER

Location


WV

Zone


304

Dog


GRNITECH(2) TUCKS' XBRED PNUGENE

Breed


XB

Sex


M

Owner 1


BRANDON SCALF

Location


KY

Zone

Zone


ZONE 6 - ALBEMARLE, NC

Zone


280

Dog


NITECH CH'PR'NFW SCHENKER LITTLE JOHN

Breed


B&T

Sex


M

Owner 1


MIKE CUDD

Location


NC

Zone


100

Dog


NITECH'PR'POWER HOUSE KRAZI TRAIN

Breed


B&T

Sex


M

Owner 1


STEVE ALAN WALLACE

Location


TN

Zone


31

Dog


CH NITECH'PR'ROCKY BRANCH BLUE MOON

Breed


BLU

Sex


F

Owner 1


DAVID BENNETT

Location


NC

Zone


95

Dog


GRNITECH CH'PR'CAROLINA BLUES DIESEL

Breed


BLU

Sex


M

Owner 1


STEVEN CROMER

Location


SC

Zone


389

Dog


GRNITECH'PR'HOLBROOK'S LOCKDOWN BLUE IMAGE

Breed


BLU

Sex


M

Owner 1


TRAVIS M HOLBROOK

Location


OH

Zone


213

Dog


NITECH'PR'DISMAL RIVER SMOKING JOE HTX

Breed


BLU

Sex


M

Owner 1


TYLER JUSTUS

Location


VA

Zone


500

Dog


NITECH GRCH'PR'MCCARSONS TREE EM HIGH BLUE CLYDE

Breed


BLU

Sex


M

Owner 1


HARRY MC CARSON

Location


SC

Zone


17

Dog


CH NITECH'PR'METCALFS SPRING HILL LIL JAGGS

Breed


BLU

Sex


M

Owner 1


PERRY METCALF

Location


KY

Zone


507

Dog


NITECH'PR'BOND SWAMP SLAMMIN WOODY

Breed


ENG

Sex


M

Owner 1


CARL M BROWN

Owner 2


STEVE REEVES

Location


GA

Zone


374

Dog


'PR'RIVER HILL'S SLICK TREE RANGER

Breed


ENG

Sex


M

Owner 1


RICK FERGUSON

Location


VA

Zone


393

Dog


WCH CH NITECH'PR'SHOEHEEL SWAMP AMMO CANS OTIS

Breed


ENG

Sex


M

Owner 1


TREVOR GORDON

Location


NC

Zone


276

Dog


NITECH CH'PR'TRIPPE LIL ANN

Breed


ENG

Sex


F

Owner 1


CARTER R HAYES

Owner 2


NICHOLAS R HAYES

Location


GA

Zone


51

Dog


GRCH GRNITECH'PR'HIGH VOLTAGE POWER SURGE

Breed


ENG

Sex


M

Owner 1


GREG LANCASTER

Location


NC

Zone


34

Dog


NITECH'PR'NEWTONS HARDTIME GEORGE

Breed


ENG

Sex


M

Owner 1


JOHNNY NEWTON

Location


NC

Zone


409

Dog


GRNITECH'PR'BTW'S PIMP JUICE

Breed


ENG

Sex


M

Owner 1


BRIAN STARLING

Location


NC

Zone


426

Dog


GRNITECH'PR'HARDROCK THUNDER JR

Breed


ENG

Sex


M

Owner 1


MICHAEL WEBB

Location


NC

Zone


172

Dog


GRNITECH'PR'BUFFALO CREEK LUMIS II

Breed


ENG

Sex


M

Owner 1


SCOTT YOUNG

Location


NC

Zone


427

Dog


CH NITECH'PR'B&R RED SMOKIN JOE HTX

Breed


RED

Sex


M

Owner 1


PHIL ROBERTS

Owner 2


MARK BROWN

Location


GA

Zone


2

Dog


GRNITECH GRCH'PR'TIM'S CREEK SPARK

Breed


TW

Sex


F

Owner 1


DON ABERNETHY

Location


NC

Zone


520

Dog


GRNITECH'PR'WIPEOUT WHACK EM'

Breed


TW

Sex


M

Owner 1


DOUGLAS AGEE

Location


VA

Zone


128

Dog


CH GRNITECH'PR'TUFF RIVER FRANKIE

Breed


TW

Sex


M

Owner 1


SPENCER ANDERSON

Owner 2


DALE KINDER

Location


TN

Zone


441

Dog


GRNITECH GRCH'PR'POSUM CREEKS STYLISH BIG BUBBA HTX2

Breed


TW

Sex


M

Owner 1


MARK A BARBOUR

Location


VA

Zone


233

Dog


'PR'BROWN'S JED

Breed


TW

Sex


M

Owner 1


ERIC W BROWN

Owner 2


KOURTNEY BROWN

Location


SC

Zone


371

Dog


'PR'SUNDOWN SADIE

Breed


TW

Sex


F

Owner 1


DANIEL BUCHANAN

Location


NC

Zone


210

Dog


NITECH'PR'RIVERSWAMP CHANCE

Breed


TW

Sex


M

Owner 1


BRYAN R CAMPBELL

Location


SC

Zone


193

Dog


GRNITECH GRCH'PR'THE TREE SLAMMING JUDGE

Breed


TW

Sex


M

Owner 1


FRANKLIN CARD

Location


SC

Zone


63

Dog


GRNITECH(2)'PR'BENNETT SPRINGS JOE

Breed


TW

Sex


M

Owner 1


DOUGLAS CARVER

Owner 2


CAROL CARVER

Location


NC

Zone


402

Dog


NITECH'PR'PRETTY BOY FLOYD

Breed


TW

Sex


M

Owner 1


DRAKE CHASTAIN

Location


GA

Zone


222

Dog


NITECH'PR'CEDAR HILLS BELLA

Breed


TW

Sex


F

Owner 1


JASON DUNLAP

Location


NC

Zone


209

Dog


'PR'SCRATCH GRAVEL MTN SADIE

Breed


TW

Sex


F

Owner 1


DANNY C EDWARDS

Location


VA

Zone


498

Dog


'PR'SPARKS CREEK MOONLIT DIAMOND RIO

Breed


TW

Sex


F

Owner 1


GARRETT FENDER

Location


NC

Zone


153

Dog


NITECH'PR'HAMMER'S MINI MAG

Breed


TW

Sex


F

Owner 1


DWAYNE FRAZIER

Location


TN

Zone


527

Dog


'PR'GARDINS CAROLINA SLOWTALKN GIRL

Breed


TW

Sex


F

Owner 1


HAROLD L GARDIN

Location


NC

Zone


191

Dog


'PR'MONEYS SLICK 50

Breed


TW

Sex


M

Owner 1


CURTIS GRANT

Owner 2


LONDON GRANT

Location


NC

Zone


37

Dog


NITECH'PR'REEDY CREEK STUD

Breed


TW

Sex


M

Owner 1


JAMES B GRICE

Location


SC

Zone


319

Dog


CH GRNITECH(2)'PR'HALLS CLEAN IT UP BUD

Breed


TW

Sex


M

Owner 1


JAMES DOW HALL

Location


VA

Zone


159

Dog


'PR'HILL'S PUT THEM UP GIRL

Breed


TW

Sex


F

Owner 1


LEE HILL

Location


VA

Zone


429

Dog


GRNITECH'PR'LATE NITE JODI

Breed


TW

Sex


F

Owner 1


BOYCE HOWLE

Location


SC

Zone


412

Dog


NITECH'PR'NIGHTHEATS STYLISH SMOKE

Breed


TW

Sex


M

Owner 1


MATTHEW JOHNSON

Location


SC

Zone


174

Dog


'PR'WIPEOUT LOOKOUT HOLLY

Breed


TW

Sex


F

Owner 1


BRIAN KILBY

Location


GA

Zone


164

Dog


NITECH'PR'RAM MAN'S RUNNIN' DRAMA QUEEN

Breed


TW

Sex


F

Owner 1


RAMSEY NICHOLS

Location


FL

Zone


440

Dog


CH NITECH CANALANDS BIG ZENA

Breed


TW

Sex


F

Owner 1


BUCKY PACK

Location


NC

Zone


190

Dog


GRNITECH(2)'PR'SHAKE-N-BAKE FLO

Breed


TW

Sex


F

Owner 1


JACOB PARKER

Location


GA

Zone


424

Dog


GRNITECH'PR'LITTLE LADY

Breed


TW

Sex


F

Owner 1


THOMAS B PARKER

Location


SC

Zone


78

Dog


CH NITECH'PR'CALDWELLS SOUTHERN BELLE

Breed


TW

Sex


F

Owner 1


J LAITH REAGIN

Owner 2


PHIL ROBERTS

Location


GA

Zone


294

Dog


NITECH'PR'FREIGHT TRAIN

Breed


TW

Sex


M

Owner 1


GREG ROBERTS

Location


FL

Zone


309

Dog


NITECH'PR'ROBERTS BACKWOODS QUINN

Breed


TW

Sex


F

Owner 1


JASON A ROBERTS

Location


SC

Zone


231

Dog


NITECH'PR'GET-N-IZZY

Breed


TW

Sex


F

Owner 1


BEN ROGERS

Owner 2


TONY RUPARD

Location


NC

Zone


477

Dog


NITECH'PR'DIE HARD ROSE

Breed


TW

Sex


F

Owner 1


RONALD ROZIER

Location


SC

Zone


478

Dog


NITECH'PR'ROZIER PEACHES

Breed


TW

Sex


F

Owner 1


RONALD ROZIER

Location


SC

Zone


243

Dog


GRNITECH CH'PR'SANDPD'S MR CLETUS

Breed


TW

Sex


M

Owner 1


ROGER SALYERS JR

Location


VA

Zone


244

Dog


NITECH'PR'SALYERS DEEP HOLLOW MR

Breed


TW

Sex


M

Owner 1


ROGER SALYERS JR

Location


VA

Zone


245

Dog


CH GRNITECH'PR'ROUGH MTN TRACY

Breed


TW

Sex


F

Owner 1


ROGER SALYERS JR

Location


VA

Zone


177

Dog


GRNITECH(2)'PR'RIVER BEND BESS

Breed


TW

Sex


F

Owner 1


TOM SHORE

Location


NC

Zone


178

Dog


'PR'RIVER BEND STEEL

Breed


TW

Sex


F

Owner 1


TOM SHORE

Owner 2


BRIAN SHORE

Location


NC

Zone


189

Dog


'PR'CLEAR CREEK BELL RINGER

Breed


TW

Sex


F

Owner 1


DANIEL SPRINGS

Location


NC

Zone


428

Dog


GRNITECH'PR'SAIGE IS STILL SHININ

Breed


TW

Sex


F

Owner 1


ANDREW STEELE

Location


NC

Zone


65

Dog


NITECH'PR'STONE'S BIG TIME DOLLY

Breed


TW

Sex


F

Owner 1


JOHN DAVID STONE

Location


VA

Zone


267

Dog


NITECH'PR'KNEE DEEP TREAT

Breed


TW

Sex


F

Owner 1


WESLEY ODELL TAYLOR

Location


SC

Zone


340

Dog


GRNITECH'PR'I AM LEGEND AKA BUDDY

Breed


TW

Sex


M

Owner 1


MICHAEL WHITE

Owner 2


JAMES HALL

Location


VA

Zone


142

Dog


NITECH'PR'NEOSHO RIVER HOMER

Breed


TW

Sex


M

Owner 1


LARRY WISHON

Location


NC

Zone


223

Dog


NITECH STYLISH HILLBILLY SMASH

Breed


TW

Sex


M

Owner 1


LARRY WISHON

Owner 2


KELLEY BRANON

Location


NC

Zone


368

Dog


CH NITECH'PR'TREE BLAZIN HALFTIME SHOW

Breed


TW

Sex


M

Owner 1


KATIE MILLWOOD

Owner 2


JONATHAN MILLWOOD

Location


GA

Zone


268

Dog


'PR'JUKEBOX CRANKED UP

Breed


TW

Sex


M

Owner 1


ROBERT YOUNG

Owner 2


HEATH BERRY

Location


SC

Zone


432

Dog


BAD HABITS PREACHER MAN

Breed


XB

Sex


M

Owner 1


CALEB GRIFFIN

Location


SC

Zone

Zone


ZONE 7 - TUSCALOOSA, AL

Zone


197

Dog


GRCH GRNITECH(2)'PR'SYCAMORE SANDY HTX4

Breed


B&T

Sex


F

Owner 1


WALTER CARLEE

Location


AL

Zone


98

Dog


GRNITECH GRCH'PR'LEVINS' PETE HTX

Breed


B&T

Sex


M

Owner 1


DAVID LEVINS

Location


AL

Zone


408

Dog


CH GRNITECH'PR'WHITES BLUE DIGGER

Breed


BLU

Sex


F

Owner 1


MATT WHITE

Location


GA

Zone


5

Dog


NITECH'PR'DIRT ROAD HALLOWED GROUND

Breed


ENG

Sex


M

Owner 1


LEE HATTON

Location


AL

Zone


221

Dog


'PR'MARSHEN BRANCH TOXIC TILLY

Breed


PLT

Sex


F

Owner 1


GARRET PENTON

Owner 2


DENNIS PENTON

Location


MS

Zone


216

Dog


CH GRNITECH'PR'FORSHEE'S CHATTAHOOCHEE JACK

Breed


RED

Sex


M

Owner 1


JOSEPH FORSHEE

Location


AL

Zone


224

Dog


'PR'SUNDOWN CRICKET

Breed


RED

Sex


F

Owner 1


BYRON RHODES

Location


AL

Zone


82

Dog


GRNITECH GRCH'PR'ALEXANDER'S HARDWOOD DOLLY

Breed


TW

Sex


F

Owner 1


CHRIS M ALEXANDER

Owner 2


JEREMY KASTNER

Location


GA

Zone


19

Dog


GRNITECH CH'PR'WOLF CREEK OVERDRIVE D

Breed


TW

Sex


M

Owner 1


SCOTT BAMBERG

Location


AL

Zone


413

Dog


'PR'RIVER PINES MAGGIE BICE

Breed


TW

Sex


F

Owner 1


JIM BICE

Location


AL

Zone


472

Dog


GRNITECH'PR'CHANDLER'S BLOOD MONEY

Breed


TW

Sex


M

Owner 1


ROBBIN CHANDLER

Location


AL

Zone


299

Dog


'PR'CISCO'S HIGH FLYING BONNIE

Breed


TW

Sex


F

Owner 1


JARROD CISCO

Location


KY

Zone


99

Dog


GRNITECH'PR'CONDRA'S LIL LIZZY

Breed


TW

Sex


F

Owner 1


LESLIE CONDRA

Location


TN

Zone


143

Dog


NITECH'PR'CYPRUSS LAKE BATHSHEBA

Breed


TW

Sex


F

Owner 1


TAYLOR DOWNING

Owner 2


PARKER DOWNING

Location


MS

Zone


425

Dog


NITECH CH'PR'BARNETT&EARNEST LAST CHANCE

Breed


TW

Sex


M

Owner 1


PAUL EARNEST

Owner 2


CARL BARNETT

Location


AL

Zone


41

Dog


NITECH'PR'YNOT JOHNNY BOY

Breed


TW

Sex


M

Owner 1


TROY FLOYD

Location


TN

Zone


225

Dog


NITECH CH'PR'KIMBRELL'S WHISTLIN DIXIE HTX

Breed


TW

Sex


F

Owner 1


JARRET KIMBRELL

Owner 2


COTY BURGETT

Location


AL

Zone


300

Dog


GRNITECH GRCH'PR'INDIAN RIVER CHECK COLLECTOR

Breed


TW

Sex


F

Owner 1


ERIN E MC CLELLAN

Location


FL

Zone


326

Dog


'PR'JUMP CREEK MOE HTX

Breed


TW

Sex


M

Owner 1


KENNY SMITH

Location


AL

Zone


470

Dog


WCH NITECH'PR'WAC & ROLL

Breed


TW

Sex


M

Owner 1


ANDREW STEELE

Location


NC

Zone


365

Dog


GRNITECH'PR'FULL THROTTLE MRS JIGGY

Breed


TW

Sex


F

Owner 1


JACOB WEBB

Location


GA

Zone


54

Dog


GRNITECH RYALS LONGCREEK BULL

Breed


XB

Sex


M

Owner 1


GAYLAN RYALS

Owner 2


BILLY RYALS

Location


MS

Zone

Zone


ZONE 8 - DETROIT, TX

Zone


182

Dog


'PR'BLACK DIXIES GOT THE MEAT

Breed


B&T

Sex


F

Owner 1


LOGAN H BAKER

Location


MO

Zone


226

Dog


NITECH'PR'BLUES BAND'S HARD LUCK POSSUM

Breed


B&T

Sex


M

Owner 1


MICHAEL BARNES

Owner 2


CODY STONE

Location


AR

Zone


56

Dog


CH GRNITECH'PR'SCHENKER ESTES SMOKIN DAN

Breed


B&T

Sex


M

Owner 1


GREG GOODIN

Owner 2


DENNIS HARTLEY

Location


OK

Zone


123

Dog


'PR'GILLENTINES'S BLUE YETI

Breed


BLU

Sex


M

Owner 1


DALTON GILLENTINE

Location


LA

Zone


447

Dog


NITECH'PR'HEARN'S BLUE MAYBLE

Breed


BLU

Sex


F

Owner 1


TRAYE HEARN

Location


AR

Zone


60

Dog


NITECH'PR'SADLER CREEK TRASHY SADIE

Breed


ENG

Sex


F

Owner 1


COREY ALDRIDGE

Location


OK

Zone


86

Dog


GRNITECH'PR'RIVER BOTTOMS FLIP FLOP

Breed


ENG

Sex


M

Owner 1


ELIGIO T BLANCO

Location


TX

Zone


96

Dog


GRNITECH GRCH'PR'SANDHILL HUSTLIN HONDO HTX

Breed


ENG

Sex


M

Owner 1


RAY DISMUKES

Location


TX

Zone


339

Dog


NITECH'PR'FRANKS CAIN CREEK ROARIN HART

Breed


ENG

Sex


M

Owner 1


GLEN FENTER

Owner 2


NEAL SAIN

Location


AR

Zone


15

Dog


GRNITECH'PR'LITTLE MISS DOLLY

Breed


ENG

Sex


F

Owner 1


ROY ROGERS

Location


AR

Zone


16

Dog


GRNITECH'PR'ROGERS ROOSTER

Breed


ENG

Sex


M

Owner 1


ROY ROGERS

Location


AR

Zone


375

Dog


GRCH GRNITECH'PR'COON COMMANDER BIG RED

Breed


RED

Sex


M

Owner 1


ANDREW PRESTLEY

Owner 2


SEAN M VAN BUREN

Location


LA

Zone


446

Dog


NITECH CH'PR'COONCOMMANDER ROOSTER

Breed


TW

Sex


M

Owner 1


NICO BROWN

Location


LA

Zone


205

Dog


NITECH'PR'BURR VALLEY T-BONE

Breed


TW

Sex


M

Owner 1


KELLY CAMPBELL

Owner 2


ROY CAMPBELL

Location


OK

Zone


206

Dog


NITECH'PR'BURR VALLEY DIXIE

Breed


TW

Sex


F

Owner 1


KELLY CAMPBELL

Location


OK

Zone


20

Dog


GRCH GRNITECH(2)'PR'CARTERS LAD

Breed


TW

Sex


M

Owner 1


HAROLD CARTER

Location


OK

Zone


278

Dog


GRNITECH GRCH'PR'MAXWELL'S LLC

Breed


TW

Sex


F

Owner 1


JERRY CHISM

Location


TX

Zone


341

Dog


NITECH'PR'AEF'S GOOD GOLLY MISS BONNIE

Breed


TW

Sex


F

Owner 1


JUNIOR GODFREY

Owner 2


BOB L NOBLE

Location


OK

Zone


444

Dog


GRNITECH'PR'YAKIMA RIVER SQUALLY

Breed


TW

Sex


F

Owner 1


BOBBY HOWARD

Owner 2


JOSH HOWARD

Location


TX

Zone


1

Dog


NITECH'PR'MCCLANAHAN'S THE BLACK

Breed


TW

Sex


M

Owner 1


KELLY LITTLEJOHN

Location


TX

Zone


395

Dog


'PR'PR RON CRY BABY GYPSY

Breed


TW

Sex


F

Owner 1


RONALD MIMS

Location


TX

Zone


43

Dog


GRNITECH'PR'BACKWATER BOBO

Breed


TW

Sex


M

Owner 1


BOB L NOBLE

Location


OK

Zone


518

Dog


GRNITECH(2) GRCH'PR'COAL TRAIN

Breed


TW

Sex


M

Owner 1


JOHN PACE

Location


TX

Zone


404

Dog


NITECH'PR'WIPEOUT DON'T LOOK ETHEL

Breed


TW

Sex


F

Owner 1


STEPHEN PATTON

Location


LA

Zone


437

Dog


'PR'BIRD CREEK BANDIT

Breed


TW

Sex


M

Owner 1


JOE MANNING JR

Location


TX

Zone


185

Dog


PACK'S WILLOWCREEK LONE WOLFE

Breed


XB

Sex


M

Owner 1


DEAN PACK

Location


OK

Zone

Back to Coonhound News >