The 2018 Premier Winners Showcase is Now Available!
July 18, 2018
Department: Media and Marketing
Email: sherbert@ukcdogs.com

The Winners Showcase is a commemorative digital booklet of win photos from the weekend.
The 25th annual Premier dog show was held June 14-17, 2018 in Kalamazoo, Michigan. Congratulations to all our winners and competitors! All photos included in the Winners Showcase are win photos taken by the official show photographer, Thomas Photography.
To purchase any of the Showcase photos, please contact Thomas Photography directly. Email Thomas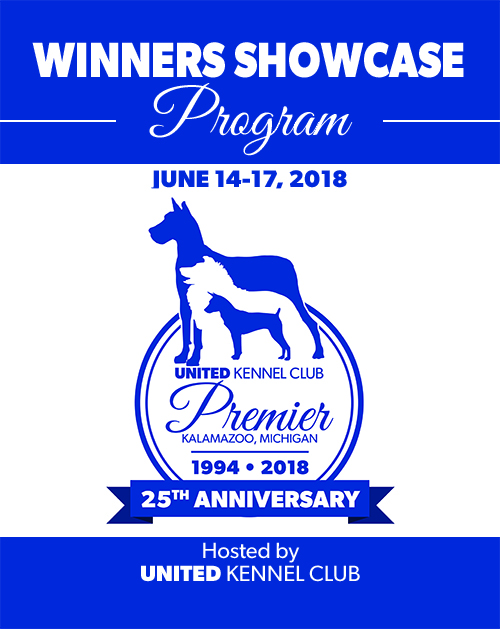 For ease of use, image quality, and increased download speeds, the Winners Showcase is available in multiple segments. All segments are available individually at www.UKCdogs.com/premier. There are eight segments total.
2018 Premier Winners Showcase Segments
2017 Top Ten Finals & Table of Contents: Pages 1-3 (PDF)
2017 Top Ten Best of Breed: Pages 4-24 (PDF)
2017 National Top Junior Invitation Finals: Pages 25-29 (PDF)
2017 Agility All Stars & Thursday Performance: Pages 30-42 (PDF)
2018 Premier Total Junior Qualifiers & Total Dog Competition: Pages 43-61 (PDF)
2018 Premier - Friday: Pages 62-69 (PDF)
2018 Premier - Saturday: Pages 70-78 (PDF)
2018 Premier - Sunday: Pages 79-89 (PDF)
Save the Date for Premier 2019! Well see you back here in Kalamazoo, June 13-16, 2019.
To view and purchase candid photos from the weekend, visit the UKC Premier SmugMug album.
A Kalamazoo, Michigan-based company founded in 1898, United Kennel Club is the largest all-breed performance-dog registry in the world, registering dogs from all 50 states and 25 foreign countries. Celebrating the unique Total Dog philosophy, UKC events highlight the instincts and heritage of dogs that look and perform equally well, as more than 60 percent of its annually licensed events are tests of hunting ability, training, and instinct. United Kennel Club prides itself on its family-oriented, friendly, educational events, welcoming both purebred dogs and dogs of unknown ancestry.
Back to Premier News >