2017 UKC Coonhound World Championship Bench Show Judges Announced
July 17, 2017
Source: UKC Field Operations Department
Email: fieldoperations@ukcdogs.com

Going to the World Championship? Pre-order your t-shirt, hoodie, or hat today!
Deadline: August 18
Round 1
Christina Officer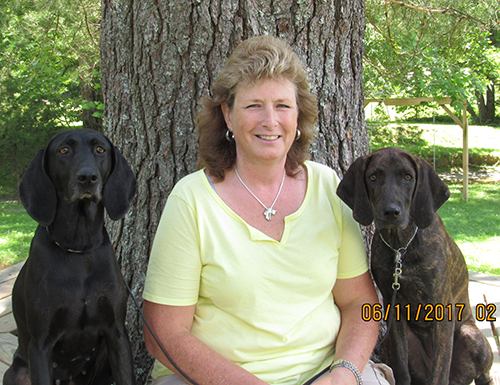 "Shown in the photo is Keeper on the left, and my newest hound County Line Tuesdays Legacy. The name speaks for itself. These hounds represent 20 years of dedicated breeding. I cant imagine myself without a Plott in my life. I truly love this breed, and am honored to have been chosen to judge at the 2017 UKC Coonhound World Championship Bench Show."
Christina Officer resides in Ravenna, Kentucky. She has one daughter Chelsea, married to Floyd Bailey, who just recently made Christina a very proud grandma with their newborn son Michael. With an outstanding list of national achievements, Christinas success with coonhounds at County Line Kennels speaks for itself. Christina will be judging Round 1 at the 2017 UKC World Championship.
"I credit my mother for my love of animals. My father gave me the desire to compete and win at any game or sport I try. I have always had multiple dogs and other animals my whole life, but my first dabble into the purebred dogs was in 1981. My parents gave me a Miniature Schnauzer for a Christmas present. I was hooked on these little dogs with big attitudes, and I currently still own this breed of dog. I have also owned Labrador Retrievers, Jack Russell Terriers, Beagles, Mountain Curs, American Leopard Hounds, Blueticks, English, Plotts, and Treeing Walker Coonhounds. While I may not have personally owned Redbones or Black & Tans, I have had the opportunity to stand behind and judge many fine specimens of those breeds as well.
"I was introduced to the coonhounds in September of 1992. Jeffery Farthing gave me my first Treeing Walker. I fell in love with this hound the first time I laid eyes on her at 4 months old. My first show that I competed in was a Treeing Walker sectional in Harrodsburg, Kentucky March 1993. That day I won Best female and Queen of Show. I was hooked! This little dog was GR CH PR Pond Hill Lucy III. You can still find her name in many pedigrees today.
"I formed County Line Kennel in 1995 when I bought my first Plott female from Linda Mack. This dog was GR CH 'PR'County Line Wicked Wednesday. Wednesday got me started in the breed. My second Plott came from Brent Zink from Hillsboro, Ohio. This was GR CH County Line Terrible Tuesday. While Tuesday made me very well known in the show ring, her biggest asset was her contribution to my breeding program. My dogs today are all descendants of this hound. Some of Tuesdays prodigy include: GRCH 'PR' County Line Frankenstein; NITE CH GR CH PR Midnight Brindle Blitz; CCH GRCH 'PR' Caudills Black Monday; GR CH 'PR' Sidearm Terrible Tigra; and CCH GRCH 'PR' County Line Krueger. Another proud moment with Tuesday is when I went to the Premier at Kalamazoo, Michigan to show in the Top Ten in 1999 and won 10th place.
"GR CH 'PR' County Line Frankenstein, a.k.a. Frankie, was from the first litter that Tuesday had in 1999. I showed him that next year as an 8-month old puppy winning his breed at Autumn Oaks. Then in January of 2001, I took him to Winter Classic where he won BMOS and Overall at 13 months old. What a proud moment! I was interviewed and it ended up on 'Outdoor Life Network.' Frankie competed in many different registries where he titled in all and won many big awards. Frankie and his beautiful brindle coat graced the cover of the AKC Gazette when the Plott breed was officially recognized by AKC in 2006.
"My next big winner was CCH GR CH 'PR' County Line Liberty Bell, a.k.a. Ellie. This female was one of my heart dogs. She has a win list that would take too much space to write. Some of my highlights were winning BFOS and overall at the Winter Classic in 2006. Ellie won AKC Reserve World Champion at 2005, UKC and PKC Reserve World Champion in 2006. Ellie was just like Frankie and Tuesday she was a great reproducer! I bred her to Monday and got AKC GCH CH SGC, UKC CCH GR CH PR County Line Somehow Someday, my third heart dog; and CCHGRCH 'PR' County Line Uncle Sam. Sam won the ACHA 2010 World Show. AKC CH CWSG CSG UKC CCH GR CH PR County Line Krueger, a.k.a. Freddie, the fourth AKC show he won 2004 World Show champion. His first UKC show was Autumn Oaks where he won BOB Plott. The current dogs I am showing, AKC GCH CH UKC CCH GR CH PR County Line Shes A Keeper and AKC CH UKC CCH GR CH 'PR' County Line Roosevelt, are both out of Freddie. I must say another great accomplishment was showing at the 140th and 141st Westminster Dog show. Both years I came home with ribbons on both dogs!
"Currently, I work part time as a Bench Show Coordinator for American Kennel Club.I am an active member of the American Legion Ladies Auxiliary and have worked with them for 29 years. During my 22 years as an owner, breeder, and handler, I have been involved in many different clubs including: The Kentucky Houndsmen Association, where I served as a board member for 12 years, and wrote monthly articles that were published in both Coonhound Bloodlinesmagazine and the American Cooner. I am also a current member the KHA; I have been an active member of the National Plott Hound Association since 1995; Treeing Walkers Breeders & Fanciers for 8 years; the Madison County Coon Club; and I served as a member of the Animal Control Board of Kentucky for 4 years that I was appointed to by Governor Ernie Fletcher during his term in office. I have also given multiple seminars for both the AKC and UKC registries during my time with coonhounds. I have had the opportunity to be a judge for the UKC, AKC, and PKC registries. I have had the honor to judge at all levels: local, state, and national. My kennel and I have received a lot of press in many different news outlets.
"Another big accomplishment is coaching many young people in this sport. Teaching the sport builds character, confidence, and pride in ones self. My daughter Chelsea Officer Bailey, niece Elisha Kelly Rose, and nephew Dylan Officer have all enjoyed this sport with me throughout the years, and continue to cheer me on and encourage me in all of my ventures."
Final Round
Johnny Brinkley
Johnny and Laquita Brinkley have lived in the Tallahassee, Florida area since 1959. The summer of 2017, they will celebrate 60 years together. Johnny will be judging Round 2 (male and female breed winner classes) and the Final Round (overall and opposite sex) at the 2017 UKC Coonhound World Championship Bench Show.
The seventh of nine children in his family, Johnny Brinkley was born August of 1933 in Colquitt County, Georgia. In 1959, Johnny and wife Laquita moved from Moultrie, Georgia to Tallahassee, Florida where they raised three children: Steve, Pat and Doug. All three of their children now also reside in the Tallahassee area with their families. This year Johnny and Lequita will celebrate their 60th wedding anniversary.
Brinkley has hunted with hounds since he was old enough to follow his older brothers in the woods. He became interested in competition hunting and showing dogs when he got his first registered coonhound in1963. He and his wife, along with another local couple, started the first coon hunting club in that area.
Throughout the years he has shown in all the major shows around the country. His dogs have either won or placed at most all of them. After judging foxhounds for a number of years, he then became a UKC licensed coonhound judge. His judging resume includes many of the major events such as Winter Classic, Autumn Oaks, the Grand American and St. Jude. Johnny also previously judged part of the UKC World Show, as well as the PKC and AKC World Shows.
Brinkley says he is honored to be selected to judge the Final Round of the 2017 UKC Coonhound World Bench Show Championship.
A Kalamazoo, Michigan-based company founded in 1898, United Kennel Club is the largest all-breed performance-dog registry in the world, registering dogs from all 50 states and 25 foreign countries. Celebrating the unique Total Dog philosophy, UKC events highlight the instincts and heritage of dogs that look and perform equally well, as more than 60 percent of its annually licensed events are tests of hunting ability, training, and instinct. United Kennel Club prides itself on its family-oriented, friendly, educational events, welcoming both purebred dogs and dogs of unknown ancestry.
Back to Coonhound News >