Track Coonhound Points with UKC Log Book
December 3, 2018
The Coonhound rules changes for 2019 include the discontinuation of official receipts as the 2019 Event Reports are now downloadable PDFs online. Event Reports have also been made available to all clubs in hard copy form, but the receipt portion has been discontinued in favor of an easier means of record keeping. Read more about the new Event Reports.
Placing participants have a couple of new options when it comes to maintaining a copy of a dogs win records. As there will no longer be win slips provided, participants are encouraged to take a picture of completed reports to either print or maintain electronically. (After a report is completed by an official, said report is to be placed out for viewing at the club house for this purpose.)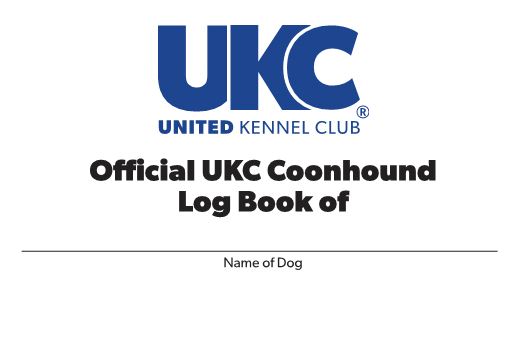 The new UKC Coonhound Log Book is an excellent tool for recording a dog's points earned. The book contains specific blanks and columns to help you accurately maintain the dog's record in an organized fashion. This book is not required, and using it is optional. Participants may also simply take photos of reports once complete and store those photos for future reference.
Participants may also choose to verify placement by maintaining a win record for an individual dog in a UKC Coonhound Log Book. Each Log Book has specific blanks in place to help participants accurately track each dogs win record. Participants who want to utilize this method should present their Workbook to the event official for a signature. Event officials will indicate placement by signing the Log Book that the win recorded therein is accurate, per the completed report. UKC Workbooks are available on the UKC online store for $5 each. These are not required but are encouraged as a good record-keeping tool.
A Kalamazoo, Michigan-based company founded in 1898, United Kennel Club is the largest all-breed performance-dog registry in the world, registering dogs from all 50 states and 25 foreign countries. Celebrating the unique Total Dog philosophy, UKC events highlight the instincts and heritage of dogs that look and perform equally well, as more than 60 percent of its annually licensed events are tests of hunting ability, training, and instinct. United Kennel Club prides itself on its family-oriented, friendly, educational events, welcoming both purebred dogs and dogs of unknown ancestry.
Back to Coonhound News >