2017 Youth National Championship Bench Show Judge Announced
June 22, 2017
Source: UKC Field Operations Department
Email: fieldoperations@ukcdogs.com

Kay Lynne Haley is the daughter of the late T.H. and Zelma Haley and the youngest of six kids. She is currently employed by the ODOT working as their Office Manager/HR Coordinator out of her hometown in Ada, Oklahoma. Previously, Ms. Haley was also employed in the Horse Racing Industry for 18 years. It was during that time when Dr. Rudy Garrison, DVM, gave her a beautiful Bluetick Coonhound, and Tracey Stingley took her to her first coonhound event in Ada, Oklahoma.
"I've been hooked on hounds and partner in the aptly named Lunatic Kennels ever since," she confirms.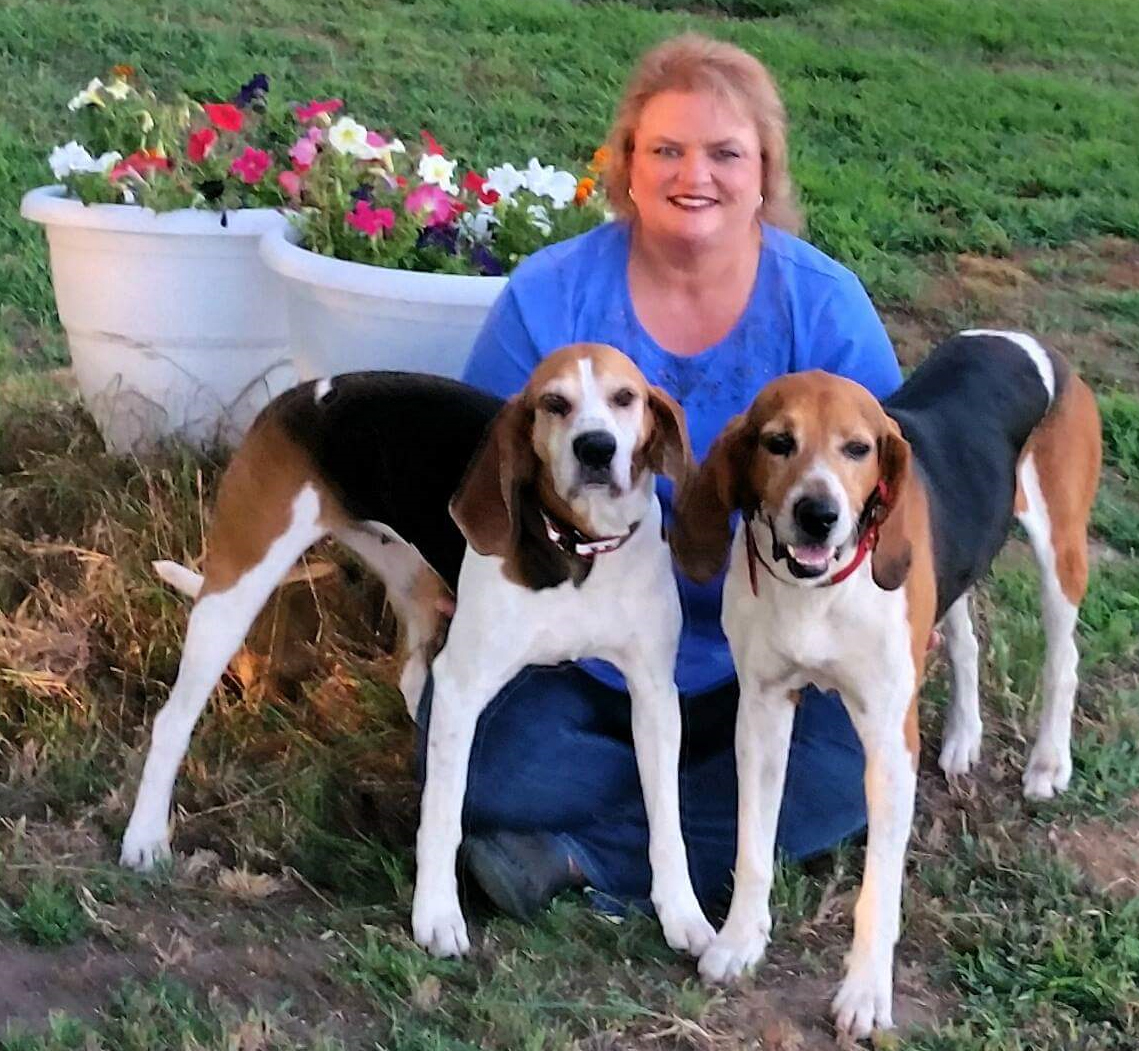 The first show Kay attended was in the early 1990s at the largely attended Pete DAndrea Memorial. It was at that show where she instantly fell in love with Ms. Pat Kerrs Treeing Walker hounds. They quickly formed a friendship and became great friends. Eventually, a pup from Ms. Kerrs Windchester x Winterwind cross became the foundation stock for Kays kennels Lunatic Kennels. GR CH 'PR' Lunatic Bam Bam won many levels of bench shows in various states and was a most beloved loyal companion and shotgun rider. He went on to sire, or is listed as the grandsire, to such hounds as
GR CH CCH 'PR' Spankys Bow Chicky Bambam Girl, GR CH 'PR' Bam Bams Lunatic Super Trooper, WCH FCH GR CH 'Pr' Lunatic Son Of A Preacher Man, GRFCH GR CH 'PR' Bambams Cherokee Mountain Man, Lunatic Super Hot Dot, GR CH 'PR' Little Walnut Tabitha Berry (aka Lunatic Fringe), GR CH 'PR' Sweet Revenge's Mr. Big Stuff, GR CH 'PR' Little Walnut Jed's Lil Simon and others. That same line of coonhounds continues today at Lunatic Kennels with some five-month-old pups in training now.
Ms. Haley has also been known to have Black & Tan, Bluetick, English and Plott Hounds. The motto is as long as its a good hound, I dont care what color it is! Some of their accomplishments include: wins at events such as Autumn Oaks, UKC Winter Classic, TWBF&A Walker Days, Lee Crawford Invitational, state and local shows, along with water races and field trials.
Kay says, "I consider myself predominantly a breeder of all-purpose Treeing Walker hounds for participating in bench shows, water races, field trials, and pleasure hunting. It is a joy to see and hear coon hounds do what theyve been bred for. My favorite event is the water races.
"I enjoy helping local clubs by taking win pictures and assisting with any other needs, which led to obtaining a bench show judge license. As a breeder and judge, I continually strive for more knowledge to better the breeds for the future generations of houndsmen and women. When judging, I focus on the dogs gait and conformation. In my opinion, the purpose of the show is to reward the dogs that most closely match their Breed Standards.
"I have helped sponsor several young men and women in youth events in the past, and hope to help them continue the sport for many years to come. I consider it a great honor to judge the show at the 2017 UKC Youth Nationals, and I will do my best to be honest, impartial and professional when making my winning choices this year."
View complete details for the 2017 Youth National Championship
A Kalamazoo, Michigan-based company founded in 1898, United Kennel Club is the largest all-breed performance-dog registry in the world, registering dogs from all 50 states and 25 foreign countries. Celebrating the unique Total Dog philosophy, UKC events highlight the instincts and heritage of dogs that look and perform equally well, as more than 60 percent of its annually licensed events are tests of hunting ability, training, and instinct. United Kennel Club prides itself on its family-oriented, friendly, educational events, welcoming both purebred dogs and dogs of unknown ancestry.
Back to Coonhound News >